A committee in the House of Representatives OK-ed a bill to give free dialysis treatments to senior citizens for various types of dialysis.
The House committee on senior citizens endorsed House Bill No. 7859, more commonly known as the "Free Dialysis for Senior Citizens Act of 2020." During their online meeting; it has been clarified to be a bill to give free dialysis treatment to seniors.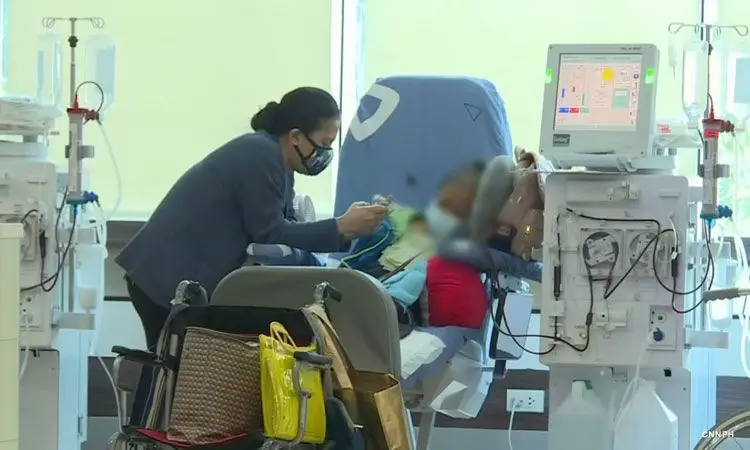 Read: The DILG is Set to Re-Hire 15,000 Contact Tracers This Year
Under the bill, the Philippine Health Insurance Corp. (PhilHealth) will pay senior citizens the cost of required procedures such as peritoneal dialysis, hemodialysis, and other forms of dialysis approved by the Department of Health (DOH).
Provided that such care is used by the state insurer's accredited hospitals and freestanding dialysis centers.
Latest Version of the PNDF
However, the proposed legislation states that PhilHealth will only be reimbursed for services that use dialysis solutions included in the latest version of the Philippine National Drug Form.
In addition, according to Rep. Rodolfo Ordanes, the key author of the bill, the dialysis sessions currently subsidized by PhilHealth under Circular No. 22-2015 cover only 90 of the 144 dialysis sessions provided on average by a senior citizen.
This means that senior citizens who are at risk of developing serious complications and becoming a fatality due to kidney disease are still required to pay for the remaining 54 sessions."
Read Related: Foods Rich in Vitamin B12
They, therefore, need a total of P135,000 per year for our senior citizens with kidney disease to live.
A sum that is incredibly costly for our ten million senior citizens, given that most of them are already unemployed and relying on their pensions.
The bill will now be taken to the plenary for further discussions with its approval at the committee level.
The total number of subsidized dialysis sessions was previously raised to 144 by PhilHealth, but only until the 31st of December in 2020, as it also includes people who are not senior citizens.
On the other hand, Ordanes' proposal aims to make the 144 free dialysis sessions consigned for senior citizens.
Definition and Types of Dialysis
If the kidneys are no longer operating in a normal state, then that person already needs dialysis. This is to eliminate any waste and maintain the balance of the fluids, the kidneys filter and purify the blood.
A dialysis therapy can either temporarily or permanently remove waste from the kidney in order to fulfill its functions.
Also Read: Kidney Infection Signs You Need to Consider
Depending upon the patient's needs, there are two forms of dialysis. One is called hemodialysisand peritoneal dialysisis the other.
The treatment strategy is different, but the principle of kidney treatment is the same.
Benefits of Conducting Dialysis
Technically, dialysis is a treatment that either replaces or supports the function of a healthy kidney.
The organs flush out blood waste and maintain the body's fluid balance. Therefore, if your kidneys do not work anymore, you will benefit from dialysis.
Read Related: National Medical Reserve Corps Bill, OK-ed by the House of Representatives
How Many Times is A Dialysis Treatment Being Conducted?
Many patients will be expected to have up to 3 sessions a week of dialysis care. In most hospitals, each hemodialysis session will last up to 4 hours.
Any person will have to undergo lifetime treatment. This implies that lifetime dialysis will be needed. Those with acute conditions, on the other hand, may require only a specific number of treatment sessions.
Price of Hemodialysis in The Philippines
In the Philippines, the price of dialysis will vary from P2,000 to P7,000 per treatment and above. Government hospitals tend to have lower costs, but only a small number of patients at a time can be accommodated properly.
As long as you compare the prices of each one, you can still find cheap dialysis costs in private hospitals.
Furthermore, in hospitals hemodialysis prices can vary from P600 per session to 3,500, if you are covered by health insurance; the premiums of the insurance would depend on that.
Read: Free Dialysis Treatment to the Needy, Approved OK-ed by the House of Representatives
When it comes to the patient's age, there might be a small disparity in prices. If suggested by the doctor, kids and babies less than 2 years old will have a different set of treatment plans; in terms of dialysis rates, they can be more pricey.
Which Facilities Can Serve You?
Private and government hospitals, as well as dialysis centers, are all capable of serving those in need.
For convenience, you must simply choose the facility near you. Next, pick a center that will give you the lowest dialysis price.
Many Filipinos, especially senior citizens will be happy to know that the bill to give free dialysis treatment will come true. In addition, the COVID-19 pandemic happening up until now, this would really help a lot of citizens in the Philippines.
Also Read: Ayala Plans on Building a Cancer-Dedicated Hospital
What do you think about the bill to give free dialysis treatment to seniors? More so, do you think there are other treatments that must also be free of charge? Share your thought on what is next.