Imagine, if you purchase a new car, the first thing you should do is to make it legal and valid. Other than the fact that you need to test your new ride, you have to make sure that it's also legal to use it in public places. So, you have to make sure that you register it with the Land Transportation Office (LTO) first.
Everybody knows that it's a hassle to register a vehicle. In fact, renewing it is as much of a pain than just registering. If you need information on how to renew or register, you can read a guide on how to do so.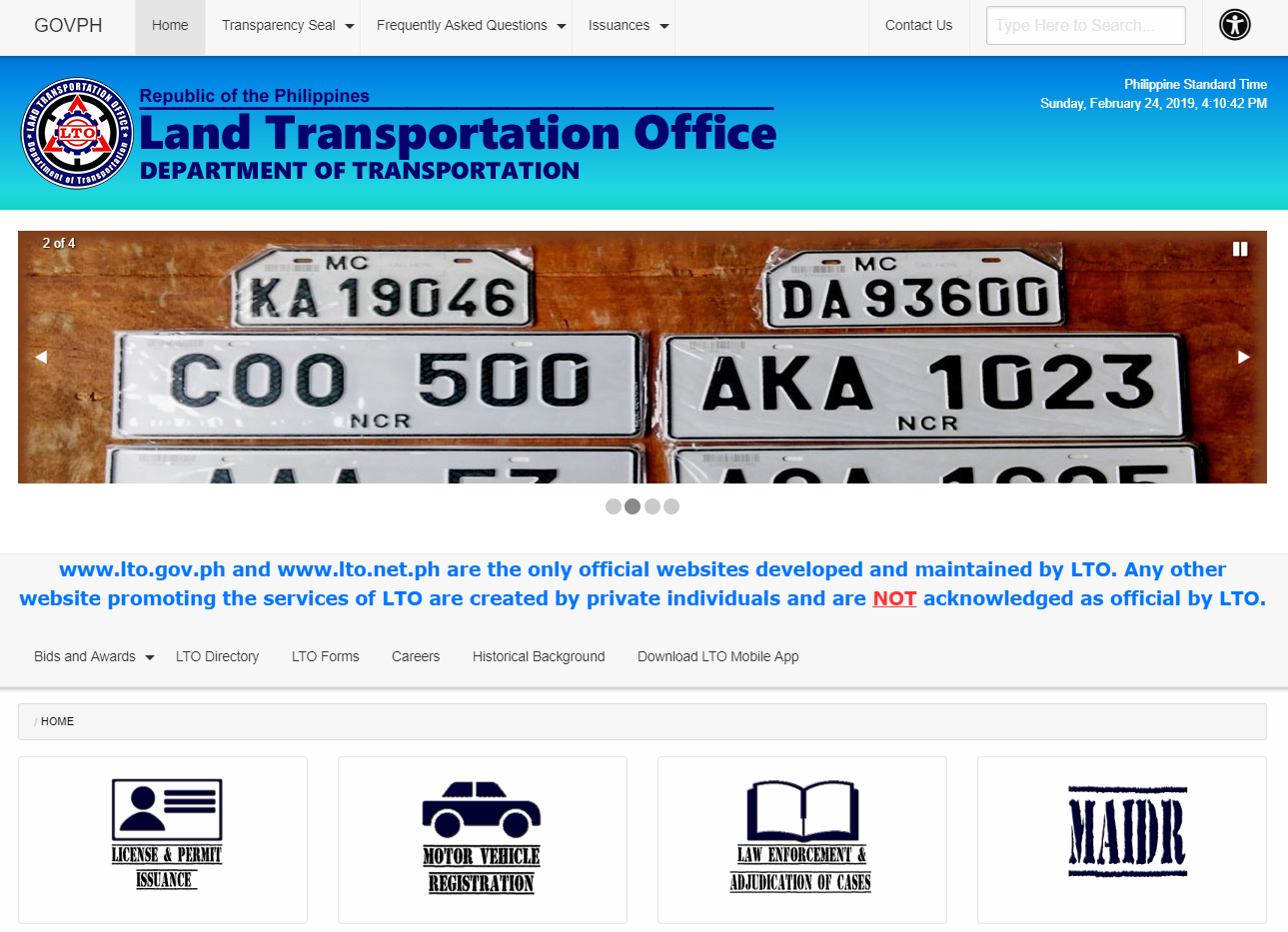 Read: Renewing Motor Vehicle Registration (All Classifications)
However, some people purchase second-hand vehicles. They might not have the idea that some vehicles might be involved in crimes. Even so, there are vehicles reported to be carnapped or hi-jacked. So, if you plan on purchasing a pre-loved vehicle, make sure that you check its status and registration with the LTO first.
A big thank to technology because people can no longer visit the nearest LTO office and subdue to the long queues there. In this article, we will guide you on how you can check a certain vehicles registration via the Internet or via text.
How can you verify a plate number via text?
Checking a vehicle's plate number is easy. As a matter of fact, it won't take you ten (10) minutes to check a car's plate and car registration via text.
In order for you to check  the plate number, all you have to do is to text:
LTO VEHICLE [PLATE NUMBER OF THE CAR] and send it to 2600.
For example: Text LTO VEHICLE ABC123 and send to 2600.
After you send that specific message, expect that the LTO response system will reply for about five (5) to ten (10) minutes after you send your inquiry.
In addition to that, by texting this LTO will also provide basic information and specifications of the car you have provided.
So you know what information will be given to you, upon receiving the reply, you will receive a message like this: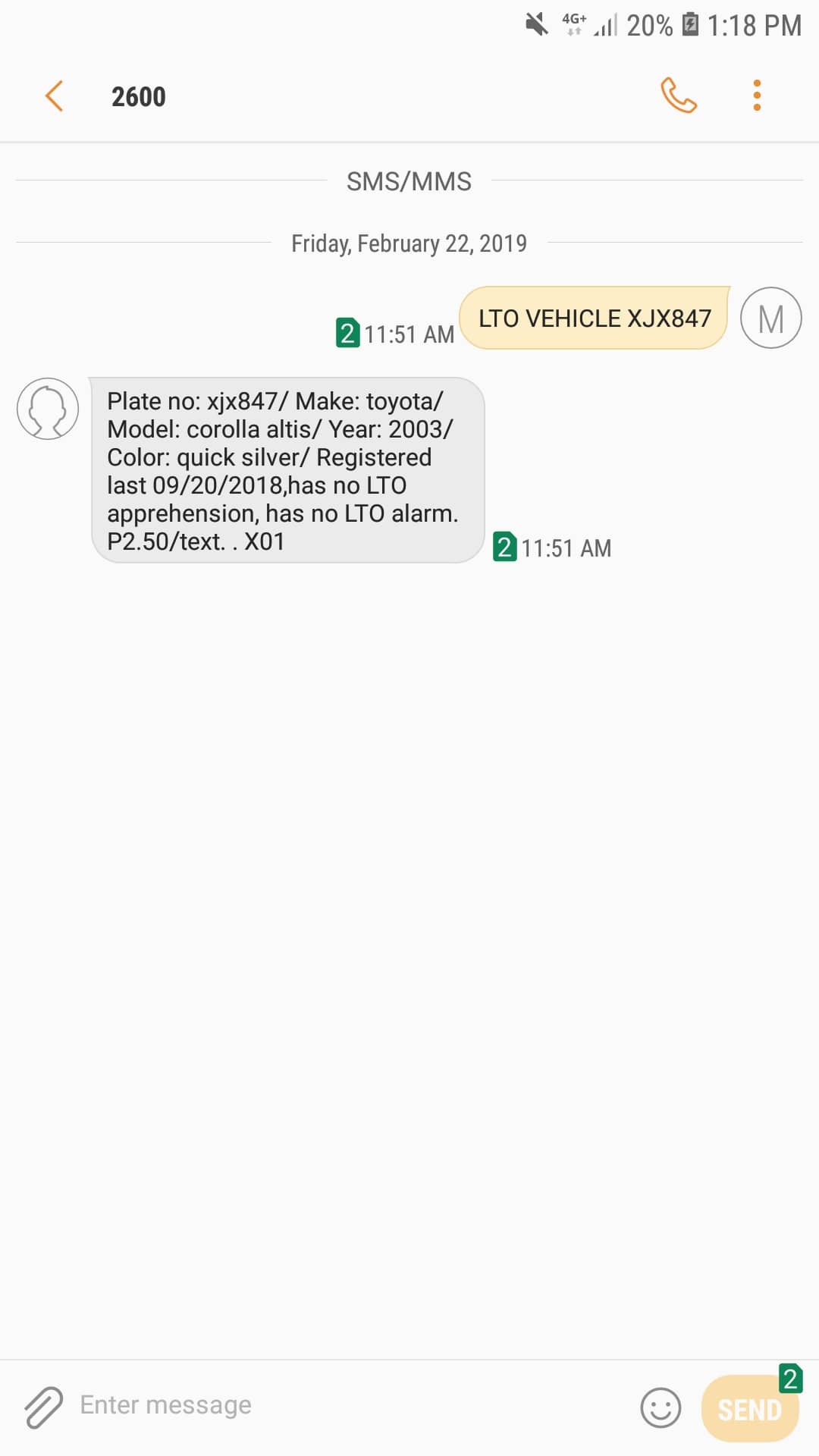 It will contain the following:
The plate number of the car;
Make and model;
Which year;
What color;
When it was last registered; and
If it has any apprehensions with the Land Transportation Office.
Read: Traffic Violations That Every Motorist Should Know
Is there a fee in availing this service?
Yes, there is a certain fee in availing this specific service. Whichever provider you have, the fee would be P2.50. You should not worry because the message itself would have the fee displayed.
What if I am subscribed to a specific promo… would it still charge me P2.50?
Even if you are subscribed to a text promo, it will still deduct P2.50 from your current credit. So, do know that upon availing this specific service, you would have to pay the service fee of P2.50.
What you should know about the LTO text verification of plate number and car registration:
The cost will be automatic; meaning, once you send the text and it is successfully received by the LTO, a charge of P2.50 will be deducted from your current credit. More so, this service will only work for SMART Communications, Globe Telecom, and Sun Cellular subscribers.
This service is effective and helpful in the following circumstances:

If you are purchasing a pre-loved car from a person you don't really know;
If someone is going to lend you a car; and
When the police apprehends you on the road and you want to avoid answering or being asked too many questions. Just show the message to the LTO and you from there, you can verify and authenticate that the car you are about to obtain is free from discrepancies.

In addition to the LTO SMS plate number verification, you can also utilize the LTO online plate number verification system. Just like the SMS verification, the online verification can also be an effective way of verifying a plate number and registration to be legitimate.
This service is not just for car owners but can be used by the authorities as well to check the legitimacy of a car's registration, to check whether or not the vehicle is apprehended. They can use this to their advantage in certain situations.
You should know that the online LTO plate number verification works only for private vehicles only. The agency was not able to clarify if public utility jeepneys (PUJs) and other public utility vehicles (PUVs) are included in the database of the LTO's verification system. Meaning, we are not sure if people can verify vehicles such as taxis, tricycles, motorcycles, and trucks.
NOTE: The LTO plate number online and SMS verification only works during regular office hours. So, for example, if you've used the service after 5:00 P.M. or during the weekend, you will get nothing and you will still be charged the P2.50 fee.
How to verify if the plate number is free from apprehensions or if it's already available online
Now that you know how to check a certain car registration or plate number via the SMS utility, it is also imperative to know if a certain plate number is ready online.
If you want and if you are more comfortable in using the Internet, you can utilize the online portal of the Land Transportation Office (LTO).
Go to their LTO Online Web Portal at https://www.lto.net.ph/. After that, scroll down and you will see the motor vehicle 7-character plate backlog inquiry.
Read: LTO Released the New Guidelines in Getting a Driver's License
In this, you'd have to input your 15-digit MV License Plate. After supplying the required information, the system will then display the status of your plate.
Where can I see my Motor Vehicle (MV) number?
In your original receipt/certificate of registration (ORCR), you will see that on the top-left side of it, your Motor Vehicle (MV) number is there. Once the system recognizes the status, it will tell you when and where you can pick your plate up from an LTO office.
These systems can be effective especially if you are around the clock and if you want to avoid long queues. By properly utilizing these, you can be more efficient and effective.
NOTE: People can check the status of their plates from vehicles registered from October of year 2016.
Read: Requirements and Procedure for Applying Driver's License in the Philippines
What do you think about this service? Would this be relevant help to people who need information with vehicles?