The Food and Drug Administration (FDA) of the Philippines is the agency tasked to look after the legitimacy and the nutritional content of food, beverages, and drugs. Just recently, the FDA ordered all stores to hide liquor; hide in a sense that not many people will have easy access to it.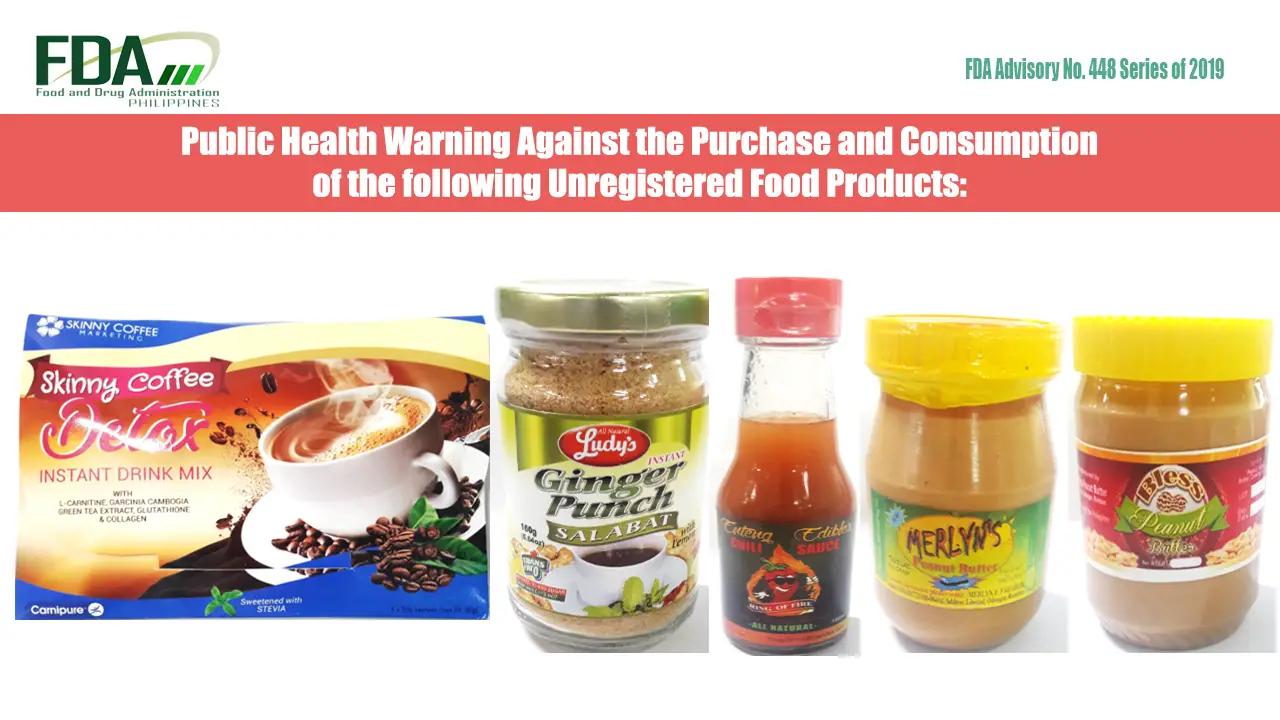 Today, though, the FDA has warned the public about purchasing and consuming unregistered food products. In fact, they've flagged 5 unregistered food products. Simply put, these food products were not granted the CPRs or the Certificates of Product Registration. 
Read: The Food and Drug Administration (FDA) Gives Order to All Stores to Hide Alcoholic Beverages
Beware of these 5 unregistered food products
In their Advisory No: 2019-448, the FDA clarified that the following food products were neither registered nor authorized. Hence, these products did not have CPRs which make them "unreliable."
Merlyn's Peanut Butter
Bless Peanut Butter
Enteng Edibles King of Fire Chili Sauce All Natural
Ludy's Instant Ginger Punch Salabat With Lemon
Skinny Coffee Detox Instant Drink Mix with L-Carnitine, Farcinia, Cambogia, Green Tea Extract, Glutathione, and Collagen
Read: Salt Tax Proposal by the Health Department, Rejected by Lawmakers
As per the FDA and the FDA Act of 2009, selling of products without CPRs are not allowed. In their official statement, they said that "the manufacture, importation, exportation, sale, offering for sale, distribution, transfer, non-consumer use, promotion, advertising or sponsorship of health products without the proper authorization is prohibited."
Why are these products tagged as "dangerous?"
Some of you might think that these products are harmful. Even if they are and if they've been proven to be harmless, they don't have the appropriate certificate to be sold.
In fact, these 5 unregistered food products can impose health risks to consumers. In their advisory, the said that these 5 unregistered food products haven't gone through the correct and appropriate evaluation procedures by the FDA.
Read: Where Can You Complain About a Specific Business?
Since these unregistered food products have not gone through the evaluation process of the FDA, the agency cannot assure their quality and safety. The use of such violative products may pose health risks to consumers."
The FDA is obliging everyone to refrain from purchasing these products. They said that without appropriate authorizations, the products can impose health risks that can lead to different illnesses—or worse, death.
How can you check the legitimacy of a product?
The FDA also mentioned that through their website, they can check if a product is authorized to be sold. In fact, it can be done straight from the website:
Read: Johnson's Baby Powder Bottles, Recalled by J&J Because of Asbestos Found by the FDA in Samples
Access the FDA website at https://www.fda.gov.ph
In the website, there's a Search feature that can be used to check a product's legitimacy
You can search for any products:

Cosmetics
Food and Beverage
Drugs and Medical Devices
Toys

From there, you'll be given the list of registered products eligible to be sold in the market. You can also do a manual search for the product you are intending to buy just to double check.
Should you find a product that is not registered, you can proceed in filing a complaint about that product. All establishments, regional offices (ROs), regulatory enforcement units, and distributors aware and were warned to refrain from distributing volative food until such time that they're issued a License to Operate (LTO) and a Certificate of Product Registration (CPR). 
Read: Five (5) Vinegar Brands With Synthetic Acid Named by the FDA
How can you file a complaint?
You can file a complaint directly from the FDA website at https://www.fda.gov.ph. In the homepage, you'll find a button that says File a Complaint. Or, you can choose to be redirected exactly on that page by clicking here.
Alternatively, you can contact the FDA Center for Food and Regulation and Research (FDA-CFFR) by dialing (02) 857-1900 local 8105 or 8112. Or, you can choose to send them an email at [email protected].
Read:Ban on E-Cigarettes and Vapes, Sought by Senators
Take note that these 5 unregistered food products might impose health issues and risks. Therefore, it would just be right to refrain from purchasing them.
They might be cheaper than your usual products but what's a couple of extra added pesos to ensure your and your family's health and safety? The FDA recommends to stick with your product even if it's expensive so long as they're duly registered and that they can be sold to the public.
The FDA encourages everyone to report any product that is not registered. You can file a report/complaint easily through their website; or via email or their hotline. Now, should you come across any of these 5 unregistered food products, you'd know what to do.
Source: The Food and Drug Administration of the Philippines (FDA) | The Philippine Daily Inquirer