Many people dream of taking care of our country. As a matter of fact, it's one of the most noble jobs because of the responsibility that it has along with the honor it gives. This is one of the many reasons why thousands of Filipinos, both men and women yearn to be part of the service.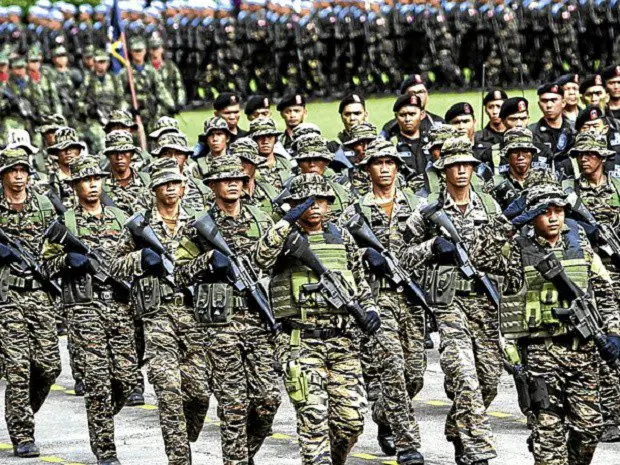 I know that you may be asking why and what benefits are there. Don't worry because in this article, we will be giving you all the information you need to know about being part of the Philippine Army (PA).
Read: Half a Million Listings on Google Search Jobs, Now Out!
What is the Philippine Army?
The Philippine Army, contrary to popular belief, is the oldest, largest, and the main branch of the Armed Forces of the Philippines (AFP). They're responsible for the protection and for the nourishment of ground warfare. This means that their service aims to protect and to keep our grounds safe from both internal and external threats.
The way that they're different from regular soldiers because they're the main forces of our country in ground warfare. Andres Bonifacio is known to be the father of the Philippine Army as he founded the revolution on the 22nd of March of the year 1897 in Cavite.
The Philippine Army opened about 5,400 slots
Just recently, it was reported that the Philippine Army (PA) opened approximately 5,387 slots for their recruitment, as per their spokesperson. It was reported last Monday that in total, 4,777 slots are going to be allotted for enlisted personnel.
Read: Jobs for Filipinos in Japan
610, out of the total, will be graduating from the Philippine Military Academy, according to Col. Ramon Zagala, the Philippine Army's spokesperson.
In addition to that, Col. Zagala also said that applicants who will be qualified for the rank of private will be given P 41, 000.00 as their basic monthly salary and allowances.
Yes, it's actually a big sum of salary if you were to think of it. But how do you actually apply for the Philippine Army? Are there qualifications that applicants need to be eligible for?
What would be the eligibility requirement for the enlisted personnel?
According to spokesperson Zagala, recruits should obtain the following:
Should be natural born Filipinos;
Should be between the ages of eighteen (18) and twenty-three (23);
The height must be at least five (5) feet tall or 152.40 centimeters (cm);
Must be both physically and mentally fit for training;
Should be single and without a child to support;
Should have had graduated from high school; and/or
Was able to complete at least seventy-two (72) units in college;
Must have had passed the pre-qualifying PFT and PME; and
Should have an AFPSAT score of at least forty-five (45).
These are the qualification requirements in order for an applicant to be eligible for recruitment to the Philippine Army.
Read: Cruise Ship Firm To Give Filipino Workers Hundreds Of Jobs This Year
Pay and Benefits of people in the Philippine Army
In case you are wondering and interested on how much a specific person in the Philippine Army earns in a month, here are their pay and benefits:
Read: Want to Join the Philippine Army? Here's What You Need
Pay (including allowances); the monthly gross income
Candidate Soldier – P 33, 327.00
Private (Enlisted Personnel) P 37, 038.00
Officer Candidate – P 41, 696.00
2LT (Call to Active Duty) – P 49, 906.00
Other than the pay, here are some of the benefits of being part of the Philippine Army, too:
Job Security
Leadership and other training skills
Healthcare Benefits
Insurance Benefits
Billeting and Housing Privileges
An opportunity to be able to lead the Philippine Army
Opportunities for career advancement (which, of course, is based on performance)
Opportunities for both local and international post-graduate studies
Contacts or Contact Person/s
Interested applicants can inquire through the nearest Regional Community Defense Groups (RCDGs) from their locations. More so, they can also direct their queries to any Army Units in the following addresses:
Read: Modified Base Pay of Military and Uniformed Personnel (MUP) 2019
1st RCDG in Pangasinan
3rd Infantry Division in Iloilo City
8th Infantry Division in Catbalogan
53rd Engineering Brigade in Cebu City
1st Infantry Division in Zamboanga City
4th Infantry Division in Cagayan de Oro
6th Infantry Division in Cotabato City
11 RCDG in Davao City
5th Infantry Division in Gamu, Isabela
7th Infantry Division in Nueva Ecija
Headquarters Philippine Army in Fort Bonifacio, Makati City
In the event that you have the interest in joining the Philippine Army, here are the addresses, contact numbers, and Facebook pages of the Army Recruitment Offices in the three (3) archipelagos:
Army Recruitment Office in Luzon
Address: Fort Andres Bonifacio, Taguig City
Cell phone number: 0921 975-5548
Landline number: (02) 845-9555 local 6843
Facebook: Army Recruitment Office – Luzon
Army Recruitment Office in Visayas
Address: Camp Lapu-lapu, Lahug, Cebu City
Cell phone number: 0916 640-5919
Landline number: (032) 231-5157
Facebook: Army Recruitment Office – Visayas
Army Recruitment Office in Mindanao
Address: Camp Evangelista, Cagayan De Oro City
Cell phone number: 0939 954-7673/0927 332-1077/0926 467-4644/ 0917 712-1222
Landline number: (088) 850-5279
Facebook: Army Recruitment Office – Mindanao
Philippine Army Document Downloadables
Upon visiting the Philippine Army website, you can download the following forms:
Other than this broadcast, are there any other job vacancies from the Philippine Army?
As of this current moment, the Philippine Army is currently looking for Enlisted Personnel. However, not only them are looked at. As a matter of fact, there are far more vacancies to take note of.
If you have any interest in knowing what these are, you can proceed to the Philippine Army website in Job Vacancies.
You will see something like this when you visit the PA Job Vacancies website:
One example would be an Office of the Army Internal Auditor (OAIA). 
Qualification requirements in taking up this post would be the following:
Can work with minimum supervision;
Must have at least a Bachelor's or College Degree (Preferably with Accounting Units);
Must be skilled in report writing and written communication;
Should be analytical and articulate;
Proficient in Microsoft Office (MS Office; MS Word, MS Powerpoint, MS Excel, etc.); and
The department prefers applicants with Career Service Professional or Second Level Eligibility
Interested applicants should bring the following requirements with them when they apply:
Read: 2019 Salary Grade of UP Professors and Admins
Letter of Intent
Updated Curriculum Vitae (CV)
Transcript of Records
Personal Data Sheet
NOTE: For inquiries and to signify your intent to apply, kindly contact Msg Roderico M Ente, Chief Clerk at 0905-578-3661 and Mr Dante G Villarico CE, Chief Civilian Supervisor at 0929-776-1576 or email us at [email protected].
Should you require more information about the department and other things that revolve around it, you can visit their website at https://www.army.mil.ph/home/.
Are you interested in getting an opportunity in the 5,400 slots in the Philippine Army? Would you be willing to provide service to the Philippines in protection and security?
You can watch the interview with Col. Zagala in this link here!