A list of alternative transport has been released by the Department of Transportation (DOTr) for the passengers who will be affected amidst the MRT-3 shutdown starting July 7 until July 11. The MRT-3 management made a statement on Monday regarding the temporary suspension of railway operations due to the rising number of COVID-19 infections among its personnel. On July 6, 186 employees of MRT-3 have tested positive for the virus.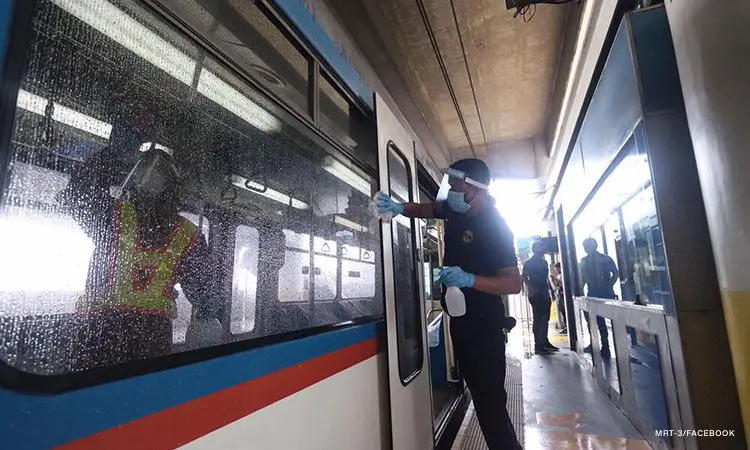 DOTr Assistant Secretary Goddess Libiran said passengers may use the MRT-3 Bus Augmentation, the EDSA Busway System, and the Timog to Ortigas Mini Loop as alternative transport while operations remain suspended. Libiran likewise added that the Bus Augmentation Program will proceed with its deployment of 90 buses to ferry commuters along the MRT-3 route and with a fixed dispatching interval of every three minutes.
Read: Suspension of Doble Plaka, Extension of Time to Report Transfer of Ownership
An additional 190 buses will also be deployed for the EDSA Busway service to transport passengers between Monumento and the Parañaque Integrated Terminal Exchange (PITX).
EDSA busway buses to utilize stops for loading and unloading of passengers
The 190 buses will be utilizing the following bus stops for picking up and dropping of passengers located at the curbside to pick up and/or unload passengers from Monumento to Quezon Avenue. They would be taking the following routes:
Bagong Barrio
LRT Balintawak
Kaingin Road
LRT Muñoz Station
MRT North Avenue Station (Southbound-Loading only, Northbound-Unloading Only)
MRT Quezon Avenue Station (Southbound-Loading only, Northbound-Unloading Only)
Buses will shift to the median lanes from Quezon Avenue, and shall be allowed to pick up and drop passengers on the following median bus stops:
Read: Beaching Ramp Inauguration on Pag-asa Island: A Welcome to China or Not?
Main Avenue
Santolan
Ortigas
Guadalupe
Upon exiting Estrella, the buses will then be allowed to pick up and/or unload passengers at the following curbside stops from Buendia to the PITX:
Buendia
Ayala (Southbound-Unloading Only, Northbound-Loading and Unloading)
Magallanes
Evangelista/Malibay
Taft Avenue (Southbound-Unloading Only, Northbound-Loading Only)
Roxas Boulevard
Macapagal Avenue
SM Mall of Asia
PITX
For the Timog to Ortigas mini loop, shuttle services or mini buses will be allowed to pick up and drop off passengers at the curbside, the DOTr added.
The temporary suspension will give way to RT-PCR or swab testing of all MRT-3 personnel, including those of its maintenance provider and subcontractors, to prevent further spread of the disease.
Read: EDSA Bus Doors to Left Side, MMDA Considers
Thorough disinfection will also be done in the MRT-3's depot, stations, and trains during the shutdown period.
MRT-3 personnel tested positive for COVID-19
The Metro Rail Transit Line 3 (MRT3) bared on Sunday, July 5, that 172 of its workers have tested positive for the coronavirus. Among the 172 personnel, 166 of them are train personnel while the 6 are are station personnel: 4 ticket sellers, one nurse, and one train driver.
However, the management has assured that the infected employees have already been admitted into government quarantine facilities at the World Trade Center in Pasay City, PhilSports Arena in Pasig City, and Philippine Arena in Bulacan, also stating that they have intensified the safety and health protocols of the railway station.
The MRT-3 said all its personnel, including those from its maintenance service provider and other subcontractors, are now undergoing RT-PCR testing including that full personal protective equipment (PPE), such as face masks, face shields, gowns, and gloves, must be worn by all MRT-3 personnel.
Read: Grab Riders Will Not Shoulder Expenses of Cash on Delivery Food Orders
The agency added that the deployment of safety officers at the MRT-3 depot will ensure strict observance of safety measures. As a matter of fact, there would be nurses present at the stations and at the depots.
At the MRT3 Depot, roving safety officers have also been dispatched to ensure strict observance by depot personnel of all health and safety measures. Nurses are also available at all times at the depot and at the MRT3 stations."
MRT-3 to undergo mandatory disinfection at every half loop
Disinfection in the depot and the stations will be done twice a day by a certified professional provider as well as the regular disinfection by MRT3 sanitation personnel. MRT3 trains will also undergo disinfection for 5 minutes at every half loop, or at the North Avenue and Taft stations.
Read: A Quick Guide to Cleaning Your Car Under the New Normal
Other health protocols such as the designation of disinfection stations in the depot and among all stations, and the restriction of movement and interaction of personnel. Transport marshals will also be dispatched to enforce physical distancing rules and to guide passengers in following the markers and stickers on the stations and inside trains.
How do you feel regarding the list of alternative transport released by the MRT-3 management? Do you think they will be able to cater to commuters while railway suspensions are in place?
Source/s: CNN Philippines