It might look like a blessing in disguise to others if a mistakenly huge amount of money was deposited in their bank account. But in reality, this was not the case at all. Let's take the scenario of Abdel Ghadia, an Australian rapper before who, out of the blue, received $750,000 in his account. He didn't tell the bank about the error and splurged the cash on gold bullion bars, clothes, and make-up. Because of this, the 24-year-old was jailed for 18 months.
Another similar and recent case was happened to Ping Lacson, a former senator, who tweeted and posted in his official Facebook account about his situation after discovering an unrecognized P180,000 in his bank account.
In his post he said, "Yesterday, a Php180k online deposit was reflected in my savings account. Having no idea who made the transaction, I asked the bank manager to trace. Two reasons: a. if it was a mistake, reverse and return; b. if it was a set-up for a bribery case, it is now a matter of record."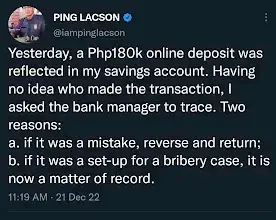 This image was taken from former senator Ping Lacson's official Facebook page.
What's the best practices to do if a certain amount was mistakenly deposited in your bank account?
According to PhilStar Life's interview to experts in the field, here are the appropriate practices to do if you discover a large amount of questionable cash in your account. Because if you don't want to end up behind bars, you might want to do the right thing once and for all.
First practice:
Similar to what Lacson did, you should call your bank's hotline or speak with the manager of your branch to inquire about the transaction. As soon as you notice the transaction reflected on your account, take action so that the bank can take the required steps or block your account if necessary.
It was possible for the new money to have been sent accidentally, particularly if the transaction was completed online. It's a common mistake when sending money through GCash or other banking apps, so it's not unlikely that the senator's case was simply a case of human error. The sender could have typed the wrong account number or a single digit in it and, apparently, sent this to the account owned by Lacson.
Second practice:
Go to your bank and refrain from touching the money. Don't touch the deposit; tell your branch manager that there may have been a mistake.
Being truthful in circumstances like this keep yourself secure and accountable. Simply be truthful because eventually "mahuhuli't-mahuhuli ka diyan."
Safety Tip:
Keep a close eye out for strange activity and periodically check your account. As a means of defending yourself against fraud and scams, it's also crucial to use caution when using your ATM or debit cards in stores or online.