Good news for Contract of Service and Job Order government employees, in an effort to reward your dedication, President Ferdinand "Bongbong" Marcos Jr. has issued an order for you to get a gratuity pay.
As per Administrative Order No. 3, COS and JO government employees will receive a one-time gratuity compensation not to exceed P5,000.
Read: Gov't employees to receive P20k service incentive and one-time rice allowance
"Granting a year-end gratuity pay to COS and JO workers is a well-deserved recognition of their hard work in implementing programs, projects and activities and pivotal role in the delivery of government services amid the ongoing COVID-19 pandemic and present socio-economic challenge," the order stated.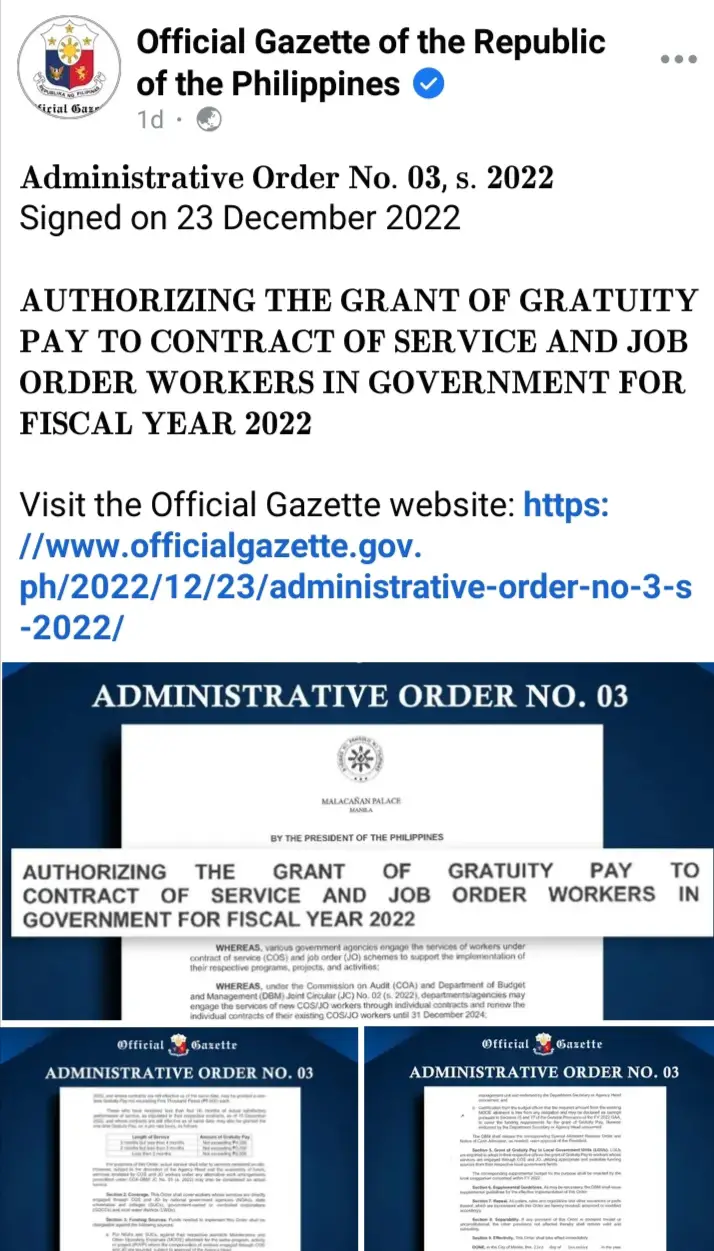 This image was taken from the Official Gazette of the Republic of the Philippines' official Facebook page.
Who are covered under the order?
The order covers workers whose services are directly engaged through COS and JO by national government agencies, state universities and colleges, government-owned and controlled corporations, and local water districts.
Read: P33,000 minimum wage for government employees urged nationwide
On the other hand, local government units are urged to adopt the practice of paying gratuities to COS and JO employees in their respective offices.
The one-time rice support approved by the President through Administrative Order No. 2 is also available to employees and workers in the government who provide services under JO, COS or other similar working arrangements.
Read: You Can Get a Reward For Reporting Corrupt Government Officials, Get Up To P100K
How much is the gratuity pay?
Those who have completed at least four months of "actual satisfactory performance," as required by their individual contracts, as of December 15, 2022, and whose contracts are still in effective as of that date, are eligible for the gratuity pay.
While those who have provided less than four months of "actual satisactory performance" of service, may also be given a one-time gratuity pay on a pro-rata basis.
Read: Senator Bong Revilla Files a Bill Adding Sick and Vacation Leaves For Government Workers
In layman's terms, COS and JO government employees are entitled to receive the following pay, respectively:
*5k for those who rendered at least 4 months
*4K for those who rendered at least 3 months but less than 4 months
*3K for for those who rendered at least 2 months but less than 3 months
*2K for those who rendered less than 2 months
Read: BPI is Giving a 90-day Grace Period on Loan Payments to Frontline COVID-19 Workers
When to receive the gratuity pay?
There's still no specific provision in the AO, but the AO takes effect immediately.
Source: Official Gazette of the Republic of the Philippines