Metro Manila, famous for its brand and naming as one of the busiest and most crowded cities in Southeast Asia. Not to mention that the Metro has been tagged as one of the cities with the worst traffic in the world.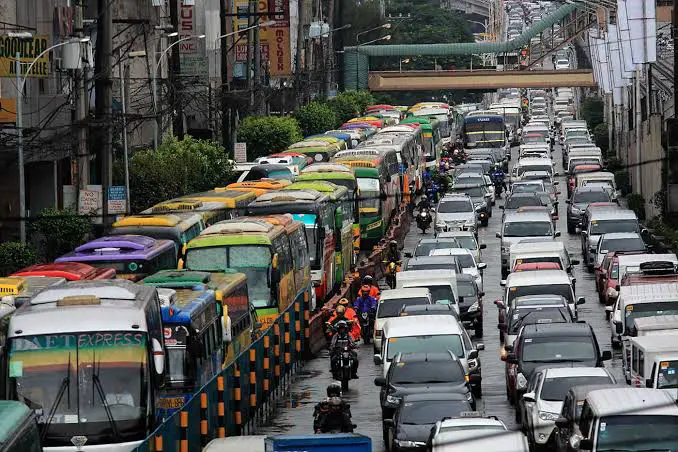 This was why the Metropolitan Manila Development Authority (MMDA) is still open for suggestions on how they can completely fulfill and resolve the never-ending EDSA traffic.
Read: MMDA Wants to Cut the Number of Buses by Half
5-minute travel of Makati-Cubao
A few months back, President Rodrigo Duterte said that he is going to take extra measures to the extremes. He swore that he will make the drive and the travel time to and fro Makati and Cubao just five (5) minutes. 
This was of course mocked by a lot of people considering the fact that it can be impossible to happen. In order for this promise to come close to reality, many careful and academic approaches were duly accepted by the agency such as: hiring more traffic enforcers, banning provincial buses on EDSA, adding more bus stops; and the like of what we currently are experiencing.
But proposals that are just recent might blow you away for its extreme and bizarre methods.
One-way traffic scheme
A few days back, Celine Pialagio, MMDA Spokesperson said that a private sector firm made a proposal to implement a one-way traffic rule along C5 and EDSA to ensure smooth flow of traffic.
GPI Engineers managing partner and President, Engineer Fernando Guevara said that he made a presentation of a proposal with their briefing with the MMDA.
Read: Traffic Violations That Every Motorist Should Know
The MMDA, on the other end of the table, said that they will be studying the proposal to see if it was feasible enough and that it won't bother motorists and commuters passing along the major paths.
According to Guevara, this plan was based on a study he did back in 2015 as regards the traffic in Metro Manila. His proposal discussed that EDSA is to be restricted or prohibited for vehicles going south. C5, however, would be for vehicles going north.
Different issues arose in the pitch done by Guevara; that is why the MMDA is on the move on carefully studying the said measure.
International standards
In addition to that, Guevarra said that this proposal could be well-executed if the Senate Bill No. 847 or more commonly known as the Commuters Welfare Act is to be pushed.
Read: Lawmaker Passed a Bill to Make Wearing Helmets Optional For Motorcycles Traveling at 40 Kph or Lower
Meaning, the distance of bus stops and transport terminals should be "within 500 meters of residences, schools, offices, commercial areas, and other activity centers within cities." Even better, he is suggesting that this be reduced to 200 meters to meet international standards.
Car-brand coding proposal
In addition to the one-way scheme along C5 and EDSA, a different proposal is emerging. Pialago said that they were notified that a consultant in nature, proposes that a "vehicular brand reduction program" will be in a presentation to their agency on Monday, September 2nd, 2019.
Who proposed the car-brand coding scheme?
The person behind this grand proposal is a former consultant of the Philippine Amusement and Gaming Corporation (PAGCOR) during the Arroyo administration, Ariston Gorospe. As per Gorospe along with the information TopGear PH received, this new coding scheme's goal is to reduce traffic congestion in Metro Manila. How? By restricting vehicles, not based on the last digits of their number plates, but based on the car make.
How did he come up with these figures?
Similar to the one-way scheme in EDSA and C5, Gorospe made his own study regarding the traffic and the overall condition of EDSA. According to TopGear, he has a list of brands along with the total number of cars sold by that brand.
Read: House Bill 504 – Sidewalks and Public Roads Use Act
TopGear PH even said Gorospe's list contained a lot of misspelled brand car names. Nevertheless, his list said that Toyota and Lexus sold a total of 72,136 vehicles last year. Mitsubishi, then follows with 33,506 and so on.
Therefore, his list said that the number-one car manufacturer has one coding day to itself because of the sheer number of vehicles that they sold in 2018.  All other brands would share coding days to one another.
Matrix of the sold cars last year
You can refer to this matrix done by Gorospe to see which brands are to be coded on selected days:
Sunday – SsangYong, Mini and Lotus, Volvo, and others.
Monday – Toyota
Tuesday – Hyundai, Isuzu, Mitsubishi
Wednesday – Ford, Foton, Nissan
Thursday – Chevrolet, Honda, Mazda, Subaru
Friday – Kia, Mercedes-Benz, Suzuki, Volkswagen
Saturday – Audi, BAIC, JAC, Tata
Does this proposed car-brand coding scheme have exemptions?
Of course, there would be certain things and exemptions that this proposal has. In fact, similar to the current number coding scheme that the MMDA has currently, the following are the exemptions posed by the author of this proposal:
Cargo trucks and other heavy vehicles (trucks weighing 4,500kg and above) won't be affected by the car-brand coding scheme;
Ambulance, fire trucks, police patrol cars, and military vehicles are also exempted;
Vehicles with diplomatic plates;
Vehicles commandeered by the government— or if duly directed by a person in authority or his agent, a medical practitioner, or a military relief—for emergency purposes would be allowed on a daily basis;
Government vehicles with appropriate plates or LTO stickers are also going to be exempted;
Vehicles accredited by the Department of Tourism (DOT);
Vehicles carrying a person needing immediate medical attention (in case of emergencies); and
Trucks accredited by the MMDA.
Tons of questions were raised when the car-brand coding scheme was proposed. As a matter of fact, Gorospe still has a lot to answer as regards to his car-brand coding scheme proposal.
Read: Driver-Only Car Ban in EDSA, Looked Into by the MMDA
Pialago, on the other hand, mentioned that out of the proposals they have seen and received, this "car-brand coding scheme" remains to be the most extreme and rather, desperate.
We appreciate this and what we want to get across is that our agency does not create policies on its own; we accept all of them. Because with the chaotic situation that we have right now, who knows, maybe a drastic measure is what we need."
In the meantime, do note that the MMDA is still open for various proposals on how EDSA's current traffic situation is to be resolved. The most bizarre one would be the proposal submitted by Gorospe.
Let's wait for a further announcement after he presents it to the MMDA. But what do you think about this proposal? Could this resolution give aid to the traffic situation we currently have? Or could this make things worse?
Source/s: The Philippine Daily Inquirer | TopGear PH