Every Filipino knows the hassle that both the Metro and some central business districts (CBDs) in the country. This is why most Filipinos choose to ride motorcycles than to commute regularly or bring cars.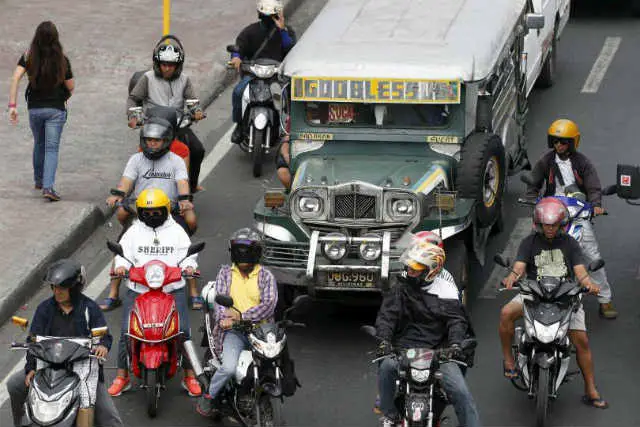 Due to this reason, a lot of issues and concerns sparked as to how motorists should be and behave when they are on the road.
Just recently, issues about motorcycles having two (2) big number plates have been raised. However, President Rodrigo Duterte said that he will not allow this because people, specifically motorists, raised concerns about it being dangerous.
Helmet as a mandatory thing
What struck almost everyone is the fact that the helmet became a mandatory thing while driving. It is, of course, for safety purposes but there are some instances when this is inapplicable—when inside villages or when it is traveling at a slow speed.
Wearing Helmets Optional
A few days back, Arnolfo Teves Jr., Negros Oriental third (3rd) District Rep., authored a bill that was pushed in Congress having wearing helmets optional for motorists running at a speed 40 kilometers per hour (km/h) or slower.
Read: Magna Carta For Commuters Pushed in House
In the bill he passed, it was said that motorcycles who are riding the streets where the maximum speed limit is at 40 km/h or lower, wearing helmets will not be required.
On the other hand, places where the speed limit is higher or faster than 40 km/h, the bill would require riders to utilize protective coverings like helmets to protect them if mishaps happen.
The helmets or protective covering they are to use should meet the standards and the specifications of the Department of Trade and Industry (DTI).
Read: Child Safety in Motor Vehicles Law, Signed by President Duterte
Doesn't this disobey a standardized law?
Teves Jr., aims to amend Republic Act (R.A.) 10054 or also known as the Act Mandating All Motorcycle Riders to Wear Standard Protective Motorcycle Helmets While Driving. 
What his goals are is to modify the already published Republic Act in order for necessary actions to be taken as regards motorcycle riders.
Read:Bill That Looks to Have Cleaner Facilities and Free Internet in Land Transportation Terminals, Passed
During the press release , the Congress made a mention that the reason the bill was filed was to "better conform with the traffic situation in different cities and municipalities around the country." This basically means that it does not simplify the experience of motorists in the country; it was made for different roads in the country to be regulated.
Which types of roads do the bill cover?
As per the measure, the provisions cover roads like municipal streets, crowded streets, cities, and boulevards so long that the allowable or maximum speed in that specific road is lower than 40 km/h.
The Congress press release says that in the R.A. 10054, even back riders are required helmets when riding. In the proposed measure, everyone in the motor vehicle would not be required should the speed be lower than 40 km/h.
Read: Jaywalkers Will Now be Penalized
The bill provides that all motorcycle riders, including drivers and back riders, shall be mandated to wear standard protective motorcycle helmets while making short or long drives along expressways or open country roads."
Would children be allowed to ride motorcycles under this provision?
Teves Jr., said that he did not fail to take into account current existing laws about motorists and roads. Children, for instance, would still be not allowed in any motor vehicle that doesn't have DTI-approved equipment to keep them safe while inside the motor vehicle.
Read: Year-round 20% Discount to Student Fare, Signed Into Law
With this specific bill, motorists would now be free if the road hey are plying on has a maximum speed limit of 40 km/h or lower.
Hopefully, Filipinos motorists will be disciplined enough not to be reckless even if the bill that makes wearing helmets optional is to be signed into law.
The bill was made and is pushed in Congress for the convenience of motorists nationwide. Do you think that this specific bill will help in the coordination and convenience of motorists in the country? Or could this be the path to more accidents to transpire every single day?
Source/s: TopGear PH