Have you ever encountered a child riding a motorcycle? Didn't you think that it's somehow dangerous and inappropriate for them riding a motorcycle? If you had thoughts like that, don't worry, you are on the right track. Motorcycle accidents account for six (6) out of ten (10) accidents in the Philippines alone, according to the World Health Organization (WHO).
Even if the vehicle is not a motorcycle, motor vehicles can actually imply risks as well. This is why specific laws about how children should be in these vehicles are being concocted.
Read: Law That Commands Motorcycles to Have Bigger License Plates, Signed by Duterte
Just recently, our dearest President Rodrigo Duterte did not hesitate in signing the law that would not allow children who are twelve (12) years old and below from sitting in front seat of vehicles. Of course, when it is traveling or when its engine is turned on.
What is this law all about?
The Republic Act (R.A) 11229 or also known as the Child Safety in Motor Vehicles Law was signed by our dearest President Duterte last 22nd of February 2019. However, the news that it was approved has been released three (3) weeks by the Presidential Legislative Liaison Office (PLLO).
As per the measure, keeping children in front seats of vehicles ensures that the children will be safe from any harm that the road can bring them.
(The law guarantees) the safety and welfare of infants and children and prevents traffic-related deaths and injuries."
This specific restraint system which prohibits children in front seats of cars was actually taken from the standards of the United Nations (UN). In the law, the driver is obligated and required to secure a child in a restraint system unless the child is at 4.92 feet. This height is the appropriate height where a regular seat belt can accommodate. Unless this is the case, the child needs to be under any kind of restraint in the vehicle.
Child restraint systems that will be made, sold, and issued should be in the Department of Trade and Industry's (DTI) arsenal. This is as per the United Nations Regulation 44 and regulation 129. By this, they should ensure that the restraint systems are effective, efficient, and useful..
Read: MMDA Summer Jobs for High School and College Students
In addition to that, the law also says that the Department of Transportation (DOTr) should conduct a specific study in order for them to nominate to the Congress appropriate and effective child restraint systems in Public Utility Vehicles (PUVs) and all vehicles that are used in both public and private transportation.
What will happen if a person gets caught violating the law?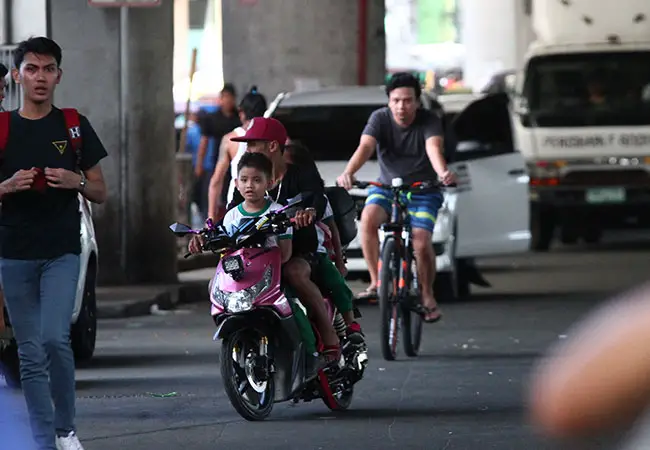 Any driver or owner found offending the law or those who allowed children to sit in front seats of vehicles shall be fined P1,000.00 for the first instance of being caught.
The next offense will be a P2,000.00 fine. Lastly, subsequent violators will be charged P5,000.00 as well as their driver's license being suspended for one (1) year.
Read: How Can You Verify a Plate Number Through the LTO?
On the other end of the context, distributors, manufacturers, retailers, and importers who will sell substandard child restraint systems will and shall be penalized with a fine not less than P50,000.00 but not more than P100,000.00 in every product sold and/or dispensed in the market.
These child restraint systems will be required to have the PS mark or the ICC sticker, or should have necessary permits before they get distributed in the market.
What if a driver tolerates the use of substandard child restraint system/s?
In the event that officials catch a driver or an owner allowing the utilization of an expired, or a substandard child restraint system without the ICC sticker/s or the PS mark; unknowingly permits its use will be fined P1,000.00 for the first offense.
Subsequent offenses for the third and succeeding offenses plus a suspension of the driver's license for a maximum of one (1) year.
The United Nations (UN) Health Agency released data which showed that more than 600 children actually gets fatal injuries – in worst cases, death from crashes in the road just in our country alone.
Read: A Bill that will Provide Salaries for Housewives Filed in Congress
In addition to that, they emphasized on the use of child restraints systems. Why? Because they found out that these child restraint systems reduce the likelihood of a fatal crash by a staggering 70 percent among infants. 54 to 80 percent, however, among young children to young adults.
This legislation is a significant step toward prioritizing the safety and welfare of infants and children on Philippine roads, and preventing traffic-related deaths and injuries."
They're really making us see that these restraints are of drastic help in containing fatalities on roads.
In addition to that, the Department of Health (DOH) also sent kudos to the idea of the child safety in motor vehicles act. Because they believe that one of the causes of major damage and fatalities is that adults lack the belief and the knowledge that these simple things can imply greater impacts.
Francisco Duque III, the DOH Secretary, said that it has been long found that safety seats of children in motor vehicles greatly help in safety. More so, other countries who have been believing in this suffer less damage than those who don't.
Read: Traffic Violations That Every Motorist Should Know
It's been long proven that child safety seats or restrains help. First world countries have been way, way ahead of enforcing that particular law so it will help. Certainly, it will lessen injuries once they are featured in vehicular accidents."
The DOTr will be composing the rules and regulations to be implemented in such laws. Of course, they will be in accordance with the Departments of Health, Trade and Industry, the Interior and Local Government, the Metropolitan Manila Development Authority, the Council for the Welfare of Children, the Philippine National Police- Highway Patrol Group, and other connected and necessary stakeholders and agencies.
NOTE: Forging, imitating, and tampering with the ICC sticker/s or the PS mark also makes it illegal. Being caught, will incur a fine of not less than P50,000.00.
Read: LTO Released the New Guidelines in Getting a Driver's License
The law shall take effect fifteen (15) days after its official publication in the Official Gazette or in two (2) known national newspapers which are of general information and circulation.
What do you think about this law? Would this decrease the instances of child accidents on roads? Could this increase our country's qualification in the name of international road safety?