Mark your calendars! Time to plan your vacation with family and friends as a long weekend is approaching! Malacanang has moved the Day of Valor (Araw ng Kagitingan) from April 9 to April 10 in 2023, following Holy Week. Hence, from April 6–April 10, 2023, there will be non-working days.
On the Facebook page of Official Gazette, Malacanang cited Marcos' Proclamation No. 90 pursuant to the holidays which was published in November 2022.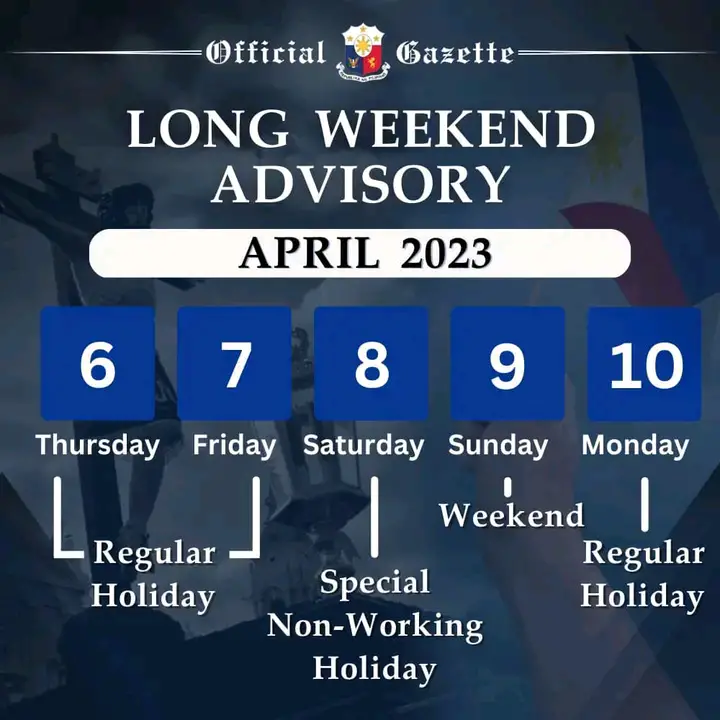 This image was taken from Official Gazette.
April 6, 7, and 10: regular holidays.
April 8: special non-working holiday in observance of this year's Holy Week (April 6-9).
Day of Valor (Araw ng Kagitingan): (April 10).
"The commemoration of Araw ng Kagitingan (April 9) which is a regular holiday falls on a Sunday for the year 2023," Proclamation No. 90 read.
"To enable our countrymen to avail of the benefits of a longer weekend, Monday, 10 April 2023, in lieu of Sunday, 9 April 2023, may be declared as a non-working holiday, provided that the historical significance of Araw ng Kagitingan is maintained," the proclamation added.
See full proclamation here: https://www.officialgazette.gov.ph/2022/11/09/proclamation-no-90-s-2022/.