The Gaming Industry is currently one of the biggest and the most sought after industries because of its wide versatility and diversity when it comes to job posts and responsibilities. Here in the Philippines, Elevated Play Philippines is one company specializing in games and mobile applications testing.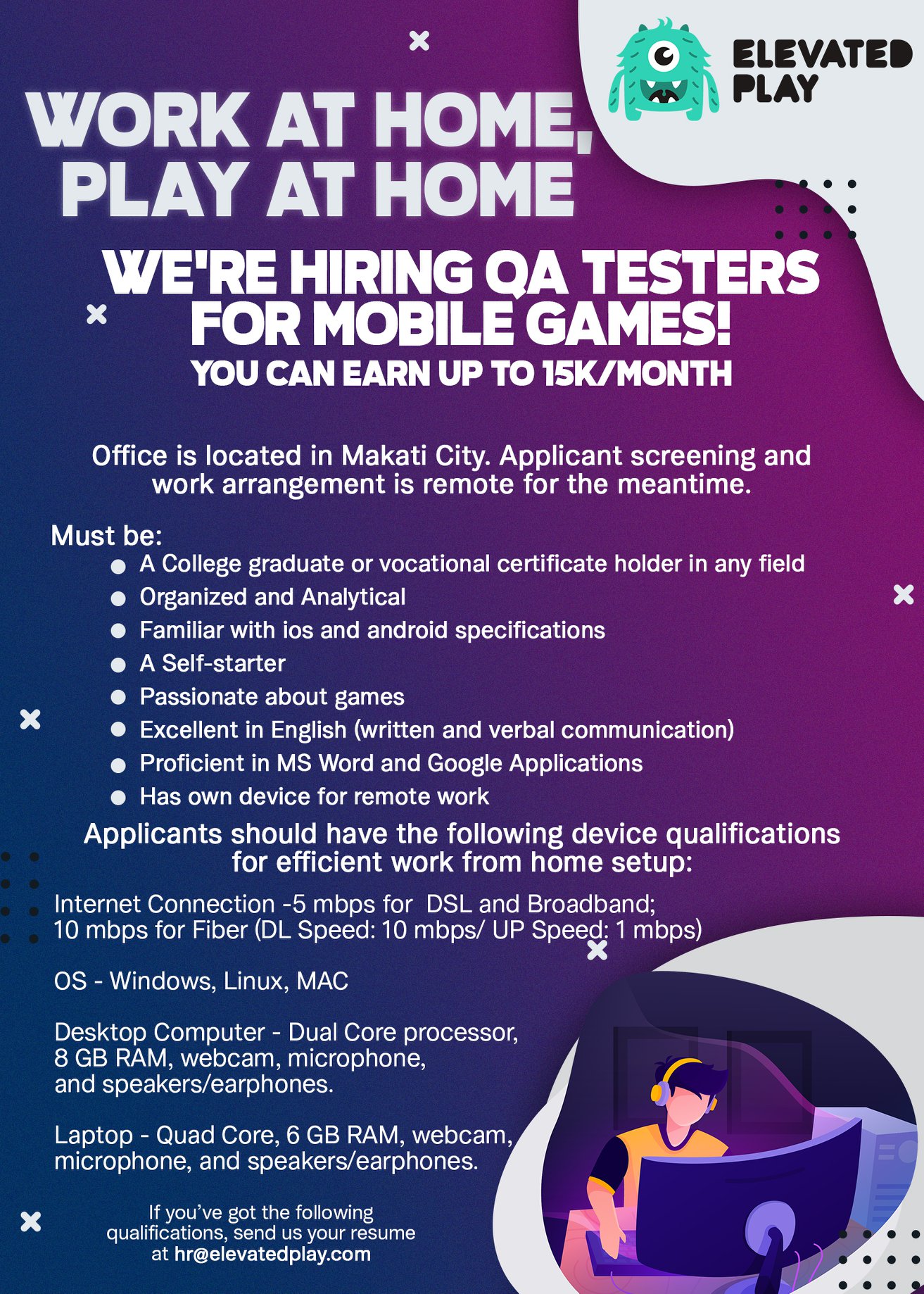 Their main objective is to conduct Quality Assurance (QA) Testing in the most effective, productive, and efficient ways. You would work with them to check the factors and qualities of the program or system you developed. Technically speaking, they are the company that you would want to work with if:
You are not sure how you want your games and your apps to look like;
You want to have a smooth and a seamless process;
Users want something else based on their feedback; and
You want to keep everything secure and confidential
Read: 50,000 More Contact Tracers Wanted by the DILG
Do you have a game developed and you're not sure how it works if it's released in the market? That's where Elevated Play Philippines will come into play! And in case you are looking for a job in this world in the middle of the pandemic – Elevated Play Philippines is Hiring!
Elevated Play Philippines is Hiring QA Testers
In case you're not aware, QA Testers or Quality Assurance Testers are technicians or software experts who are responsible for checking, observing, and evaluation new software products. More often than not the main things that QA Testers are to check would be defects, errors, and issues in mobile games, gaming systems, and other applications.
Elevated Play Philippines is a haven for QA Testers. Not only do they have have the best QA testers in the industry; they're also filled with fun, excitement and continuous learning.
Read: DepEd Teachers Will Get Hazard Pay and Other Benefit Packages if Working During Quarantine
Requirements For Application
Should you be interested with the fact that Elevated Play Philippines is hiring QA testers, here are the eligibility requirements and classifications you need to be wary of:
A Self-Starter
Must be at least a College Graduate or a Vocational Certificate Holder in any field;
Familiarity with Android and iOS Specifications
Must be knowledgeable and/or passionate about games
Must be analytical, organized, and driven
Should have a good command of the English Language (written and verbal)
Proficiency in Microsoft (MS) Word, Excel, and Google Applications
Must have own device for remote work
If you put a check mark on all these requirements, then al you have to do is to prepare yourself with your resume, your answers to the interview, and the passion that you have to display to show the company how much you want the job.
Read: 24/7 Food Delivery in Some Parts of Metro Manila, OK-ed
Work From Home Arrangement?
Yes, this post is actually going to require you to work from home. Therefore, there are a couple of requirements that you need to attain within your environment in order for you to get the job. As per their post, applicants are required to have the following device qualifications for work efficiency:
Operating System (OS) Windows, Linux, MAC
Desktop Computer: Dual Core Processor; 8 GB RAM, webcam, microphone, speakers or earphones
Laptop: Quad Core Processor, 6 GB RAM, webcam, microphone, speakers or earphones
Internet Connection: Must be at least 5 mbps for DSL and Broadband; or at least 10 mbps for Fiber (Download Speed must be at least 10 mbps and Upload Speed must be at least 1 mbps)
Read: Medical Scholarship Bill, OK-ed by the House of Representatives
How do I Apply?
Do you show interest in answering their call? Do you want to try out in the Quality Assurance Testing field to see if this one is the job for you? If you think that you can very much abide by these qualifications, you can send your resume to their Human Resources (HR) department at: [email protected].
Alternatively, you can also visit their website and hit on the Get In Touch button. It can easily be seen on their website; just visit their website at https://www.elevatedplay.com. It will automatically redirect you to their email section and you just have to compose your email there.
Read: Fast Internet? Here are the Newest PLDT Fibr Plans For Work From Home (WFH) and Online Schooling
Yes, if you still think all of these aren't real – think again. Elevated Play Philippines is hiring and they are looking for qualified QA Testers. Work from the comfort of your homes and never set foot outside to earn money again. Do what you love doing (by playing and testing games) and earn without succumbing yourself to the dangers of the outside world.
Do you have any questions about Elevated Play Philippines Inc.? Or anything about the job posts, the application, or the QA Tester job? You can send them an email at [email protected]! Don't worry, you aren't the only one confused about it!