Are you a registered Makati voter? Do you reside in the city of Makati and you're a Yellow Health Card holder? If you are, then you are part of the MAKA-tulong 5K for 500K program which is the cash aid and financial assistance program offered by Makati City.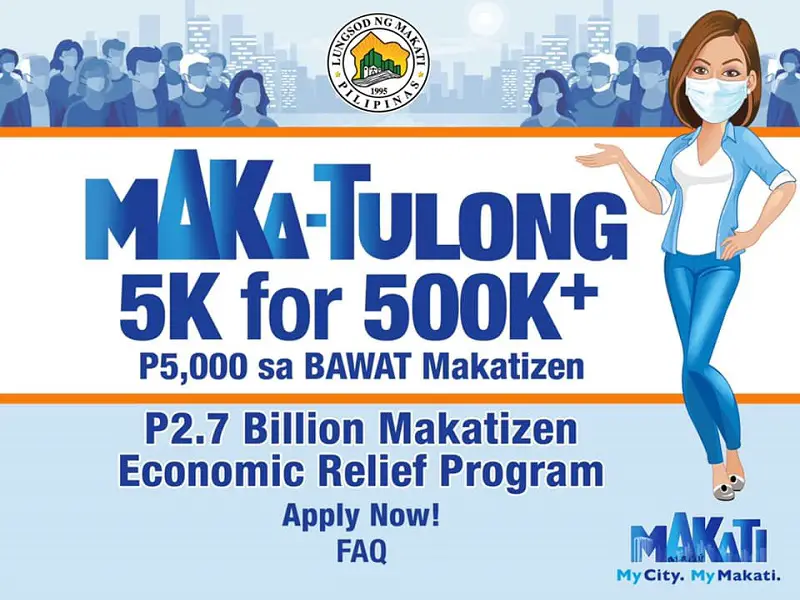 In her statement, Makati Mayor Abby Binay announced that the city is allotting a budget worth P2.7 billion; this budget would be for the financing of the MAKA-tulong 5K for 500K program or the expanded Makati Economic Relief Program.
So do you want to know how you can qualify? What are the requirements with it? Don't worry, we'll help you with this article in finding out what you need.
Read: Cash Allowance For Teachers, to be Released in June
Much needed financial assistance
During the press briefing that happened via Facebook, Binay sad that this program is based on an individual basis — not per household. So for instance, if there are more than five (5) qualified in your household, you get 5K x 5.
The MAKA-tulong 5K for 500K+ Makatizens program, which will cost P2.7 billion, is intended to provide much-needed financial assistance to residents on an individual basis, not per household, as we begin to emerge from the prolonged lockdown."
Read: DSWD List of Social Amelioration Program (SAP) Beneficiaries, Out Now!
Without further ado, here are some of the most vital and the most crucial information about the program; info like how you can apply for it, what qualifications are involved, and what requirements are involved, etc.
Qualifications for the MAKA-tulong 5K for 500K program
For the qualifications, the  Makati resident interested to avail the cash assistance would need to have the following:
At least 18 years of age
Must be a Makati City resident or;
A resident for the relocation sites managed by the local governments of Calauan, Laguna and San Jose del Monte City in Bulacan
The individual must be a registered Makati City voter
Makati City card holder
Makati Yellow card holder
NOTE: If more than one person is qualified for the service under one household, then all of them would qualify.
Read: President Duterte Suspends Increased PhilHealth Premiums for OFWs
Example ho: Sa isang tao, makakatanggap ho siya ng P5,000. Kung mayroon po siyang asawa, so dalawa po sila, makakatanggap po sila ng P10,000. Kung sila po ay may anak na 18 years old na pataas, sila po ay makakatanggap ng P15,000…. At kung mayroon pa silang kasamang senior or dalawa ang anak nila, posible po sa isang bahay ay makakatanggap po kayo ng P20,000."
In Translation: For example: If a person will receive the P5,000; then if he or she has a spouse, then it's going to be the two of them who will receive P5,000 each — totaling P10,000. And if they have a child who's 18 years old and above; the child will also receive P5,000. That doesn't stop there, if they still have someone who's a senior citizen or if they have more than 2 children, then it's possible for a single household to receive.
MAKA-tulong 5K for 50K Application
So how do you apply for the expanded Makati Economic Relief Program? It's not automatic — you have to apply for the program in order for you to get the cash assistance.
Read: The First COVID-19 Hospital and Medical Facility in the Philippines
Application procedure:
A Makati resident needs to fill out an application form via the Makatizen app.
Should you be more comfortable with the physical application, you can ask one from your barangay or if you do not have Internet access.
As a requirement, an applicant would need to issue a valid government-issued ID
When would the residents receive the subsidy?
As per Binay, Makati City residents should receive the cash aid on or before the 15th of May, 2020. Furthermore, she said that the entire processing of the financial assistance program would take anywhere from six (6) days to be finished and completed if it's done through the app.
Read: Balik Probinsya Program by Senator Bong Go to be the Priority
However, if it is to be processed through the barangay, the process would take a total about 15 days. Technically speaking, if you need the funds faster, do it through the Makatizen app.
Are you a Makati City resident and you need financial assistance coming from the government? Are you looking to get the aid and the assistance in the midst of the COVID-19 issue? Worry not, the MAKA-tulong 5K for 500K is here and it's designed to help everyone!
Everyone who is NOT a Makati City resident wishes that their government has something like this, too! What do you think about this expanded financial aid and assistance by the Makati City government?
Source: Rappler