Here in the Philippines, almost everything you do would need you to have a valid ID. Furthermore, in order for you to apply for a valid ID, you need to have a valid ID! One of the easiest and the simplest considered valid IDs is the NBI Clearance. In this article, we will detail what the NBI Clearance is, the different ways on how you can apply for it, and what it is if looked at a bigger picture.
What is the NBI Clearance?
By religious definition, the NBI Clearance is the Philippine Police Clearance which shows the criminal record of a specific individual. If you are applying for a job, your employer will be strict of this in order for them to know whether or not they are dealing with a person who has criminal records.
Read: PRC Board Examination Online Application: A Detailed Guide
The NBI Clearance will contain:
The full name of the bearer;
Complete address;
Date of birth;
Place of birth;
Nationality;
Gender;
Civil Status;
Date when it was issued;
Photo bearing the face of the individual; and
The purpose of the application of the NBI Clearance
Last 2017th of October, the National Bureau of Investigation (NBI) started issuing multi-purpose NBI Clearances. What this means is that this document can both be used locally and abroad and has a maximum validity of one (1) calendar year.
This just adds to the fact that the NBI Clearance is a stronger form of identification. Even before it became multi-purpose, it already is used as a strong form of identification.
What is the process to apply for an NBI Clearance?
Before the NBI online portal, people used to proceed to authorized NBI agents and dealers to line up and apply for their NBI Clearances. However, when the website and the online portal came, the process became faster and easier.
There are actually two (2) ways for the NBI Clearance application. One is via the online registration and by using an expired NBI Clearance from 2014 to present only.
Via Online Registration
You will only do this if you haven't done the online registration yet. Go to clearance.nbi.gov.ph. Once there, it will ask you for your email address and for the password that you have set. If you don't have one yet, you need to hit on the Register button. You would have to put your full name, date of birth, gender, civil status, email address, and your desired password. Once done, you can now use the new credentials you have made to log-in to the website and continue the registration. When you are in, you have the chance to edit information. The information you used initially will be populated automatically and you can then edit other information.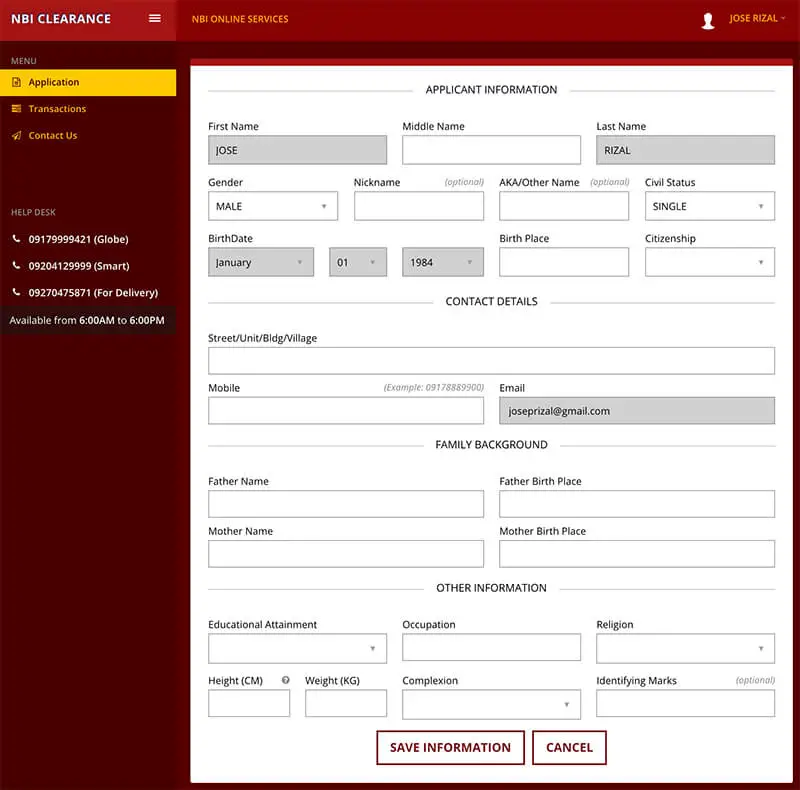 Be sure to double check all information here because once you proceed and save it, you might find it difficult to modify and make changes. Once everything is done, click on Apply for clearance.
Read: Who are Exempted in taking the Civil Service Exam – Complete List
Scheduling an appointment
This is what the NBI Clearance application online is actually all about, scheduling an appointment or ensuring a slot for you on the date you wish. After clicking on the Apply for clearance button, a window with a confirmation will appear asking you to provide an ID. You have different options and you need to ensure that you have one. For the list of valid IDs, click here.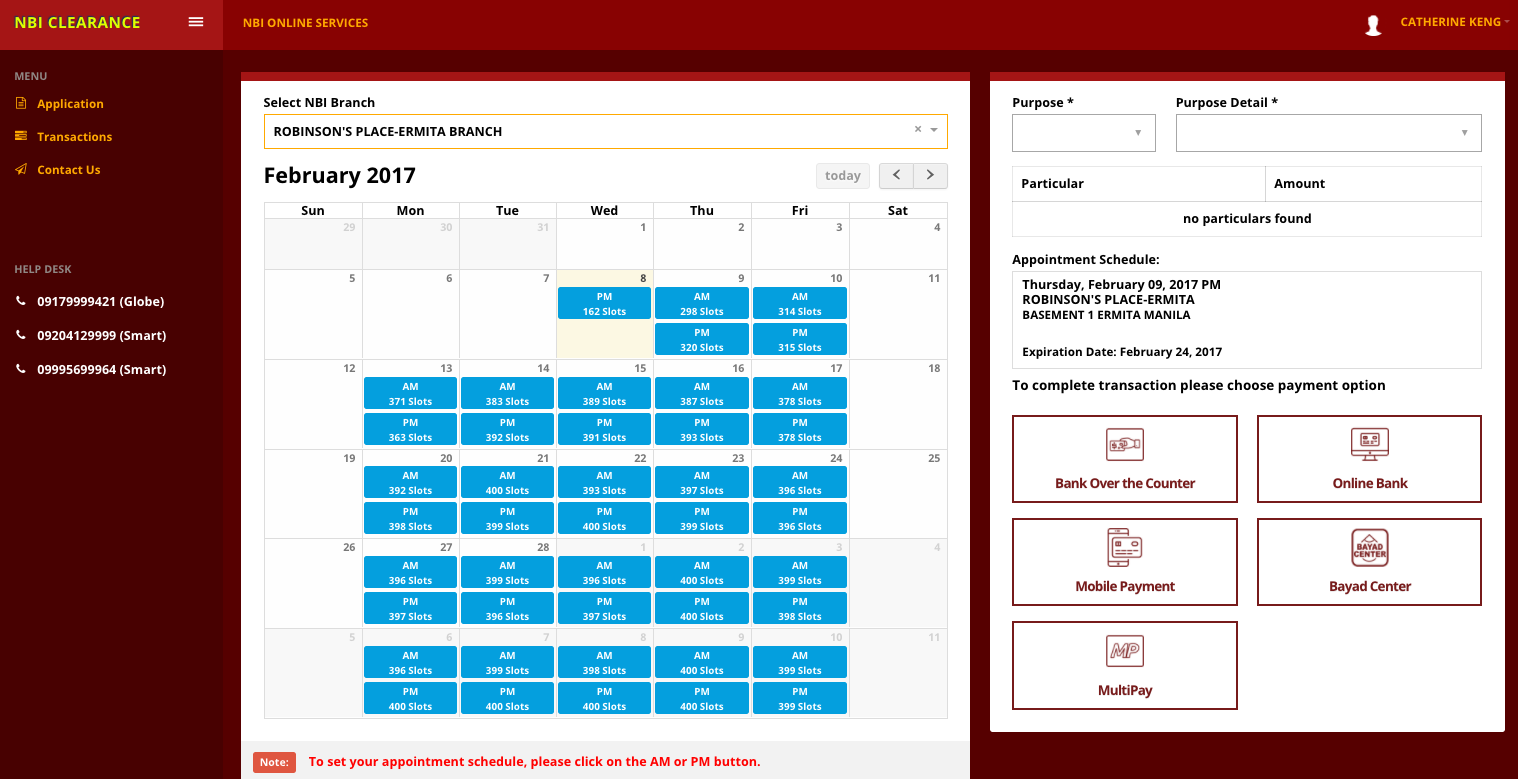 NOTE: Whatever you declare in this part is the valid ID you need to present when you visit the NBI satellite office of your choice. Even if you have other valid IDs, they are strict about it and they might not accept it. So, ensure that you bring whatever valid ID you present.
After it gets approved, you will be redirected to a new page where it will show you a calendar-like page, asking you to choose the date of your appointment. More so, you can also check the NBI Clearance branch where you want your application processed. Also select whether you want to be there during A.M. or P.M.
NBI Clearance application payment
In order for the satellite office to be able to track the transaction, you need to pay for it. On the right hand-side of the scheduling part, a list of payment methods can be seen. These are the options you can choose from and you need to pay it ASAP. The different options are:
Banks (Online Banking)
BDO Internet Banking
BPI Express Online
Metrobank Direct
RCBC Access One
Unionbank EON
UCPB Connect
Chinabank Online
Over-the-counter banking transactions
BDO, Metrobank, and BPI. Note that there will be a P25 over-the-counter charge ; P50 if you choose to pay through BPI.
Bayad Centers
As long as you see a Bayad Center logo, you can transact in that specific institution to pay for your NBI Clearance application.
Mobile Payments (Through GCash)
MultiPay
ECPay
7-Eleven
Once you decide on which payment method to go for, it will show you some sort of a receipt. You will see a button that says Proceed to payment and that is what you have to click on for the system to provide the Reference Number for the payment.
This Reference Number will serve as the number you have to use for you to successfully pay for the application.
NOTE: You will not be entertained in the satellite office if you have not settled the payment. More so, these satellite offices are strict with schedules so be sure to attend to the scheduled appointment not early, not late.
Once you arrive at the satellite office, you agents will be taking your photo, your biometrics, and your specimen. If you do not have any problems with your name or if you don't have cases, then you should be able to claim your NBI clearance on the same day. However, most usually, you will get recalled a week after.
Read: Philippine National ID: How can you Get your Phil ID?
Expired NBI Clearance Issued from 2014 to Present
If you have your original NBI Clearance copy (issued from 2014 to present only), you can bring that original copy plus at least two (2) valid IDs to get an updated one.
Do these people still need to register therough the online appointment?
Fortunately, not anymore! If you have the original copy, you can then bring it to a satellite office. No need to register online, no need to go through that hassle.
However, if you need to edit information in your old NBI Clearance like the Name or the Civil Status, you would have to register to an online acccount. But if the information you had there is retained, you can just bring it to a satellite office and renew it.
How much is the charge for the NBI Clearance?
As per the NBI Public Advisory, the NBI will charge a fee of One-Hundred Thirty Pesos (P130.00) per clearance certificate. Previously, it was just One-Hundred Fifteen Pesos (P115.00). Note that this does not yet include additional charges if you choose to process it through other payment institutions.
Do you need an NBI Clearance application guide? Do you need help in applying for one? Worry no more! The process is easy, fast, and simple!