Due to the fact that it has been talked about for years now, our government decided to make it a reality. Just like other countries, the Philippines will now have their own national ID for transactions and for a uniform identification system. In this article, we will be discussing what the Philippine National ID (Phil ID) is and who can get it; we will be detailing how you can get your PhilSys ID.
In addition to that, we will also explain the importance of having the PhilSys system and Phil ID to all Filipinos, why it will be useful, and how it can drive the economy to its betterment.
The National ID System Law
Of course, there's a law that supports this. The National ID System Law, authored by Senator Panfilo Lacson, is the law that requires all Filipinos to be part of this system. He said that with the new National ID, the poorest people who were not able to get government services will now be able to.
Read: Who are Entitled to Receive a 13th Month Pay?
The National ID System Law will gather almost all information about you. You need to register and you need to give out critical information like your:
Date of Birth
Contact Details
Complete Address
Blood Type
That's just like the basic things; a lot more things will be asked from you. For instance, you'll also be required to present an iris scan for complete and extreme identification.
So, this new Phil ID will have all of your information for your perusal of government agencies like GSIS, PhilHealth, etc. This National ID System is for all Filipinos because an estimated 16.3 million Filipinos don't have any form of identification. With this national identification, there's no need for them to provide more valid IDs.
All information will be held on a database which is both simple and complex. It has the ability to hold millions of information of Filipinos.
Why is the PhilSys ID a better form of identification?
Other than the fact that it's uniform, it also boasts its security. The Philippine Statistics Authority (PSA) -formerly NSO, will be the one held responsible for the processing of these Phil IDs. For added security and confidentiality, the card itself will contain state-of-the-art security features just like in bank notes and passports. This will make it almost impossible to create fake cards and copies of the IDs for inappropriate and fraudulent purposes.
Also, this will make transactions to both the government and private sectors easier and more efficient. By presenting this, you don't have to go through the complicated process of presenting multiple valid IDs, just this one. Everyone will be required to register and to get the Phil ID so there should be no issues when it comes to presenting it to certify and validate transactions.
What would it look like?
In essence, the Phil ID card will have your image, date of birth, address, and fingerprints. It will have holograms and cutting-edge security features which will make thieves think twice about reproducing copies. To give you information about it, we've gotten a sample Phil ID from PSA's website.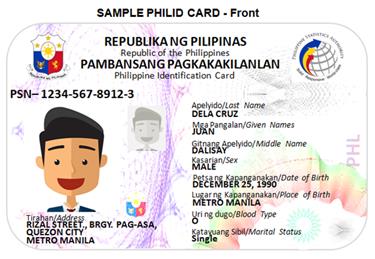 As you can see, it will be splashed with colors and holographic material for added security of the card. In the front, it'll also contain your name and other information which agencies and facilities would need to process government transactions. It will contain the address, the marital status of the person, place and date of birth, and the complete full-bearing name of the person.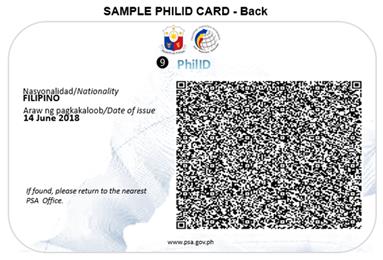 In the back, you will see the nationality and the date when the car was issued.
How can you get your Phil ID?
As per Republic Act 11055, individuals must register for the Phil ID not later than twelve (12) months after the law has taken effect. Applicants of the Phil ID can proceed to the following places to register for the Phil ID:
Local Civil Registry offices;
PSA Regional Provincial offices;
Social Security System (SSS offices);
Government Service Insurance System (GSIS office);
Home Development Mutual Fund (HDMF/Pag-IBIG offices);
Philippine Health Insurance Corporation;
Commission on elections (COMELEC);
Philippine Postal Corporation; and
Other government agencies as assigned by PSA
Upon registration, you will get your PhilSys number (PSN) which will serve as the reference number. All aliens and residents of the country should get this. Furthermore, people born after the law has taken effect shall be registered immediately. Moreover, you'll also be able to get your physical Phil ID card and will serve as a "government-official document." No need for you to secure a lot of valid primary IDs, just the Phil ID is enough!
Read: Who are Exempted in taking the Civil Service Exam – Complete List
Where can I use my Phil ID?
Since it's a valid government-issued document, you can use it to process government transactions. But to give you specifics on what you can do, you can use it for:
Tax-related transactions

Applying for benefits and social welfare;

Registration and voting purposes (identification);

Applying for services offered by the GSIS, SSS, PhilHealth, Pag-IBIG, and other government agencies

Applying for passport and driver's licenses and other valid primary IDs;

Opening bank accounts;

Doing transactions with banks and other financial institutions;

Applying for schools, colleges, universities, and other learning institutions;

For employment and other related transactions;

Verifying criminal records and clearances; and

Other transactions defined in the implementing rules and regulations (IRR)
What are the requirements for you to get your Phil ID?
Yes, there still are requirements for you to get your Phil ID. Although the PSA did not release any concrete information about this, be sure to bring with you at least two (2) of the following when you select the office for the registration:
Original copy of Birth Certificate issued by PSA (formerly NSO), plus one government-issued ID which contains the applicant's full name, photo, and signature or thumb mark; or
Valid Philippine passport; or
Unified Multi-purpose Identification or UMID card issued by SSS or GSIS; or
Other equivalent documents approved by the PSA.
Amidst all of this, why is the government pushing the PhilSys ID?
Other than the fact that this will simplify government processes, it drastically eliminates the hassle of securing a lot of valid primary IDs whenever you do government and other transactions. Moreover, this will help millions of poor Filipinos to execute transactions with the government and other institutions.
Read: Helpful Techniques and Tips to Pass the Civil Service Exam
Ernesto Pernia Socioeconomic Secretary said that the PhilSys "can open up opportunities especially for the poor and marginalized and will make public service delivery more efficient." Meaning, this will extremely be of aid especially with the poor transacting with the government and the private sector.
You can now proceed to any of those government offices and register for the Phil ID. Grab your chance to get a hold of the Phil ID now and make government transactions easier, faster, better, and more efficient.