Attention to all motorists! The National Capital Region's transition to a single ticketing system, which enables a more streamlined and centralized framework for collecting fines, has finally been approved by the Metro Manila Council (MMC).
The Metropolitan Manila Traffic Code of 2023, which was approved by all 17 mayors of Metro Manila during a conference held at the headquarters of the Metropolitan Manila Development Authority (MMDA) in Pasig City, served as the legal basis for the program.
Read Also: SIM Registration Act now a law
Don Artes, the interim chairman of the MMDA, referred to the adoption of the system as a "historic moment" since it allows drivers to pay for traffic-related infractions independently of the city in which they were pulled, eliminating any possibility of confusion.
"This is a historic moment for all of us because after more than twenty years, Metro Manila is finally adopting the single ticketing system that will highly benefit our motorists," Artes said.
Read Also: Increase from P500 to P1000 pension of indigent seniors now a law
The system enables communication between government agencies involved in managing the city's transportation and traffic, and it also establishes uniform fines and punishments to prevent the inconsistent enforcement of traffic regulations.
Here are the uniform violations that would incur fines according to the guidlelines:
Disregarding traffic signs
Illegal parking (attended and unattended)
Number coding UVVRP
Truck ban
Light truck ban
Reckless Driving
Unregistered motor vehicle
Driving without license
Tricycle ban
Obstruction
Dress code for motorcycle
Overloading
Defective motorcycle accessories
Unauthorized modification
Arrogance/Discourteous conduct (driver)
Loading and Unloading in Prohibited Zones
Illegal counterflow
Overspeeding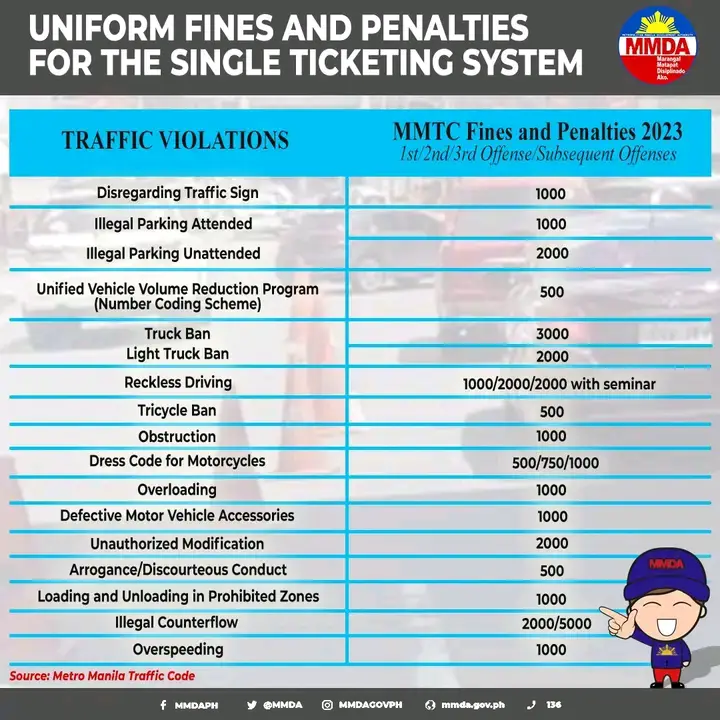 This image was taken from the MMDA's Facebook account.
Read Also: Mandatory benefits and allowances for health workers signed into law
Aside from these, motorists can also be penalized for traffic violations under special laws:
Seat Belts Use Act of 1999
Child Safety in Motor Vehicles Act
Mandatory Use of Motorcycle Helmet Act
Children's Safety on Motorcycle Act
Anti-Distracted Driving Act
Anti-Drunk and Drugged Driving Act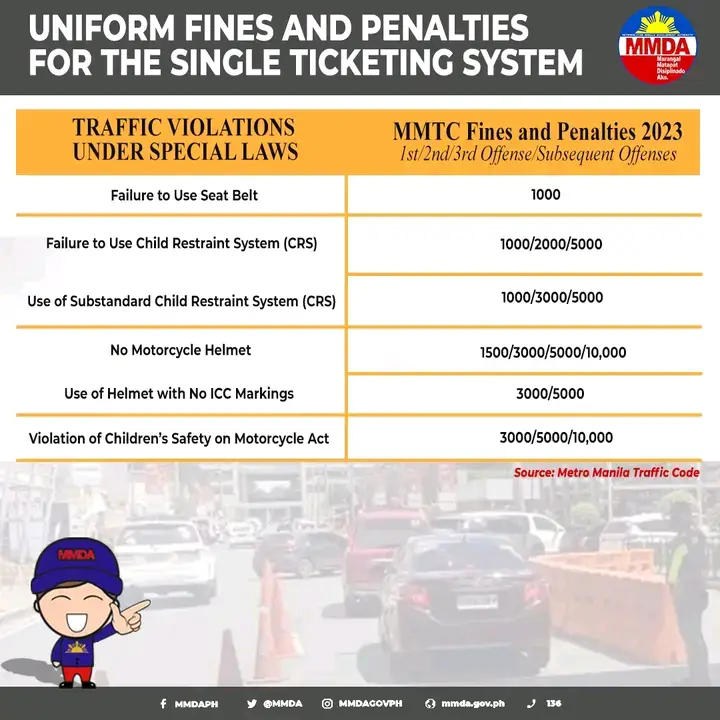 This image was taken from the MMDA's Facebook account.
The MMC President and Mayor of San Juan City Francis Zamora stated that other Metro Manila mayors have agreed to amend their separate laws on or before March 15 to comply with the new traffic code, while the MMDA announced that the unified ticketing system is anticipated to be implemented in April.
Read Also: New law in Taiwan permits some 35, 000 OFWs for permanent residency 
"The Metro Manila local government units will have to pass their respective ordinances adapting the Metro Manila Traffic Code 2023 on or before March 15 to fully implement the single ticketing system," Zamora said.
Source/s: MMDA, PhilStar Life