Truth be told, it is difficult to find a savings and investment plan that is affordable, safe, flexible, and even tax-free.
Well, the SSS's has been promoting the idea of "work, save, invest, and prosper,".
Thus, one of the options you could choose might be the WISP provided by the Social Security System (SSS).
Learn more about your WISP SSS contributions in this article, as well as WISP Plus, the SSS's newest retirement savings initiative.
What is WISP?
WISP means Worker's Investment and Savings Program. As part of the 2018 revision to the SS Law, the SSS put the WISP into effect in January 2021.
This is a mandatory provident fund scheme for SSS members who have contributed more than 20,000 to the regular program under the Monthly Salary Credit (MSC).
The WISP covers contributions up to the allowed maximum MSC and over the 20,000 MSC. Members who are self-employed, voluntary, or overseas Filipino workers must pay their own WISP contributions.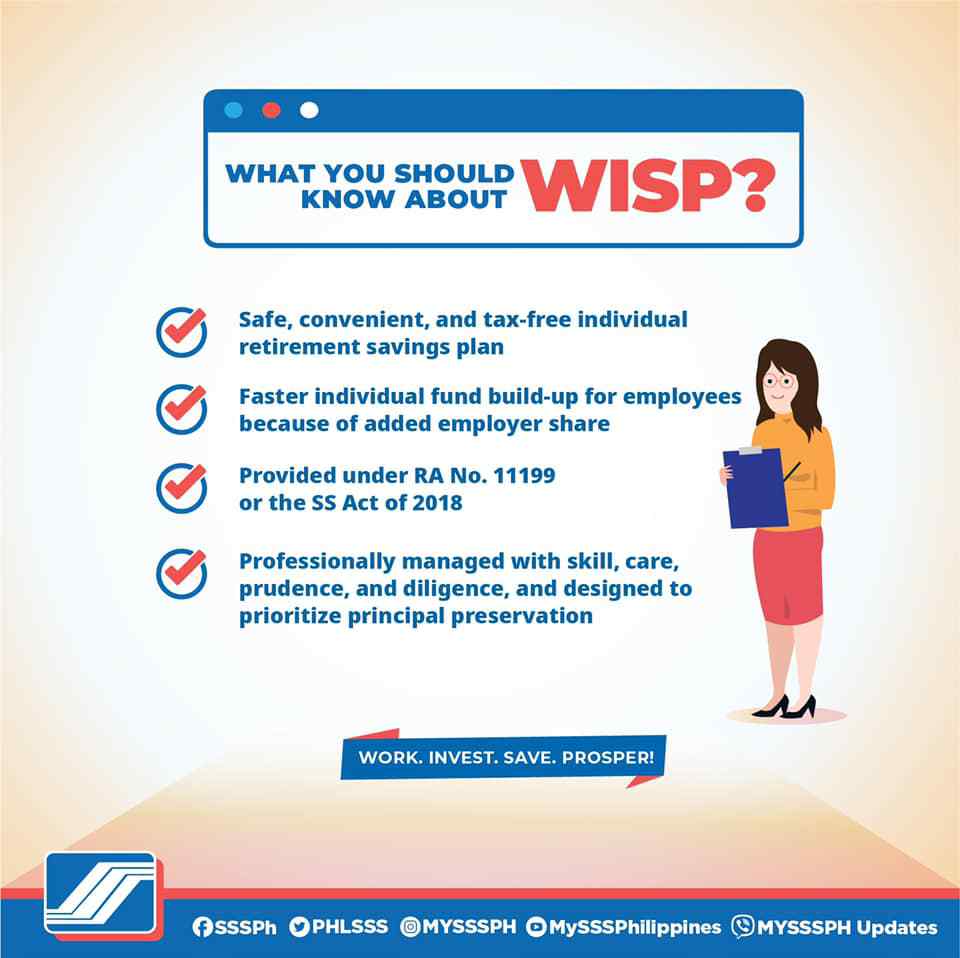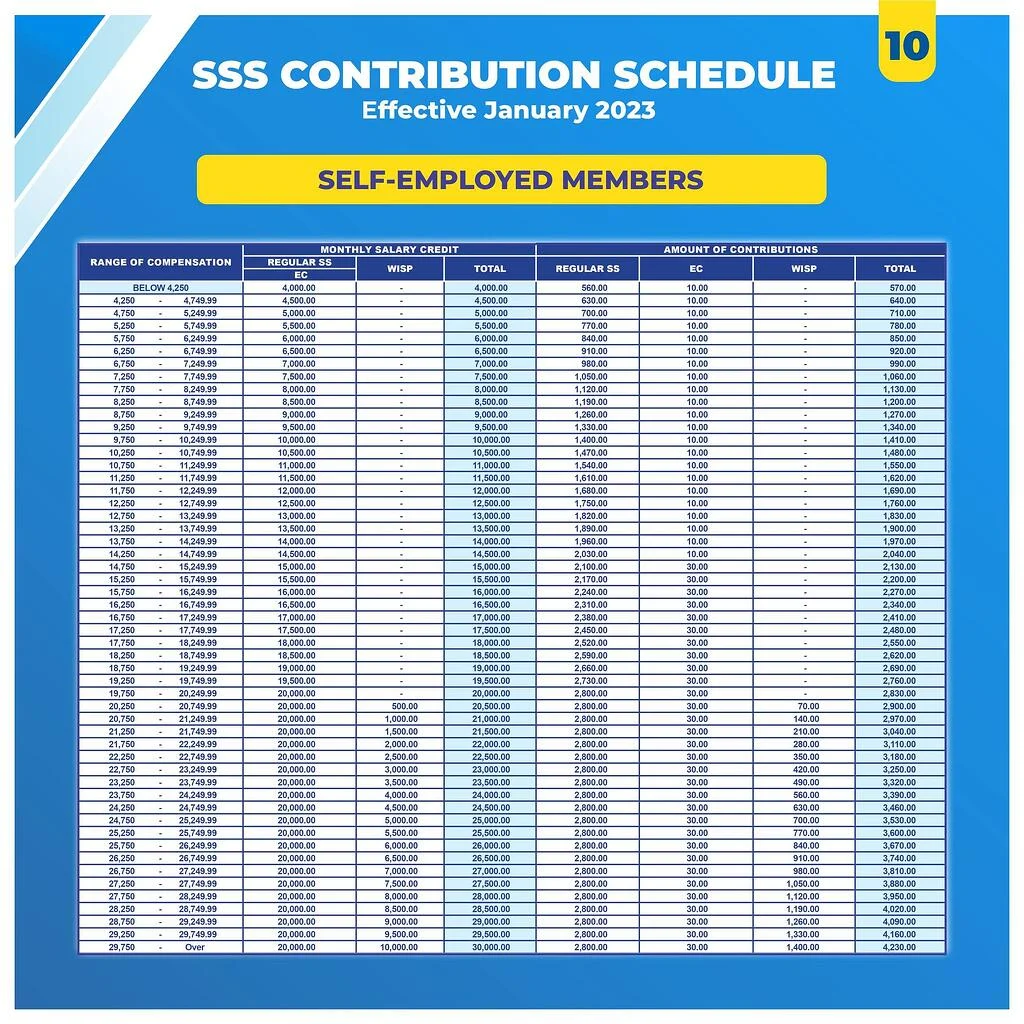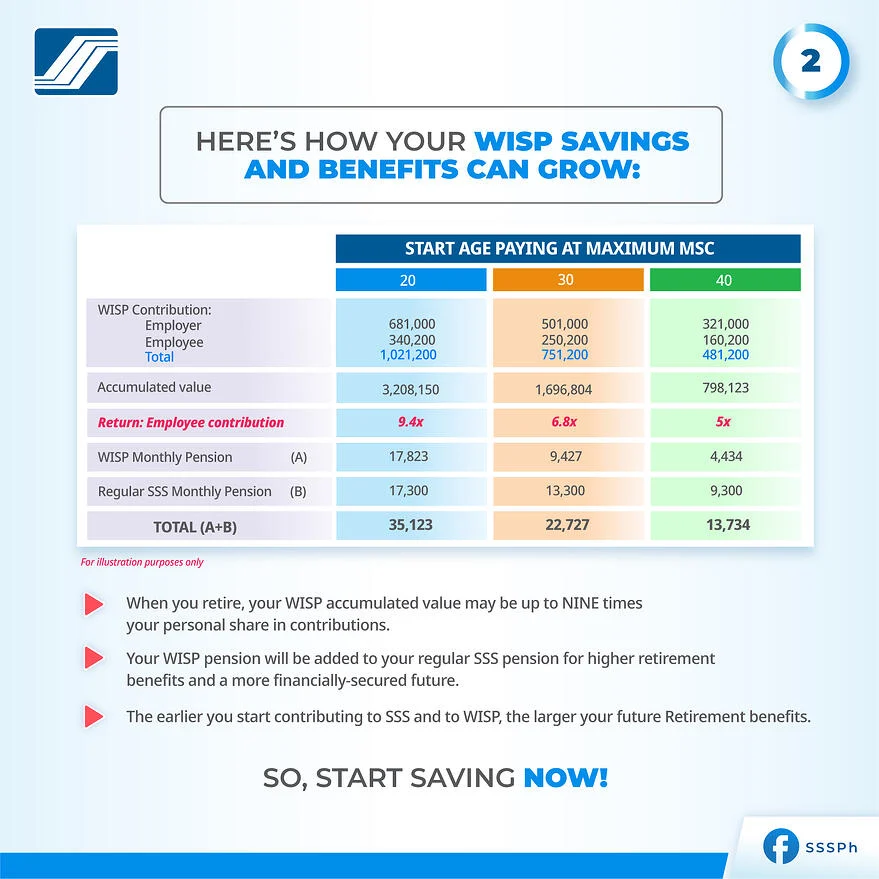 These images were taken from SSS.
Benefits of WISP:
WISP benefits include retirement pensions, total disability benefits, and death benefits in addition to those provided by the regular SSS program.
Affordable, secure, and practical
You can increase your retirement savings in a simple and secure manner. Up until your retirement, the competitive interest earned on your WISP contributions increases. Your principal is safeguarded, your contributions are assured to be kept, and you get to keep the tax-free income you make.
Higher extra benefits upon retirement
You can increase your savings and retirement fund more quickly because you are paying your WISP and regular SSS contributions.
The contributions are also paid in part by your employer. For instance, your company contributes 95 to your WISP for every 45 you provide.
Get your benefit as a lump amount or an annuity
Depending on how your SSS benefit under the regular program is paid, you will get your benefits under the WISP as a lump payment or an annuity. You will receive a set monthly pension if you opt to accept it as an annuity up until the full settlement of your whole accumulated account value (AV). It will span a minimum of 15 years.
How to apply for WISP?
You are automatically enrolled in and making contributions to WISP if you work in the private sector, are self-employed, are an OFW, are a voluntary member, make more than P20,000 per month, and have not filed a final claim under the regular SSS program.
What is WISP Plus?
WISP Plus is a voluntary retirement savings program offered to SSS members in addition to the regular SSS program, unlike the WISP, which is required for SSS members who meet the requirements.
It enables participants to take advantage of increased social security protection while saving and investing in a cost-effective, tax-free savings plan. Compared to regular savings and time deposits, WISP Plus yields more. When you retire, you'll get more benefits.
The minimum contribution to WISP Plus is P500 per payment.
The following limits will determine the initial mix of investments made by WISP Plus because capital preservation is its top priority:
15% or more of the investments should be in government securities, with a maximum percentage of 100%
shares up to 20% in corporate/multilateral organizations
members of WISP Plus may get up to 25% in short- and medium-term loans (calamity, salary, livelihood loans, etc.)
money market and BSP-approved investment instruments up to 40%
loans to pensioners up to 70%
Who can apply for WISP Plus?
Regardless of membership type, declared monthly wages, or most recent posted monthly salary credit (MSC), all SSS members are eligible for the WISP Plus.
The past three months must include at least one posted regular SSS contribution for employed members. For the most recent appropriate payment month, self-employed, OFW, and voluntary members must have a posted regular SSS contribution.
How to apply for WISP Plus?
You can sign up for WISP Plus online, enrollment process only needs to be completed once, and membership in the program will not expire. Follow these steps:
Step 1: Open your My.SSS account.
Step 2: Click Enroll to WISP Plus under Services.
Step 3: See Terms and Conditions by clicking.
Step 4: Click I Accept after reading the terms and conditions of the WISP Plus Program.
---
Your SSS retirement simply won't cover everything you need to retire comfortably given today's cost of living. So why not use your WISP SSS contribution to make more savings over the coming years? Take advantage of this quick and economical option to save and invest while you're still able to do so and earning money.