Pasig Mayor, Vico Sotto, has regularized more than 100 employees on his 31st birthday, June 17, by signing the appointment papers of city hall workers which solidifies the position of more than 100 employees of the local government to be permanent.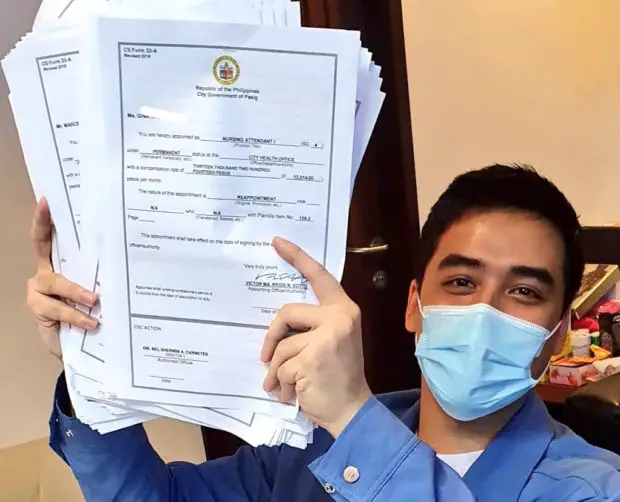 The Local Government of Pasig City was able to benefit from the service; and the works of these city hall workers for more than 20 years already even with their short-term renewable contracts that do not give them any security and beneficiaries like any permanent employee. Among the 100 employees regularized on Wednesday include street sweepers and engineering aides who have been hired as "contractual" all this time, Sotto said on Twitter and Facebook.
Read: Pasig City Subsidy to Families Not on the List of DSWD
With the recent batch of official appointments, Sotto is able to regularize all the city government workers who have worked for the local government unit for 20 years or longer. The next step to Pasig's employee regularization program will be for workers who have been in service to the city for at least 15 years.
Regularization Program a Campaign Promise
The program started in January of this year with the regularization of 53 workers who had been with the city hall the longest, including a man who had been in service for 43 years followed by another batch of 109 workers being regularized in February.
However, the sudden outbreak of the Coronavirus Disease 2019 (COVID-19) pandemic momentarily halted the course of the program; Sotto stated, with the focus shifting onto the public health crisis.
Sotto said on Wednesday afternoon that he was in the works of signing 100 appointment papers before going home to have birthday dinner with his family.
Read: Pasig City's Resolution to Give Cash to Top Students in Elementary and High School
The Pasig mayor likewise stated that he may not be able to make everyone permanent in 3 years, but he promises to give the workers who have been in service for 20 years or longer security.
I may not be able to make everyone permanent in 3 years, but those who've been here 20 years or longer, then after that, those 15 years or longer; let's give them security. Let's protect them from politics."
No Tenure Security
City hall workers or local government employees have no security of tenure so they need to resort to patronizing politicians in hopes to renew their short-term contracts. Subsequently, the effect was to patronage politics where bureaucrats had to follow the ruling power's rules despite of moral compass as to be able to continue keeping their work.
To Sotto, the regularization program will not only provide the workers peace of mind but also as a way to redefine the city's politics and government.
Read: The DSWD List of SAP Beneficiaries, Out Now!
What do you think of the 100 employees that have been regularized? Will other politicians follow through Sotto's regularization program or at least give them an idea?
Public School Laptops and Tablets
On the other end of the spectrum, Mayor Sotto also said that they were able to raise P1.2 billion for public schools; this budget is going to be allotted for the purchasing of tech school supplies such as laptops and tablets.
In addition to that, he said that the teachers will also receive laptops for their part of teaching too.
Sa larangan ng edukasyon, nakahanap tayo ng P1.2 billion para sa ating pampubikong paaralan… para sa ating mag-aaral mula elementarya hanggang sa senior high school ng mga tablets; 'yung iba mga laptop at 'yung teachers nila bibigyan ng Pamahalaang Pasig ng tablets, laptops or learning devices."
Read: P176 Million Allotted to Expand and Improve Pasig's Ferry System
In Translation: For our city's education, we were able to raise P1.2 billion for public schools; for our elementary to senior high school students; some would be tablets (for students) and laptops (for teachers). The Pasig City government would also provide them with other learning devices.
He also gave the assurance that more than 2,000 students of the Pamantasan ng Lungsod ng Pasig would receive tablets; this is to help and assist them with the blended or distance learning.
Pushing Virtual Education
Mayor Sotto said that due to the situation we are in now, face-to-face classes would impose greater health risks.
Walang papalit sa face-to-face classes pero alam natin na sa ngayon medyo delikado pa. Ayaw namin maging breeding ground ng virus ang paaralan."
Read: Drones to Disinfect Pasig City, Mayor Vico Sotto
In Translation: Face-to-face classes are irreplaceable, but we for sure are aware of the fact that it's too dangerous now. We do not want our schools to be breeding grounds for the virus.
With the regularization of 100 employees of Pasig City; as well as the assurance he gave the students that they'll assist them. What do you think of Mayor Vico Sotto's leadership?
Source/s: The Philippine Daily Inquirer | ABS-CBN News