Motivation is one of the things that fuels students to keep doing their best in school. Many thanks to the recently passed resolution which is the approved way to give cash to top students from elementary and high school in Pasig City, students' motivation may just be kept intact. Vico Sotto, the newly-elected, and nationwide-renowned Pasig City mayor, has taken into Twitter to post the approved resolution just in time for the 2019 to 2020 commencement exercises.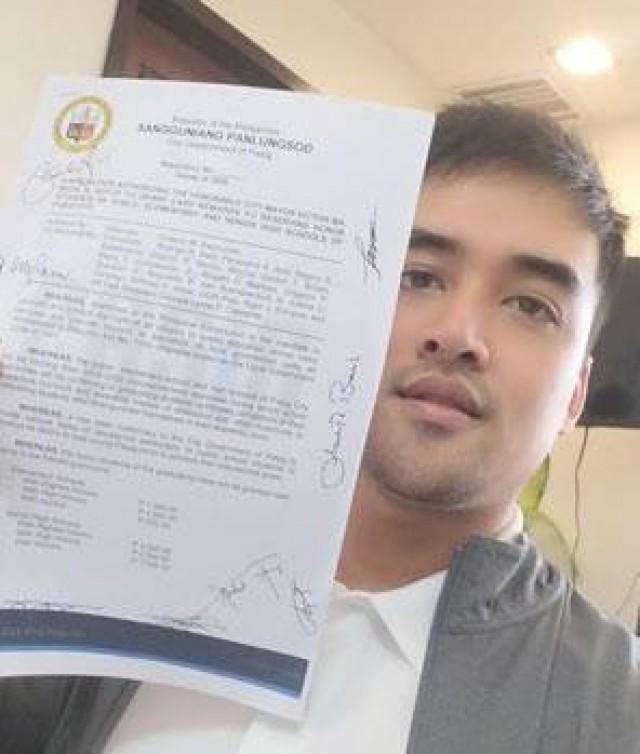 However questions of whether this will push through in the future still remain due to the specific years stated in the resolution.
After Manila City Mayor Francisco "Isko Moreno" Domagoso approved that the public school students from Manila universities came out, then followed a too few many cities, too.
You can read more about that here: Public Students From Manila Universities Will Receive P1,000 Monthly Student's Allowance
Information about the newly-approved resolution
Cash to top students vary from P500 to P3,000. Elementary students are given cash grants of P500, P1,000 and P1,500 pesos to those with honors, high honors, and the highest honors in that order. On the other hand, high school students with honors, high honors, and highest honors are given P1,000, P2,000 and P3,000 respectively.
These are looked at somewhat incentives and they are given as to help young Pasig City residents to achieve their academic goals.
Read: DepEd Plans to Hire More Non-Teaching Staff and Guidance Counselors in the Philippines
San Juan and Navotas
Other cities such as San Juan and Navotas have also implemented the same resolution. As a matter of fact, the city of San Juan rewards cash to top students ranging from P5,000 to P10,000 according to a report from the Daily Tribune.
Fresh graduate students from elementary, senior high school, and college in Navotas enjoy a bit of cash from the government as well pursuant to the recently passed City Ordinance 2019-03 that shall grant cash incentives to fresh graduates starting school year 2018-2019.
Graduates in the elementary level are given a P500 cash incentive while senior high school and college graduates are given a P1,000 and P1,500 cash grants in that order.
Read: The Department of Health (DOH) Midwifery Scholarship Program | Everything You Need to Know!
This ordinance, as a matter of fact, is something that is not unheard of; it actually began as far back as 2013 when Taguig City passed the resolution to grant cash rewards to exemplary students from both public elementary and high schools. In their version, they gave high school valedictorians and salutatorians a respective amount of P30,000 and P25,000.
Not only are the valedictorians and salutatorians expected to be given medal and monetary rewards but also the first top 10 graduates of each public school within the city.
As we can see, the city of Pasig is starting to grow with the trend. It is a good idea and initiative to somehow help those who are in need; all the while creating a necessary amount of competition between the students.
Muntinlupa City
The city government of Muntinlupa also awards the city's top performers in all public schools with cash incentives as to celebrate the students' academic achievement, helping to continue the financial aid given to public senior high school graduates.
Read: The Pantawid Pamilyang Pilipino Program (4Ps), Signed Into Law
Mayor Jaime Fresnedi was the one who directed the distribution for the overall Top 10 Completers and Graduates in all Muntinlupa Public Schools starting April 2018. The cash incentive program for honor students has been directed and led by the Muntinlupa Scholarship Program all the way back to 2014.
Quezon City allotment
In the same year, the Quezon City government allotted over 3 million pesos in cash incentives for the top 3 students in public schools and to simultaneously subsidize graduation expenses of 147 public primary and secondary schools.
Read: Guide: How to Apply for the Department of Science and Technology (DOST) Undergraduate Scholarship
Then Quezon City mayor, Herbert Bautista, reportedly approved a P1.42 billion budget for cash rewards that would be given to the valedictorian, salutatorian, and first honorable mention across all public elementary and high schools. An extra budget of P1.695 million was also allotted for the commencement rites.
With the growing number of youth being out of school either by choice or the lack thereof, cash to top students is one seeming way to aid the financially oppressed and to prevent them from putting a halt to their education. That being said, awarding cash to top students may also help with their focus or concentration to do better in school hence deterring any chances of feeling burnt out or drained.
Especially for those in the high school-stage of life, being given cash is something they look forward to. This can ultimately help on how they handle and manage their studies! Because with these cash grants being in effect; they won't only look forward to having good grades – this can allow them to have a better allowance, too!
Read: PhilFrance Scholarship 2020 Requirements, Qualifications and Benefits
Most of the initiatives as to why the government is giving cash grants to their top students are so students would have the drive to learn and be able to do more. Something that also plays to a concept related to giving cash to top students are scholarship programs which help put a lot of students from the poverty threshold to good schools with almost nothing to pay for.
Other countries' strategies for their studying force
One example of education being free of charge is the educational system Finland utilizes in which students enjoy secondary and tertiary education without any worries of financial burden. Most student financial aids are paid to students in tertiary level of education, however. In return to this, almost everyone is able to attain some form of academic achievement.
So, most, if not all tertiary level students in Finland work hard for them to get that A from their classes. This reward system can be seen as either an additive to what the students can get instead of just high grades.
Read: 20 Percent Discount on Domestic Flights For Students, in Effect
If we were to conclude, this could be one step forward to reducing the number of out of school youth; by giving students more opportunities and letting them feel a sense of fulfillment with their every achievement.
Many cities seem to have been following one after another to reward their students starting from Taguig to Quezon City; as to this, there is a reason to believe other cities may implement the same ordinance not so soon after.
Maybe in the near future, the benefits of this ordinance will not extend to top students only but would also take in effect on regular students who may not be financially stable.
What do you think about Pasig City's resolution to give cash to top students in the elementa
ry and the high school department? Can this shape the perspective students have in terms of their likeliness to end with good grades? Or is this another waste in the efforts?
Many other cities, as well as municipalities have actually adapted to this kind of structure. Therefore, students in these selected locations are driven and are motivated to do better than what they're doing now.
Source: Spot PH