Teachers are the most noble of professions because if it's not for them, there won't be professionals who know basic attitude. Here in the country, though, teachers aren't paid off very well. In fact, there are a lot more professions that pay more than what teachers earn.
Recently public school teachers had some sort of a unity in demanding for a salary increase. President Rodrigo Duterte made a vow that the teachers' salary would see an increase of more than 100%. The Department of Education (DepEd) also made this note.
Read: Deloitte Will Hire About 1,000 Employees in the Philippines Within the Next 5 Years
How much does a teacher earn now?
As per DepEd's data, the basic monthly salary of teacher saw a 119.25 percent in the last and final tranche of the Salary Standardization Law in this year, 2019. Back in the year 2000, a Teacher I earns a total of P9,466.00 compared to the current salary which is P20,754.00.
A Teacher II, one the other hand receives a monthly compensation of P22,938.00; a Teacher III P25,232.00. A Master Teacher I of P40,637.00; a Master Teacher II of P45,269.00; A Master Teacher III of P51,155.00; and a Master Teacher IV of P57,805.00.
Last Sunday, the 9th of June 2019, DepEd said that if the benefits are to be included in the appropriate computation, a Teacher I would receive P30,873.00 as a monthly compensation plus benefits.
If benefits are computed and incorporated, a Teacher I today receives PHP30,873 monthly compensation and benefits."
In addition to that, they added that for almost twenty (20) years, public school teachers in the country gained improvements in their compensation. They also are regarded as the largest army in the government service.
Read: CHED Priority Courses for the CHED Scholarship
You can refer to this table to see the salary matrix of the compensation of public sector teachers.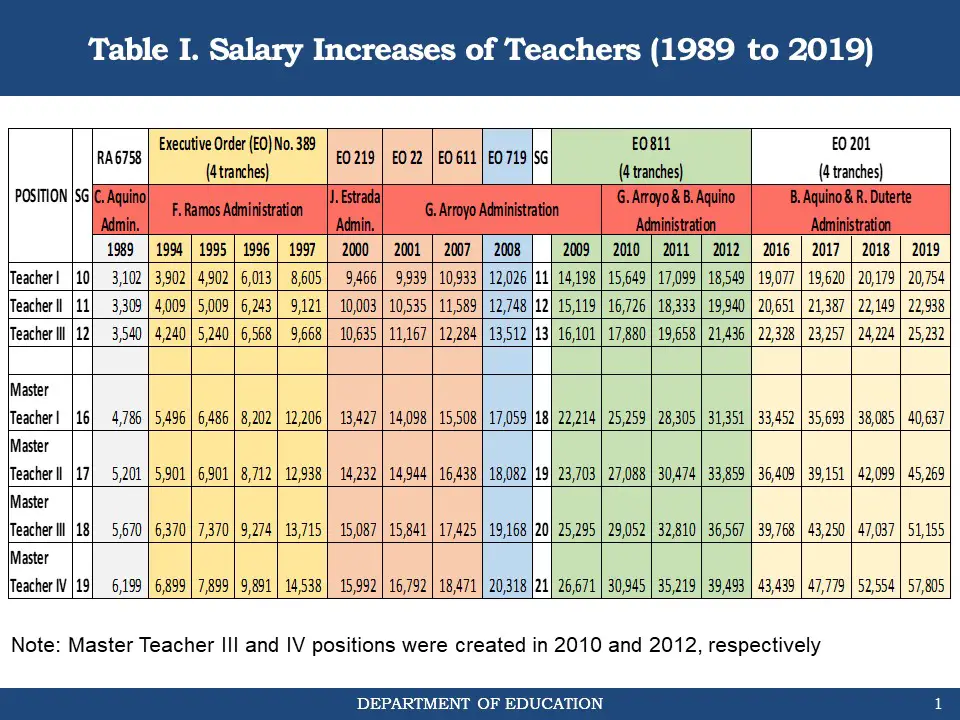 How much does a teacher earn before?
Executive Order (E.O.) no. 219 in 2000, a Teacher I was classified under Salary Grade 19. Then, the monthly salary of an employee of Teacher I was raised to P9,939.00 in the year 2001 following Executive Order no. 22; and to P10,933.00 after six (6) years under E.O. 611 s, 2007.
It touched the P12,1026.00 a year after following E.O. no. 19. It was back in 2009 when the Salary Grade assignment of a Teacher I was raised to eleven (11) with a basic monthly salary of P14,198.00.
Read: 2019 Salary Grade of UP Professors and Admins
Master Teacher II, which was the highest teaching position back then, was classified to be part of the SG 17 with a basic monthly salary of P14,232.00. It was increased to a substantial amount of P45,269.00 in the year 2019 under Salary Grade 10—a staggering 318 percent increase. Can you imagine that?
Leonor Briones, DepEd Secretary said that making sure teachers are getting the correct and appropriate compensation is the key to competent and quality-given service.
In addition to that, she said that she is wholeheartedly supporting our dear President Duterte's plan to increase the compensation of school teachers.
As Education Secretary, and as an advocate, I am committed to the policy to promote and improve the social and economic status of public school teachers, their living and working conditions, and their terms of employment."
How many teachers are there in the Philippines?
As per data from the Department of Education, there are about 830,000 teachers nationwide. They make up most of the employee army in the Philippines in terms of public service.
Briones added that under the DepEd Administration, they made a vow to "expand the scope of employee welfare and safeguard the personal and professional development of both its teaching and non-teaching personnel."
The Department of Budget and Management (DBM) said that the government would need somewhere around P150 billion every year for a P10,000.00 increase for the salaries of public school teachers.
Read: Different Job Opportunities from Different Philippine Government Departments
This is quite a staggering amount considering the fact that there are more and more teachers coming in.
What do you think about this plan of increasing public school teachers' salaries by more than 100% in the coming years? Is this a just and a right act? Could this be the key to better education even in public schools in the country?