Following the recent announcement of Sec. Erwin Tulfo about the Department of Social Welfare and Development (DSWD) Educational Assistance for students which started to release payout on August 20, 2022, he clarified that Pantawid Pamilyang Pilipino Program (4Ps) beneficiaries and government scholars are exempted from the DSWD cash aid.
READ: How Can You Apply For The DSWD Educational Assistance Program
This is after parents and students swarmed outside the DSWD central and regional offices and among them are 4Ps beneficiaries and government scholars, according to Tulfo those aforementioned individuals who had received the payout yesterday should refund the amount.
In a press briefing Tulfo made clear of this point, "Mga sir, mga ma'am ng 4Ps, kung kayo po ay naka 4Ps, hindi na po kayo kasama dito, dahil 'yang 4Ps na hawak niyo ay para po sa mga anak po ninyo yan. Kaya po kayo merong 4Ps para po sa edukasyon ng inyong mga anak, na incentive yan para pumasok ang inyo mga anak. At saka yung mga scholar na po ng gobyerno diyan, hindi na rin po kayo kasama because allotted na po ang mga pambili ninyo pati ho mga tuition ninyo."
READ: How to avail the DSWD's Assistance to Individuals in Crisis Situation (AICS) program
"Tumatanggap na po kayo ng ayuda mula sa gobyero para sa edukasyon ng mga anak ninyo. Pagbigyan naman po natin yung mga hindi pa nakakatanggap ng ayuda na wala po sa 4Ps, sila naman po ang bibigyan natin ng educational assistance. So yung mga nakatanggap po ng 4Ps, aba eh ire-refund niyo po sa amin 'yan, ikakaltas po sa matatanggap niyo next month, para magkalinawan po tayo," he added.
Based on Tulfo's previous statement, the qualified individuals for the DSWD cash aid include breadwinner, working student, orphan/living with relatives, child of a solo parent, has parents with no source of living, child of Overseas Filipino Workers (OFWs), child of Persons With Disabilities, (PWDs), child of HIV victims, victim of domestic abuse, and victim of natural disasters.
READ ALSO: DSWD List of SAP Beneficiaries, Out Now!
Qualified elementary students will receive P1,000; P2,000 for high school students; P3,000 for Senior High Schoo students and vocational/college level students will receive P4,000. The scheme will be conducted again on August 27, September 3, 10, 17 and 24 so people will still have the chance to queue for the assistance. Up to three students each family can apply for the educational assistance, all they have to do is bring with them their proof of enrollment and school ID.
On his Facebook post, DSWD Sec. Erwin Tulfo shared an update pertaining the 48,000 walk in and online applicants that benefited from the DSWD cash aid which amounted to P141 million. He also said that in the succeeding payout, DWSD officials will coordinate with the Department of the Interior and Local Government (DILG) and Local Government Unit (LGU).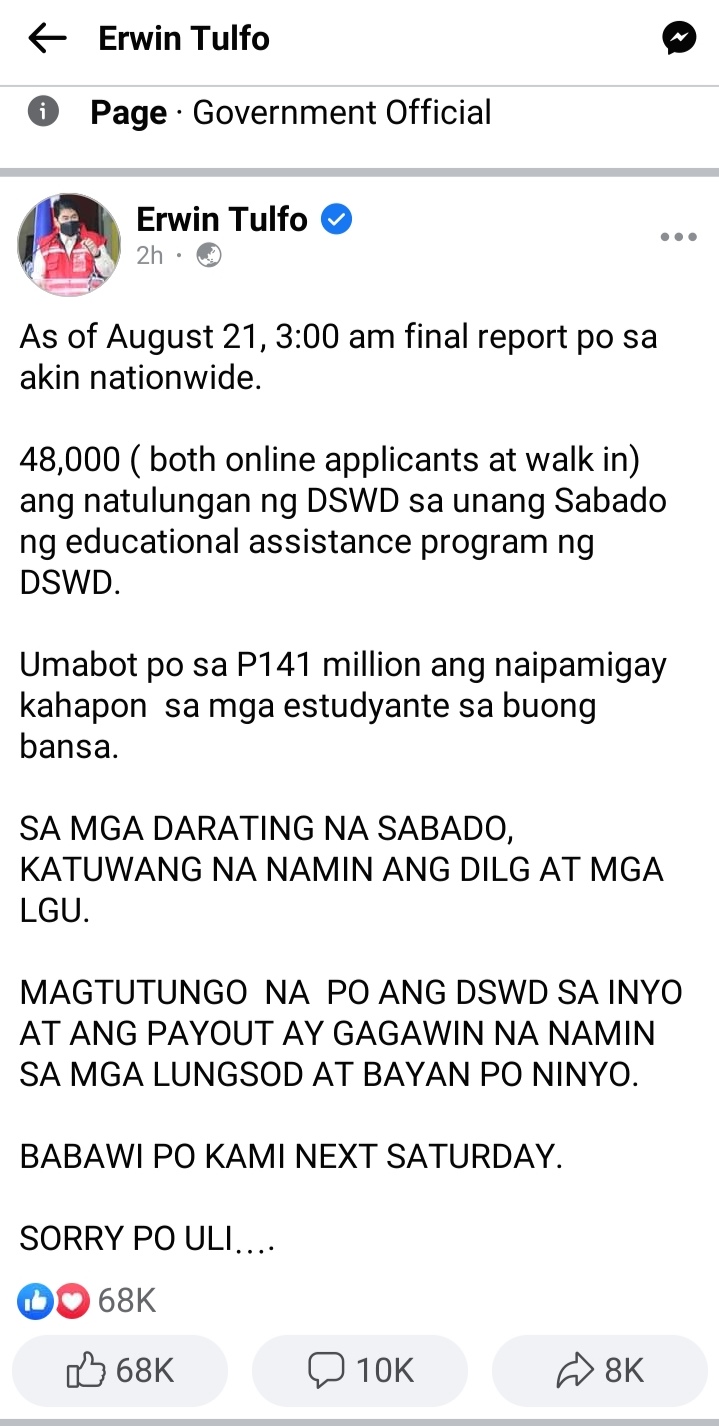 READ ALSO: Increase from P500 to P1000 pension of indigent seniors now a law
DSWD stated on Friday that it will distribute some P500 million worth of cash assistance to indigent students for their school supplies.