Leading BPO firm Alorica, which mainly caters to American companies, claimed that they are considering to hire and accommodate high school graduates.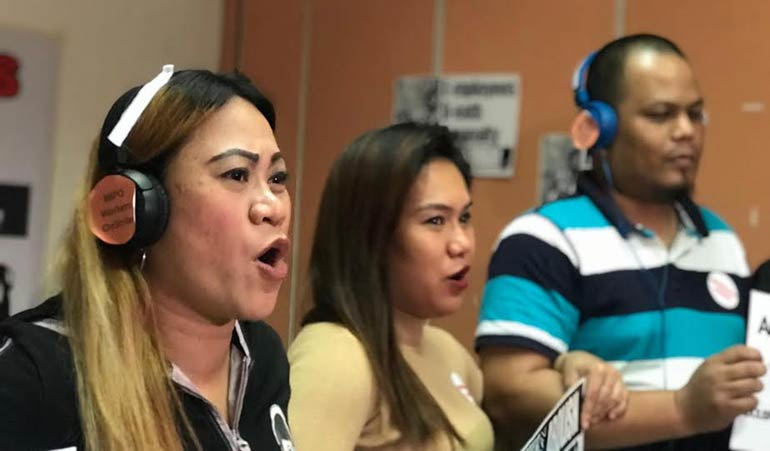 Due to this, senior high school students may be able to land a job as soon as they graduate and even be employed under one of the leading firms in the country. Alorica hiring K-12 graduates includes applicants who are at least 18 years old as well as those who have attended at least two years of college.
Read: Job-Hunting Sites PH: The Demand of the Internet Age and Economy
Alorica senior Vice President Jojo Uligan made a declaration of their support upon the K to 12 program on CNN Philippines' The Exchange.
Uligan said that they're in full support with the Philippine government's K-12 program. This is one of the many reasons why they will hire graduates of the K-12 program.
We also support the government's K to 12 program; so we're starting to consider some functional areas for senior high school graduates provided they are 18 years of age."
Besides the requirements for age and educational attainment, applicants must have well-rounded English proficiency skills upon their communication, comprehension, and critical thinking.
However, some available work positions require technical skills.
Uligan stated that jobs nowadays are "highly complex" in comparison to the previous voice or call center operations that were prevalent before.
Read: Work from Home: The Best and Most Profitable WFH Jobs for Moms
Possible Salary of K-12 Graduates
Along with this, the salary upon Alorica hiring K-12 graduates is competent as well. The starting pay is between P18,000 and P30,000; all dependent on the client they are catering to as well as other benefits.
Aside from the known voice component of call center jobs, BPO workers may also fill in for chat services and back office tasks. It wouldn't be just the regular voice support – there are a lot more offers!
Read: Earn Money By Playing Mobile Games!
What Job Vacancies are Included?
Of course, the first question would be what positions are needed?
As per the announcement, the opening jobs also include vacancies for managers, training officers, IT, and several different support functions. In spite of the global decline caused by the impact of the pandemic, the business process outsourcing (BPO) sector still remains afloat and ahead of the game.
How Many Job Vacancies are There?
There exists 3,000 job openings for Alorica alone – the reason upon BPO firm Alorica hiring K-12 graduates.
The month of October is when these 3,000 job vacancies are to be fulfilled and offered to foreign firms which may start needing and looking for support as well as new companies searching to outsource their services.
Those who may be interested to apply upon Alorica hiring K-12 graduates may visit the firm's offices throughout Metro Manila as well as its hubs in Lipa, Batangas; Clark, Pampanga; Davao; and Cebu.
Read: 19K Jobs Offered in the IT-BPM Industry; OFWs prioritized
As regular BPO companies allow it, walk-in applications are absolutely, tried and tested – allowed. This means, there's no need for you to schedule a call, an appointment, and the like. We're not sure, though, if they allow over-the-phone interviews; because some BPO companies do.
Contact Alorica
For all the questions you may have, you can proceed to contacting them. You can do so by dialing their hotline or by sending us an email.
To contact them, you can easily dial 1-866 ALORICA. That's (866-256-7422). If you're more comfortable in contacting them via email, you can do so by sending an email to [email protected].
Read: Newlyweds in Japan Can Receive Up To 600,000 Yen
Chat support
Alternatively, you can utilize the chat support that they have in the Contact Us section that you can find within their website. You just have to populate the fields by your name, your email address, your message, and the organization you are in (optional).
BPO revenues help the Philippine economy to stay afloat according to the central bank.
The BPO sector on its own brings in an amount of over $22 billion (over P1 trillion) the previous year, 2019, as well as a whopping $9.9 billion (estimated to be about P479 billion) spanning the first three (3) months of this year, 2020, alone.
Read: The Philippine Regulations Commission (PRC) is Hiring, Qualified Applicants Encouraged to Apply
The BPO sector comprises for at least 6% of local economic output. Bangko Sentral Governor Benjamin Diokno claimed BPO receipts will undergo development by another 2% this year due to more overseas companies outsourcing jobs while the demand progresses for healthcare, telecommunications, and logistics services during the current health crisis.
Do you think that the opening from the BPO firm, Alorica hiring K-12 students will help people who lost their jobs amidst the coronavirus crisis? Could the BPO company save the professions and the careers of those who are in dire need of it the most?
Source: CNN Philippines