Last December 2018, Angkas, one of the few motorcycle ride-hailing applications has been investigated and deemed as unsafe and inappropriate to continue its operations. It even went to Supreme Court  who ruled against the operations of Angkas. Good news to those who are looking for many alternatives because the Department of Transportation (DOTr) Secretary Arthur Tugade, OK-ed the piloting of motorcycle taxi operations in both Metro Manila and Metro Cebu for six (6) months starting the first week in the month of June.
Read: I Won't Allow 2 Plates on Motorcycles, Duterte
Which operations are allowed to operate?
Under Republic Act (R.A) 4136, the usage of a motorcycle for public transport is not allowed. This is stated in Section 7 of the Code; it states that motorcycles, scooters, or motor wheel attachments "shall not be used for hire under any circumstances and shall not be used to solicit, accept, or be used to transport passengers or freight for pay."
LOOK: Pilot run of motorcycle taxis will cover Metro Manila and Cebu City from June until the end of the year https://t.co/PCoJ0S9VcH pic.twitter.com/8a61sLjGhG

— CNN Philippines (@cnnphilippines) May 9, 2019
However, the DOTr formed a Technical Working Group (TWG) to observe and study the feasibility and safety of motorcycle taxi operations after a lot of controversial statements following the ruling against Angkas.
Based on the statement by the Department, the motorcycle taxis that will be allowed to operate would only be the ones through ride-hailing platforms like Angkas. Those who are not standardized or controlled by applications are still not legalized to give service even if they are deemed safe.
Read: Bill That Looks to Have Cleaner Facilities and Free Internet in Land Transportation Terminals, Passed
On the 10th of May 2019, the DOTr said that they will be standardizing the rates of these motorcycle taxis so that it's fair all across the platform. In addition to that, Tugade made emphasis on the fact that there will be some guidelines that will effectively govern and regulate this pilot implementation of the motorcycle taxi operations.
Safety requirements of the motorcycle taxi operations
Of course, all Angkas riders need to abide to this rule in order for the law not to oppose them even in the future. Both the rider/s and the passenger/s SHALL comply with the following safety gear laws.
The rider should be equipped with a helmet and a reflectorized vest with an identification card (with the rider number) and a motorcycle taxi branding;
Helmets that riders and passengers can use should pass the Import Commodity Clearance (ICC) or should be within the Philippine Standards (PS);
Passengers should also be equipped with reflectorized helmets;
All riders should observe the appropriate speed limit in all roads. They should also be wary of the road laws in churches, markets, schools, highways, etc.;
Speed limit of the riders should not be more than 60 kilometers per hour along any roads while they are on duty. Even if the speed limit allows them to be faster, it shouldn't be more than 60 km/h;
Riders must be wearing a vest-based strap or belt which can be held by the passenger for stability in case that the passenger is not comfortable in holding onto the rider's waist.
All riders should observe the maximum payload of his or her motorcycle;
Riders should also abide by all traffic regulations, rules, and laws;
All riders on duty should wear proper uniform and will be reprimanded if caught not abiding;
Riders should ensure that the motorcycles they are using for service are maintained appropriately and are in good condition; and
All riders will be allowed to serve a total of ten (10) hours a day or whatever the Land Transportation Franchising Regulatory Board (LTFRB) will prescribe.
Tugade reminds Angkas and other motorcycle taxi operators to abide by the safety requirements and to be mindful of their responsibility of giving service by being public transport servicemen.
Mariin naming binabalaan ang mga ride-hailing service na sumunod sa safety requirements sa kanilang operasyon. Huwag ninyong sayangin ang tiwalang ipinagkaloob namin sa inyo sa pagbibigay ng serbisyo publiko sa mga commuter. Pangunahing responsibilidad natin ang kaligtasan ng publiko. Kaya kapag pumalya kayo sa pamantayan natin, we will not have second thoughts on halting the pilot implementation."
We mentioned above that the DOTr will standardize the rates of the motorcycle taxi operations in both Metro Cebu and Metro Manila. Here is the fare matrix:
Metro Manila

Metro Cebu

1st two (2) km

P50. 00

1st one (1) km

P20. 00

per km up to seven (7) km

+P10. 00

per km up to eight (8) km

+P16. 00

per subsequent km in
excess of 7 km:+P15. 00
per subsequent km in
excess of 8 km:+P20. 00
Are there requirements for ride-hailing platforms?
Yes, based on the notice by the DOTr, all ride-hailing platforms must comply with the following requirements:
All riders must pass or have the following:
Professional Driver's License
Police Clearance or Barangay Clearance
Pillion-ferrying Skills Assessment
National Bureau of Investigation (NBI) Clearance
Customer Relations Training for Riders
Traffic Rules and Regulations (TRR) Written Examination
The Official Receipt (OR) or the Certificate of Registration (CR) of the motorcycle under the rider's name. Otherwise, the proof of ownership, or the authorization letter to use needs to be provided
Must have completed the Passenger Courtesy Training (PCT) to avoid discrimination, sexual harassment, and violent acts, among others.
Read: Child Safety in Motor Vehicles Law, Signed by President Duterte
All passengers must
Seat front-facing only
Riders have the chance to refuse passengers that are in the influence of alcohol, Persons With Disability (PWDs), children under seven (7) years old and below, and those who are not able to hold on safely as a passenger
Comply with all the proper and safety gear requirements; and
Must safely secure the hand-carry bag (if they have one)
Motorcycle specifications
The allowable build types include scooter, underbone, and business motorcycle models only. Off-road, enduro bikes, and agressive sports bikes will not be allowed
No engine modifications, air intake upgrades, wirings, or exhaust will be allowed
100 to 200 cubic centimeter (cc) or conventional engine displacement; and
Pillion seat and foot pegs should be in the best condition. Exhaust pipe shall be insulated. Modifications that will be made shall be able to adhere to the LTO standard.
In addition to those, there will be Key Performance Indicators (KPIs) that will be used in the pilot implementation of the motorcycle taxi operations. These KPIs are mandated and implemented by the DOTr.
Read: How Can You Verify a Plate Number Through the LTO?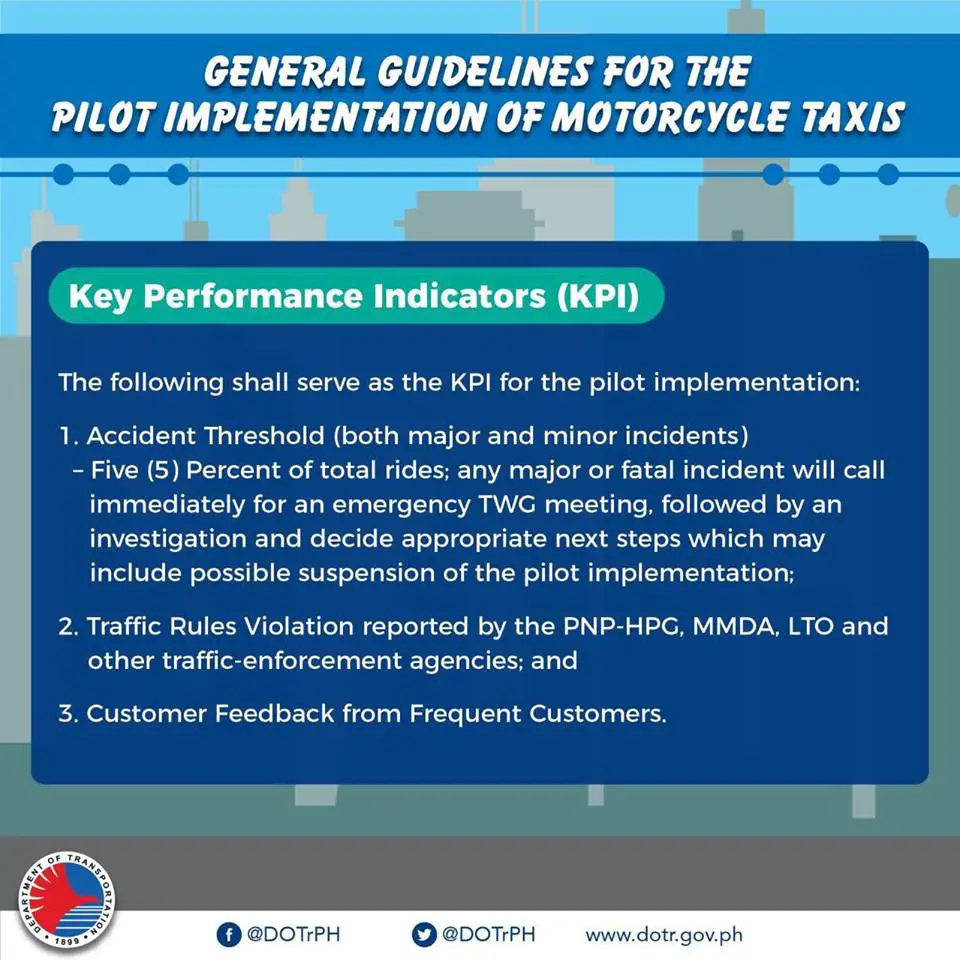 What do you think of this pilot implementation of motorcycle taxis to operate in our business districts? Would this be an effective way to battle the infamous traffic our cities are known worldwide? Or would this be an addition to the once problem we are currently trying to solve?