The Technical Education and Skills Development Authority (TESDA), is a government agency tasked to both supervise and manage the country's technical skills, education, and vocational opportunities. TESDA is known to provide a lot of freebies to Filipinos especially to those who are in dire need of their services.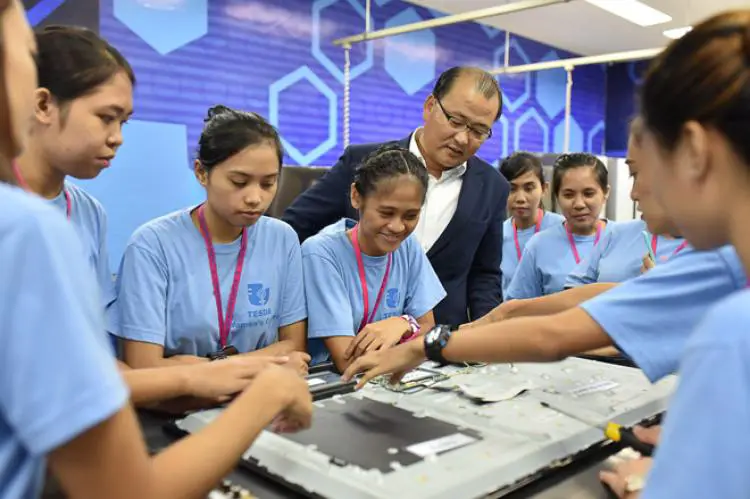 Overseas Filipino Workers (OFWs) are among them. This is the reason why TESDA offers free technical-vocational education to OFWs upon entering the country.
You can read this guide for further information: OFWs can Avail Free TESDA Tech-Voc Education Upon Airport Arrival.
This year, however, there's a new program by the agency called the TESDA Online Program (TOP). This is a program that is an open resource for educational purposes which aim to make technical education more accessible to Filipino citizens. They do this through the use of information and communication technologies.
Furthermore, TOP provides efficient and systematic ways to deliver skills development services and technical education to more audiences at a better and a lesser cost.
Here are the free TESDA courses for 2020
We will be giving you the list of courses that are free in the TESDA department.
21st Century Skills
Workplace Communication
Environmental Literacy
Agriculture
Automotive
Diesel Engine Tune Up
Automotive Battery Servicing
Electronics
Solar Night Light Assembly
Entrepreneurship
Managing Your Personal Finances (MYPF)
STAR Online Training Program
Read: Technical-Vocational Education, Free for the Unemployed
Air Conditioning, Heating, Refrigeration, and Heating
Air Conditioner Unit Servicing (Packaged)
Human Health and/or Health Care
NC II: Massage Therapy

1st Course: Foundations of Massage Practice
2nd Course: Fundamentals of Massage Therapy
3rd Course: Swedish Massage
4th Course: Shiatsu Massage
5th Course: Thai Massage
Information Technology (IT) and Communication Technology
ICT Courses

Web Development using CSS3 and HTML5
Animation (3D Digital)
SMART Android Mobile Apps Development (for beginners)
SMART Technopreneurship 101
Basic Computer Operation

Microsoft Online Courses

Android 4.0 for Programming in Java
Android Development (for beginners)
C# Fundamentals (for beginners)
Developing 2D and 3D games with Unity
Developing 2D Games with HTML5
Game Development
Game Production Basics
Software Development Fundamentals
Udacity – Google Courses
Udemy Courses
UX Design for Mobile Developers
Maritime
Read: TESDA Places OFW Help Desks at International Airports
Tourism
Food and Beverage Services NC II
Cookery NC II
Housekeeping NC II
Lifelong Learning Skills
Skills to Succeed Academy
How to Build Confidence in Your Abilities
Job Interview Skills Training Course
Community and Social Development and other services
Beauty Care Services (Nail Care) NC II
TVET
Trainers Methodology I
Trainers Methodology II
Who are the people allowed to take these programs?
These can be taken by a wide variety of people. As a matter of fact, people from all fields can apply for these. Specifically, though, these programs are made for out-of-school youth, unemployed adults, local and overseas workers, and for students.
If you are already a professional, you can also have a chance to improve and hone your technical skills through these courses.
Read: TESDA to Provide 50,000 Technical-Vocational Programs
One good advantage of taking TESDA courses is that it can be taken in everyone's own pace, time, and at the comfort of their own homes. Yes, these learnings can be done online without the hassle of traveling.
Now, here are some of the Frequently Asked Questions (FAQs) of people whenever they read or find something about TESDA.
How can I enroll in free TESDA courses?
You can enroll and avail these free TESDA courses via their TESDA Online Program (TOP) website. You'd need to have an account first before you can proceed to applying for these free TESDA courses.
Read our guide here: How to Enroll in TESDA Online Courses for Free – Step by step Guide
When we complete the course, do we get some sort of diploma or certificate
TESDA is designed to provide online courses to as many Filipinos possible. Currently, their focus is to improve in giving these training sessions to Filipinos in the best ways possible.
As of the moment, TESDA is not giving any type of diploma or certificate when they finish the course. However, once you finish a certain course, you can take the personal assessment for the National Certification at any given TESDA accredited assessment centers or venues.
So, finishing a course doesn't actually promise a certificate but you can take National Certification assessments. Passing the certification will give you the necessary proof you need that you know what you are doing / that you finished a course.
How much is the tuition fee to enroll in TESDA?
If you can see in the title of this post, these are free TESDA courses. The TESDA Online Program (TOP) is for free and is for anyone who is interested in broadening the knowledge and skills they have.
Read: Over 300,000 Jobs in Japan is Going to be Offered; Filipinos are Their Priority
In the event that I experience technical difficulty during a course, who do I reach out to?
You can direct comments, suggestions, and feedback to [email protected]. Alternatively, you can give them a call at +632 893-8297.
Do you see yourself training more for more skills you might need in the future? Are you yearning for free education to broaden the qualities and qualifications you have as a professional?
Utilize these free TESDA courses and improve your career and your path!