Just yesterday, the 17th of March 2020, Tuesday, our dearest President Rodrigo Duterte declared a proclamation that hoisted the entire Philippines to be under a State of Calamity. This means that the Philippine government is already incapable of solving the epidemic on their own; that they'd need help from smaller groups, smaller communities, etc. So, there would only be a limited number and types of people who can go out during the Luzon quarantine.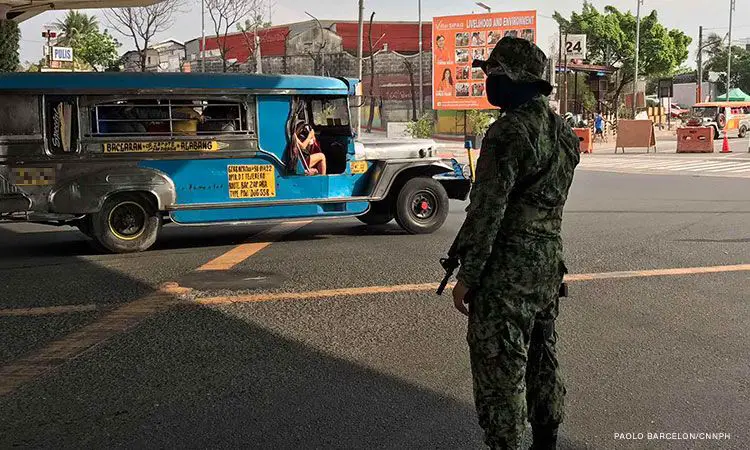 The day before, the basic quarantine has been escalated up to a specialized and enhanced community quarantine. This banned public transportation in the entire Metro Manila region, as well as municipalities, cities, and communities around it.
Read: P1.3 Billion Budget as Financial Assistance From the Department of Labor and Employment (DOLE)
Enhanced Community Quarantine
With the enhanced community quarantine, should there be any need of people to go out; it can be due to work, business, or other urgent and important matters, a strict command of social distancing will be observed.
The upping in the levels of the quarantine is due to the fact that even after government intervention, the virus has continued to spread.
This is why health and government officials all across the country have strictly emphasized to everyone to be at home; to be quarantined in order to contain and to properly seize the movement of the infamous COVID-19.
Read: Three-Month Moratorium to All Loans Offered by the Pag-IBIG Fund
How long would the Luzon Quarantine be?
As per the Presidential Proclamation, the quarantine can take place within the next six (6) months. However, it was also stated there that it could be lesser time; or it could be extended depending on the situation.
So, we would all be stuck up in our homes for the virus to be contained. More so, the quarantine is really the key and the answer to contain the COVID-19 fully.
However, there are members of the society who would need to be at certain places in certain times. So, we'll be providing a list of the people who can go out during the Luzon quarantine.
NOTE: This list is based on the guidelines of the Task Force assigned who would respond to the outbreak.
Read: President Rodrigo Duterte Urged Business Owners and Employers to Give 13th Month Pay in Advance
List of people who can go out during the Luzon Quarantine
Health Workers in the Philippines

Private Health Workers (not limited to medical professionals, hospital administrative aides and staff, service providers)
Public Health Workers (Department of Health (DOH) employees, DOH Hospitals, Local Government Unit (LGU) hospitals, Provincial and Rural Hospitals and Health Units)
Health Workers of the Philippine Red Cross; World Health Organization (WHO) staff and volunteers

Money transfer services employees
Bank employees

Armored vehicle crew
Banking staff

Public market vendors and sellers
Groceries and convenience store employees
Pharmacists and drug store employees
Funeral service employees; immediate family of those deceased
Restaurant and fast food and food chain staff and employees
Security officers of companies; Security guards
Barangay Officials and Tanods and other force multipliers
Emergency responders

Local Government Officials and Units
Bureau of Fire Protection (BFP) members
Disaster Risk Reduction (DRR) and Management Council members
Barangay Health Emergency Response Team members

Security services of the Philippines, including

The Philippine National Police (PNP)
Armed Forces of the Philippines (AFP)
Philippine Coast Guard (PCG)
The Metro Manila Development Authority (MMDA)
National Bureau of Investigation (NBI)
Bureau of Jail Management and Penology (BJMP)
Bureau of Customs (BoC)
Office for Transportation Security (OTS)
Philippine Ports Authority (PPA)
Bureau of Immigration (BoI)
Read: 80-Year-Old and Older Italians to Not Receive Treatment If Hit With the 2019 Coronavirus Disease (COVID-19)
As you can see, the list of the people who can go out is limited to the public safety of the entire island of Luzon. Should you feel the need to be out during this time of crisis, the best option might be to just stay at home.
How can I purchase food and medicine?
Now that you are already aware of the list of people who can go out during the Luzon quarantine, you may have noticed that regular people and employees aren't allowed to be out in the open. So how can people purchase necessities such as food, medicine, water, and all these other essential products?
You would be allowed to purchase, given the fact that you have your own way and means of transportation. Otherwise, you would be prompt to take private vehicles, rent, or if you have other ways and means of transport in your location, you can also opt to do so.
Read: Local Government Units (LGUs) to Provide Public Transport Alternatives For Workers Exempted From Quarantine
There are certain places that have their own means of transportation. For instance, there are villages and subdivisions which have wet and dry markets of their own; and some have tricycles, shuttles, and other means of transport. So, if you can ask your barangay how you can travel, that would be better.
NOTE: It always is better to be safe than sorry. Should you feel or have the need to really go out, do not forget to follow these instructions:
Wear a face mask. For extra protection, place two (2) pieces of tissue paper inside the mask.
Always bring alcohol with you to disinfect your hands. There are times that we unconsciously touch our faces; having alcohol is a MUST.
Never be around too much or crowded places. As much as you can, avoid places where there are many people.
Avoid touching random unnecessary surfaces. When you're climbing up stairs in a public area, do not touch the railings.
When pressing floors in an elevator, use the bottom tip of your umbrella or anything that you don't touch on a regular basis; or some things you don't touch at all.
Avoid speaking with people especially if they do not have or if they are not wearing face masks.
What if I came in contact with an infected person?
Some of us might have already fallen ill; because it's nearing summer, the sudden change of temperature and climate can really have a toll in our health. However, if you had any type of contact with an infected person, you can contact the proper department or office of the Department of Health (DOH) and ask for specific advice at:
Read: Google is Building a Website For Self-Checking COVID-19
(632) 861-7800 local 1149 to 110 or
(632) 165-364
Alternatively, you can also ask for help by calling the Research Institute for Tropical Medicine at:
(02) 8807-2631 or (02) 8807-2632; 8807-2637
This enhanced quarantine is somehow forcing the entire island of Luzon to stay put. This is so because if the virus is not contained, based on statistics and thorough-researched data the numbers of infected people could go up at 75,000 in just under 3 months.
Read: Free 2019 Coronavirus Disease (COVID-19) Testing; Will be Shouldered by the PhilHealth
If you are not part of the list of the people who can go out during the Luzon quarantine, it would be the absolute best to just stay at home. Drink plenty of water and consume healthy fruits and vegetables! One way to prevent the disease from spreading is by heightening and strengthening our immune systems!
Source: The Philippine Star