Are you one of those who received a message containing "Ikaw ba 'yan sa video" accompanied by a link? The circulating virus has bombarded the social media platforms recently, although, others are not bothered about it, but some are vulnerable to such especially those that are not tech-savvy people.
Following the issue, the PNP Anti-Cyber Crime Group said in their official facebook page that this is phishing and warn the public to not click the given link as it can obtain the log in credential of your social media account when you click it.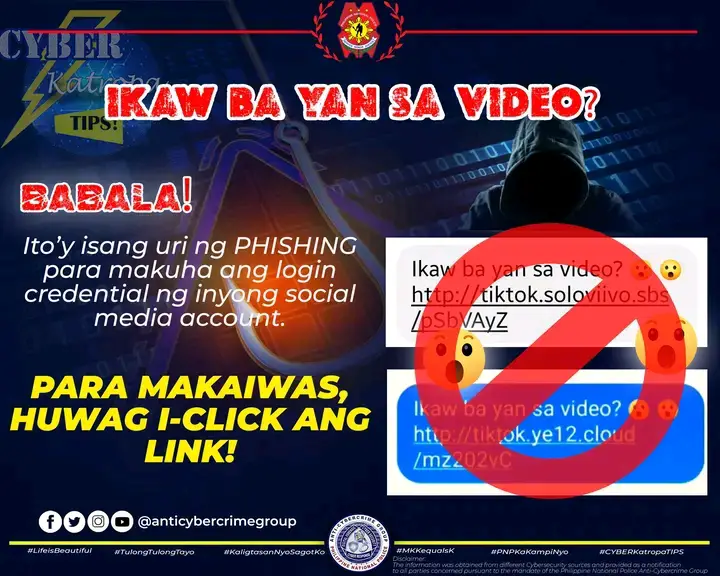 "This image was taken from PNP Anti-Cyber Crime Group"
Opinion: As for me, this is very alarming because I have also received such messages. Well, oftentimes I just ignore them but I hope that this would serve as a reminder for everyone to never click any suspicious link on Facebook.
Whoever created the virus, the attempt was ingenious, the caption "Ikaw ba 'yan sa video?" will spark curiosity to those who will read it and undoubtedly click the link.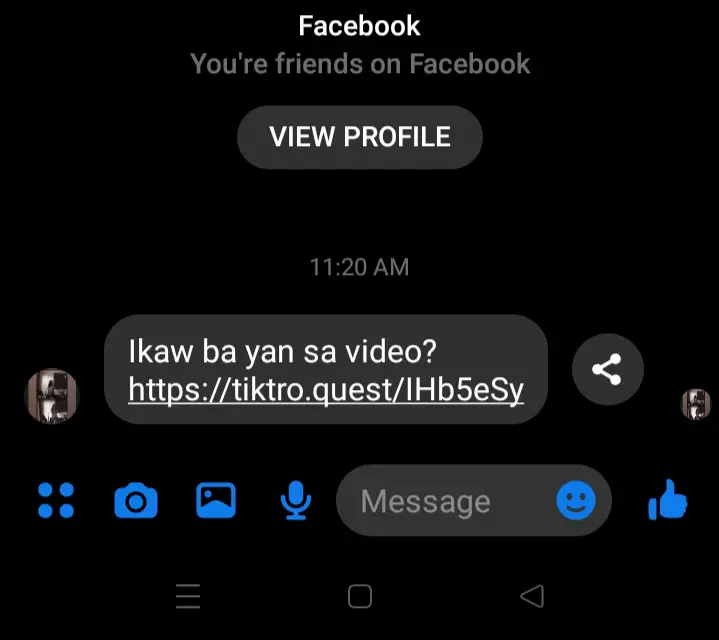 "This is how the message looks like and I received this from one of my Facebook friends."
If you still can't grasp the gist of phishing, pishing is simply a type of social engineering in which an attacker delivers a false (e.g., spoofed, phony, or other deceptive) communication intended to deceive a person into giving the attacker critical information or to install harmful software, such as ransomware, on the victim's system.
Phishing attacks have advanced to the point where they frequently transparently mirror the website being targeted, giving the attacker complete access to the victim's browsing history and allowing them to cross any additional security barriers with them.
As of 2020, phishing attacks are by far the most prevalent type of computer crime, with the FBI's Internet Crime Complaint Center recording more than twice as many incidents of phishing as any other type of computer crime.
So, what should you do or how would you avoid phishing links if you received one?
Tip 1: Think Before You Click!
When you are on reliable websites, it is okay to click on links. However, it's not a good idea to click on links that appear in random emails and instant chats. Before clicking on any links you are unsure of, hover over them.
Tip 2: Verify a Site's Security
It makes sense to be a little hesitant when providing private financial information online. Make sure the site's URL starts with "https" and that a closed lock icon is present near the address bar before entering any information. Additionally, look for the site's security certificate. Do not open a website if you receive a warning that it may contain harmful files. Never download files from emails or websites you are unsure of.
Tip 3: Check Your Online Accounts Regularly
Someone might be having a field day with your online account if you don't log in for a time. Check each of your internet accounts frequently, even if you don't need to. Make it a point to routinely change your passwords as well. You should manually review your statements on a frequent basis to avoid credit card and bank phishing frauds. Obtain monthly statements for your bank accounts, and carefully review each entry to be sure no unauthorized fraudulent transactions have taken place.
Tip 4: . Be Wary of Pop-Ups
Pop-up windows frequently pose as reliable elements of a website. However, oftentimes they are phishing attempts. Pop-ups can be blocked in many popular browsers, and you can choose to enable them in specific situations. Don't click the "cancel" button if you do manage to get through the cracks; these buttons frequently take you to phishing websites. Instead, click the tiny "x" in the window's upper corner.
Tip 5: Never Give Out Personal Information
In general, you should never divulge private or delicate financial information online. The majority of phishing links will send you to pages where you must enter personal or financial information. The links in the message should never be used by Internet users to enter confidential information. Never message someone with private information in it. Make it a habit to look up the website's address.