IKEA is a Swedish-Dutch multinational conglomerate with headquarters in the Netherlands that creates and markets ready-to-assemble furniture, kitchen appliances, decorations, home accessories, as well as a variety of other products and services. Since 2008, IKEA, which was founded in 1943 by Ingvar Kamprad, has held the title of largest furniture retailer in the world. The name of the company is an acronym made up of the initials of the founder, Ingvar Kamprad (IK), Elmtaryd (E), the family farm where he was raised, and the nearby village of Agunnaryd (A), his hometown in Smland, southern Sweden.
Hence, IKEA have been working to improve people's daily lives for more than 70 years. They achieve this as a furniture and home furnishings company by creating stylish, useful, and reasonably priced furniture and accessories including a big range of bedroom furniture, couches, dining tables, chairs, closets, fabrics, cookware, decorations, and more.
Here's some good news for you if you are craving for IKEA's famous Swedish meatballs.
Read: IKEA Will Hire About 500 Workers in Their First Philippine Store
The popular home furnishings company has announced that on November 25, which is tomorrow, they will sell their beloved delicacy for just P1 per piece. Mind you, currently, the meatballs cost P75 for five pieces and P150 for ten.
Although, you can only order a certain number of meatballs, IKEA stated that a maximum of 30 pieces per person are the only allowed for each transaction.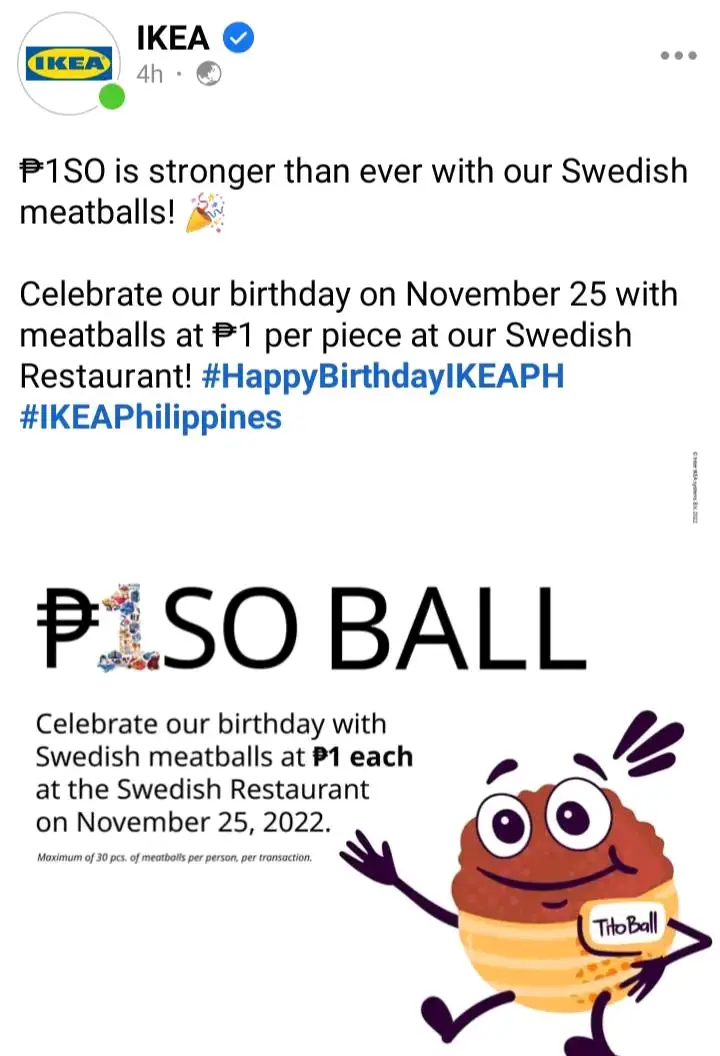 This image was taken from IKEA's official Facebook page.
Read: Proclamation No.42: List of 2023 Regular Holidays and Special Non-Working Days
This treat of IKEA to its customers is because it is celebrating its first year in the country since opening its main store in Pasay City on November 24, last year. Additionally, until November 27, you can take advantage of a massive birthday blowout deal where you can get up to 50% off of a variety of products.
In addition to the P1 meatballs offer, you may also purchase their newly unveiled Meatball Bucket, which costs P850 and includes 63 pieces of meatballs, their gravy, and lingonberry jam. Moreover, five 16-oz House Blend Iced Teas are also included. What are you waiting for? You deserve their treats!
Read: 20 Percent Discount on Domestic Flights For Students, in Effect
To know more about IKEA Philippines, you may visit their website by clicking this link https://www.ikea.com/ph/en/.