Ever heard of an insurance for the unemployed? Wouldn't that type of benefit be useful for Filipinos who just recently lost a job and is striving to look for one? If you're thinking what we're thinking, then you should be happy because the insurance for the jobless Filipinos from the SSS had a bicam nod last year. This year, we do hope it gets signed into bill.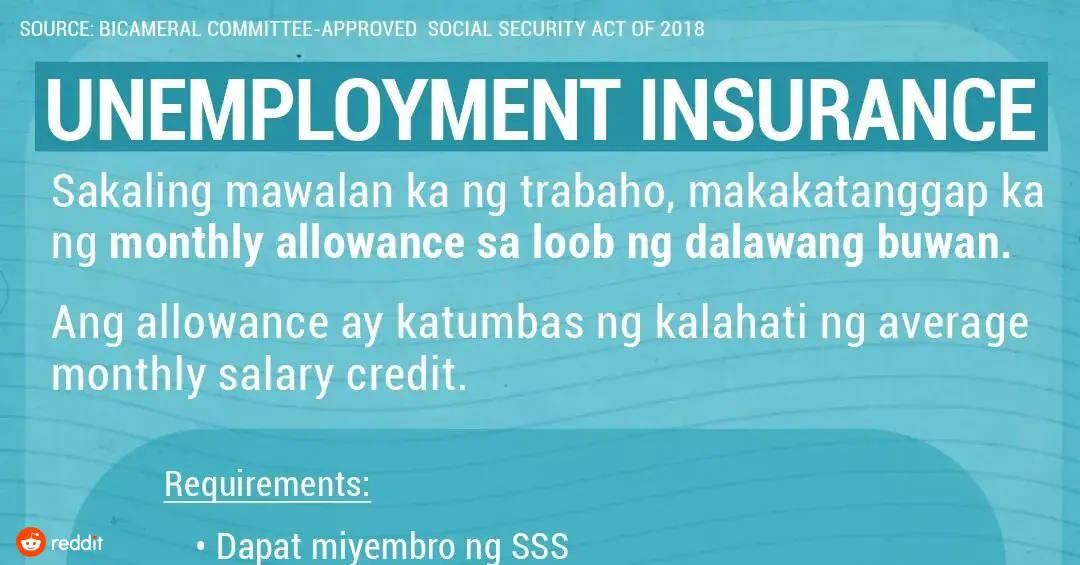 The SSS said that their proposed Social Security Act of 2018 has been approved by Congressmen and Senators last October 2018 at the bicameral conference committee.
Read: SSS Pensioners to Receive Their 13th Month Pay/Pension Starting the 29th of November, SSS
What is this jobless insurance?
Of course, we wouldn't leave you questioning what this is. This specific measure is looking forward to further strengthen the pension fund by increasing the amount of monthly contributions from last year's eleven (11) percent to fifteen (15) percent by the year 2025.
Just recently, we heard news of the contributions to come to a hike at 12.5% to sustain the life of the fund effectively. More so, the gradual movement of both the maximum and the minimum monthly salary credit will also be moved in accordance to the contributions.
In addition to that, the SSS is also looking to further broaden the capacity of investments of the pension fund to enable it to raise its income for the workers and for the jobless.
So, under this specific act, members of the Social Security System (SSS) who unexpectedly lose their jobs will also be entitled to get this unemployment insurance once this bill gets signed.
SSS President and Chief Executive Officer (CEO) Emmanuel Dooc, workers who will have bad luck in their employment should not worry when this falls into place.
Under the proposed measure, displaced workers will get financial assistance from the SSS in the form of cash equivalent to half of their average monthly salary credit for two (2) months."
Meaning, workers can enjoy the privilege of receiving half of their monthly income for two (2) months, totaling to their previous monthly salary credit as one (1) whole month.
Read: 1,000 Pesos Increase in SSS Pension Approved
What help does this impose to workers?
Obviously, transferring to a new company is not easy. More so, it can be a hassle to the worker especially if they were not able to prepare for it. That is when the jobless insurance from the SSS comes in.
When this bill becomes law, workers can now be carefree about how they are going to fund themselves when they are waiting for their pay from their new employer. However, this doesn't mean that workers can now be careless with their jobs because depending on the rules and terms of the SSS, this can't happen 100 percent of the time.
Read: Higher SSS Contributions for a 100-Day Maternity Leave?
Senator Ralph Recto was the one who sponsored the provision. He said that this specific insurance will not be treated as a loan, but will be treated as one of the main benefits of the Social Security System.
This unemployment insurance is not a loan. However, it forms part of the benefits an SSS member can get or avail of like sickness benefits, or the maternity leave.
The Social Security System has been calling for the changes in its charter to allow the contribution rate to be raised. This move is not for them, but for the fund life. Because of the additional P1,000.00 pension of pensioners per month, the fund life was actually retarded by almost a decade.
What can we do as people of the society?
Well, in order to help the SSS and to ensure that this government-run agency will not run out of funds which will eventually make them close, we need to do our part by regularly paying our premium monthly contributions. There's no actual harm in doing so because by paying contributions, we are like buying raffle tickets to the countless benefits we can get from the SSS.
Read: 12% Contribution Hike of SSS in 2019
This year, as per Dooc, if the pension fund was not raised, the SSS would have no funds to provide by the year 2032 comes to a start. So, slightly raising the contribution actually deemed a healthy response to both the agency and to its members.