Megaworld Foundation Inc. is an institution dedicated to providing scholarship opportunities to people who are in dire need of it. So, if you are looking for a scholarship, you might want to consider applying for the Megaworld scholarship.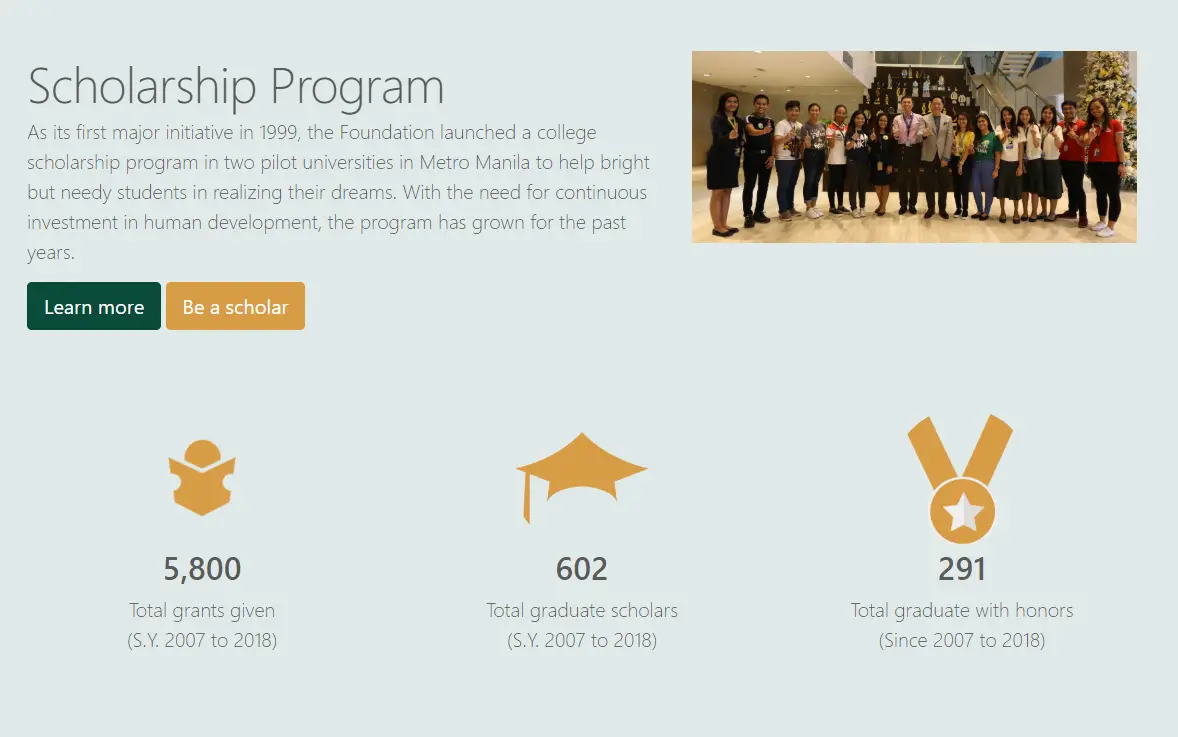 In this article, we will be detailing the eligibility that the company is looking for as well as the requirements you need in order for you to be able to apply for the Megaworld scholarship.
Read: Want to Study for Free in South Korea? Take the KOICA Scholarship Program
What is Megaworld?
Megaworld Foundation Inc. is a corporation founded in 1999. They first launched a scholarship program, college-level in two (2) universities in the Metro. This initiative was met because they tried finding potential students who are confused but want to reach what they want in life.
They made a continuous and long investment in development. Since then, they've produced millions of professionals who are operating all over the globe.
The benefits of getting the Megaworld scholarship
Other than the scholarship, there are other benefits that grantees can have when they indulge in the Megaworld scholarship. These are:
Allowance per school year
Job opportunity at Megaworld Corporation and its subsidiary companies and affiliate companies
Full tuition fee coverage
Read: CHED Priority Courses for the CHED Scholarship
Scholarship requirements
Now, we will know some of the requirements you need if you are interested in availing the Megaworld scholarship.
General requirements
Original and photocopy of the PSA-certified birth certificate
The original copy of the endorsement letter from the school (university or college)
Two (2) 2×2 I.D. pictures
Two (2) 1×1 I.D. pictures
NBI Clearance
Photograph of the applicant/learner with the family/parents/guardian/s.
Original copy of the Income Tax Return (ITR) or combined gross annual income, not exceeding P300,000.00 or the Affidavit and the BIR Certification of Tax Exemption of the Mother and Father or the PSA-certified birth certificate of the guardian (original copy).
Utility bills (Electricity bills, Internet bill, Cable bill, Water bill, etc.)
Freshmen applicants
If you are an incoming freshman (1st year), these are what you need to secure:
Read: Guide on How to Apply for the CHED Scholarship
The original certificate of the upper ten (10) percent class ranking of the graduating batch.
Final report card (grade) in fourth (4th) year high school with an average of at least eighty-five (85) percent or its equivalent in the school//At least eighty (80) percent in all subjects (both original and photocopy).
College or University entrance exam passing result, letter of admission, certificate of enrollment, any proof that the learner was accepted in an institution.
Sophomore and/or Junior applicants
A photocopy of the complete course curriculum
Registration form with the class schedule/Full load assessment of the enrollment (original for verification but a photocopy as well for submission).
Grade reports from the previous to the current semester with a Grade Point Average (GPA) of at least eighty-five (85) percent or its equivalent depending on the school//At least eighty (80) percent in all of the subjects.
Read: What You Need to Know About the SM College Scholarship
How can I apply for the Megaworld scholarship?
As of the moment, the online application for the Megaworld scholarship is still unavailable. However, Megaworld Foundation Inc. is on the move in fixing this.
NOTE: When an applicant successfully completes the requirements, he/she will be asked to fill out certain documents and undergo a series of assessments and interviews for Megaworld to assess the qualifications.
Right now, you can apply by sending all of your requirements to their office at:
22nd Floor, Alliance Global Tower, 11th Avenue corner 36th Street UpTown Bonifacio, Taguig, 1200.
Alternatively, you can email all of the said documentation requirements at [email protected] or call them in their hotline at +63 (2) 894 6437 to 38. You can do this if you can submit your requirements via an online courier.
Important notes to remember when applying for the Megaworld scholarship:
It is imperative that you always secure a photocopy of any document you are going to submit. This is to ensure that you have multiple copies of whatever document you have.
Read: A Guide in Getting the DOH Medical Scholarship
More so, the institution might ask for the photocopy for submission but would still need the original just for verification.
Do you dream of a scholarship from a world-class company? Megaworld built its reputation and is continuing to have a stride in its name in the construction business.
What are you waiting for? Secure the requirements now and apply for the Megaworld scholarship.