Motorists with no violation or extant offenses will be the only ones qualified for a driver's license with a 10-year validity once the Land Transportation Office (LTO) begins rolling out licenses in October 2021. However, motorists with demerit points are automatically up for disqualification, the agency said.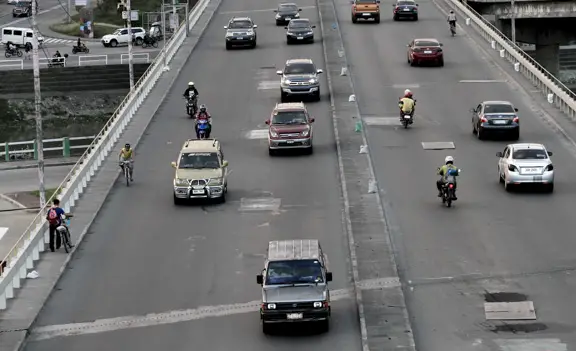 Not all possessors of drivers' licenses will be able to enjoy this 10-year validity. This is an incentive for drivers who obey traffic rules. Even just one demerit point can disqualify you. So to avail of this premium, your record must be clean."
The new licenses, he said, are in accordance with the implementation of Republic Act No. 10930, which extended their validity from the current three years to five. Galvante even said that the demerit system is actually already effective. The implementing rules and regulations (IRR) of Republic Act Number 10930 was signed by President Duterte in 2017.
Read: Face Shields Required in Commercial Establishments
Actually the demerit system is already being implemented so drivers that are cited will get equivalent demerit points on record. Hopefully with this measure, we can reduce crashes and accidents that cause injuries and deaths on the road."
Galvante said that he is so much hopeful that car crashes and road accidents would be reduced and decreased through this measure. I mean, who would pass on the chance to get a license that would be valid in ten (10) years? In addition to that, he also said that this system is a piece of the Implementing Rules and Regulations (IRR) of Republic Act (R.A) 10930.
Republic Act (R.A) 10930 Overview
As according to the R.A. 10939, a motorist can be struck with an immediate five (5) demerit points once a grave violation has been committed under the implementation of this scheme. This further keeps motorists with demerit points for disqualification.
Moreover, less severe violations will be rewarded with three (3) demerit points; while light violations will equate to just one (1) demerit point.
Read: COMELEC: Voter Registration for 2022 National Elections to Resume This September
Among these grave violations include the following acts:
Driving a motor vehicle used in the commission of crimes;
Driving under the influence;
Operating "colorum" vehicles; and
The third (3rd) and succeeding times the license holder is caught disregarding driving regulations such as seatbelt use, child safety, and anti-distracted driving
On the other hand, less grave violations refer to the likeness of the following:
Second-time offense of driving laws;
Parking and obstruction violations; and
Acts punishable by local ordinances
The light violations; those that would only incur one (1) demerit point, include:
First-time offenses of driving regulation; and
Minor traffic offenses
Read: Yearend Emission Test Requirement for Motorcycle Registration to be Suspended
The Demerit Point System
So how does the demerit point system come into play? It is imperative for drivers and motorists to know so that they can evade and avoid incurring demerit points. In addition to that, they can use it in their defense when the time comes that they'll be summoned to hear about it – if it's too grave, though.
Motorists who accumulate a total of ten (10) points will have their licences suspended. This will be until they attend a reorientation course. Those who would reach up to 40 points and the driver's license will be revoked; along with the holder barred and prohibited from applying for a new one for another two (2) years.
While all of these are true, Galvante said that there is no specific cap for demerit points. He also adds that licenses would be assessed on a case-by-case basis which means those who have only a few demerit points for committing light violations may still have their licenses suspended or revoked if the violations have been committed repeatedly.
Read: Getting and Renewing Your Driver's License Will Soon be Easier and Less Time Consuming
Is This Tracked?
For those who are skeptical about the demerit points for disqualification being a thing that the LTO would not trace or track, think again. As per the agency, all iolations or offenses of the drivers are being uploaded by the agency in its system to check how many demerit points they have accumulated when renewing their license.
However, upon the renewal of the license, the LTO said that demerit points will revert  to zero. Drivers who wish to check their license status may do so through the LTO portal at Portal.lto.gov.ph. In case you're not in the know, we have made a guide on how motorists can utilize this digital portal by the LTO.
Bonus Tip: Easier Driver's License Examination in Different Philippine Languages
How do you feel about Republic Act 10930? Do you agree with the sentiment of having motorists with demerit points for disqualification or not? If you are a motorist and you're looking forward to getting that 10-year license validity, make sure that you're doing everything correctly. Remember, no one's safe from the "eyes of the law."
Source/s: Rappler