The Technical Education and Skills Development Authority (TESDA) launches its free contact tracing training program.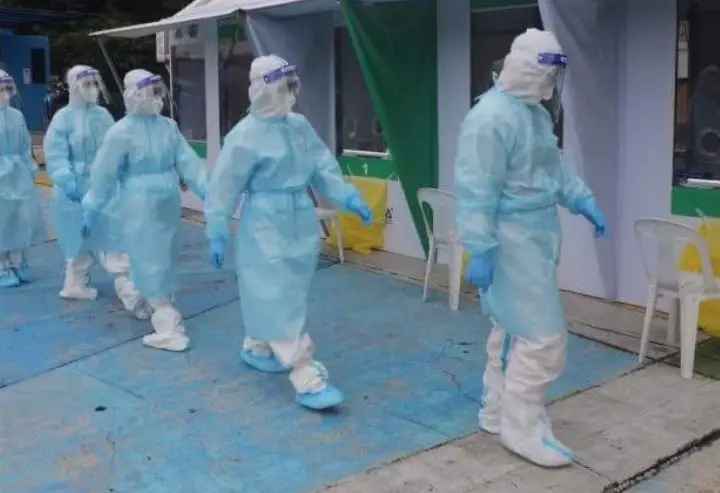 This will not only help the Philippine government in their efforts of eradicating the virus; it will also train people to be skilled and aware of how they can identify patients of the infamous COVID-19
Aniceto Bertiz III, TESDA Deputy Director General, said that contact tracing is one of the closest things that can help us with the current situation. In fact, they"re expecting hundreds of thousands of knowledgeable contact tracers.
Read: Staycations to be Allowed in Areas Under General Community Quarantine (GCQ)
Isa 'yung contact tracing training para sa protektahan ang ating sarili, at dahil nga po napakataas ng pangangailangan ng ating bansa lalong-lalo na po for contact tracing, we are expecting, according to [contact tracing czar] Mayor [Benjamin] Magalong, 150,000 or more para maserbisyuhan ang lahat."
In Translation: Contact tracing is needed to protect ourselves and our people. With the increasing need for contact tracers in our country, we'll act upon in. Mayor Magalong said that in estimation, we need about 150,000 more contact tracers.
TESDA Oplan Abot Lahat
Under this particular training program, Bertiz said that the TESDA made its launch in the National Capital Region (NCR). They're starting to train people who would like to become contact tracers and assist the country.
Read: The PNPA is Looking For Scholars For the Iskolar ng Bayan
As per Bertiz, this particular program is open to everyone aged 21 and above. Of course, those who are far from reaching the senior age. In addition to that, they'll also need people who are at least a high school graduate to be able to participate.
Open sa lahat, of course, under IATF (Inter-Agency Task Force) regulation, dapat po 21 [years old] and above and not more than 59."
In Translation: This program is open for all. Of course, under the regulation of the IATF, applicants need to be at least 21 years of age, not older than 59.
Is There a Charge?
Absolutely none! The TESDA free contact tracing training program won't ask you even for a peso!
Should you be interested in answering the call, don't be shy and do so! You'll help the country and you will help people within your society.
Read: San Miguel Corporation's Assistance to Frontliners
How Would the Training Go?
In case you're wondering, the training would include the following:
Teaching of the appropriate and the proper way to remove, dispose, and sanitize personal protective equipment; and
Other relevant and essential lessons about contact tracing
According to Bertiz,the training would have three (3) modules. He said that this usually would take up to a total of five (5) days to finish. However, people must not fret – it's done online.
Yung learning modality 80 percent, online. 'Yung 20 percent, assessment. Puwede na nilang itake-up sa website natin 'yung Contact Tracing Training Program Level 2."
In Translation: The learning modality will be at least 80 percent online. The other 20 percent would be for the assessment. In fact, they can now access the 2nd Level of the Contact Tracing Training Program on our website.
Read: How to enroll TESDA Contact Tracing Online?
What Happens When Students Pass?
If a student passes the training program, they will be granted a certificate. This certificate is what they need to present to the Department of Labor and Employment (DOLE), and the Department of Health (DOH).
Isidro Lapeña, the Secretary of TESDA said to students that their roles of being contact tracers is crucial and relevant. In fact, he said that they're the most effective and the most powerful instruments to help halt the spread of the infamous COVID-19 in the Philippines.
Your role as contact tracers is very crucial. Your speed and competence in contact tracing will be one of our effective instruments to prevent the spread of COVID-19 in the country."
Allowance For Trainees
If you're thinking that trainees won't benefit – think again. As a matter of fact, TESDA said that they will be providing trainees with a P2,400 allowance each for the entirety of the duration of the training.
Read: Five (5) Hospitals to Test the Vaccine for COVID-19
This translates to P160 per day as the support fund for training. Furthermore, P500 from this would be for the Personal Protective Equipment (PPE); and P500 will be for their data/internet.
The Contact Tracing Level 2 Training Program approximately lasts for about 15 days; or 120 hours of full-time, online mode of training with eight (8) hours per day.
Bulk of the trainees are coming from the following cities:
Parañaque
Muntinlupa
Las Piñas
Taguig; and
Pateros
Are you kind-hearted enough to help the country battle the infamous COVID-19? What do you think about the TESDA free contact tracing training program? Is it really going to be effective in clearing out the virus from our country?
Source/s: Manila Bulletin News | ABS-CBN News