In his 100th day report, Cebu City Mayor Edgardo Labella reports that part of his highlights would be the opening of around 2 million jobs. This would be from the SM-Ayala Consortium.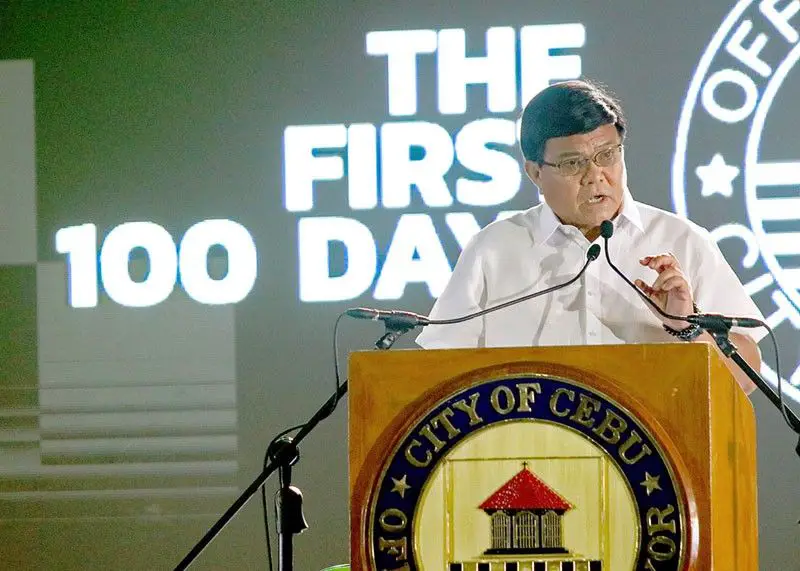 Back in 2015, Cebu City Mayor Michael Rama entered to a contract with both the Filinvest Land Inc. (FLI) and the SM-Ayala Consortium. However, former Mayor Tomas Osmeña said that this was not legal because it was not duly authorized by the 13th City Council.
Read: Makati Lawmaker Files a Bill That Would Grant a 5-Day Leave For Mental Health Wellness For All Employees
Permit granting
Current Mayor Labelle said that now that the Cebu City Hall has formally granted a land development permit for their project at the South Road Properties (SRP), operations will begin very soon that would provide around 2 million jobs for Cebu City locals.
During his speech at the IC3 Convention Center in Mabolo Cebu City, he said that in the past 100 days, the SRP have made its way to become one of the most attractive investments in the city.
Read: Nurses in the Government Should Not be Paid Less Than 30K a Month – SC
These past 100 days have heightened the attractiveness of SRP to economic input. In the wake of negotiations with locators, our administration has made evident its desire to strike a balance between supporting the business sector and implementing our regulatory laws."
Back on the 4th of June 2019, the Cebu City Council OK-ed the resolution in requesting for the City Legal Office to file a petition for a relief of declaratory to void the sale of SRP lots back in the year 2015.
Then a month after, Labella was crowned to be Cebu City's mayor; the Council then passed a resolution that authorizes him to finally get rid of the petition.
Read: Medical Scholarship Granted by Mayor Marcy Teodoro to Aspiring Doctors in Marikina City
Business strategy in the SRP
As part of his main highlights as Cebu City's new Mayor, he said that they were able to create a special body to organize and review prospective partners and investor proposals in joint ventures which involve Cebu City's properties, specifically in the South Road Properties (SRP).
Furthermore, he explained that this committee is tasked to finalize its strategic blueprint which amalgamates different investor plans and the assembly of a smart, accessible, and ecologically urban transportation system.
Read: Free E-Visa to Russia For Filipinos, Granted Starting October 1, 2019
He said that looking at its current position, the SRP is now drawing attention in good investments that would create over a million jobs in the city. Why? Because apart from this SM-Ayala Consortium project, other developments at the SRP include the FLI and Universal Hotels and Resorts Inc., and the Cebu Ocean Park.
It really is an economically-attractive and developing location, according to Labella.
As a result, the SRP is now at an advantage to draw good investment, create more jobs and optimize the City's earnings."
Provision of jobs in the city
As part of his campaign promise, Labella said that he will be providing more jobs for Cebu locals for them to avoid going out of Cebu to land a job. This way, they can control and help their local economy.
Read: Ospital ng Makati (OsMak) is Hiring 41 Nurses
Labella asked the management of the Cebu Ocean Park to hire people residing in Cebu City, when they opened. This is what the management did; it actually boosted the economy as most of the employees of the park were from Cebu City.
Not only would they be successful in providing jobs in Cebu City to its residents, he also said that these can be relevant contribution to the further development of Cebu City.
In addition to that, he put emphasis on the fact that he, together with his Administration, has a goal to build and establish the creation of the Green Cebu City Stewards. 
As of this moment, there are about 25,000 seedlings planted in Cebu City as investment for the future Green Cebu City Stewards.
Read: 1,000 Jobs For Filipinos, to be Opened by Israel
This will be comprised of Forest Rangers, Coastal Patrol, and a River Patrol who will be tasked in ensuring the orderliness, cleanliness, and greening of the forests, greening, and coastal areas within Cebu City.
Although many things and establishments have been accomplished by Labella's Administration, the promise of being able to provide around 2 million jobs to Cebu City residents  continues to be the highlight of his first 100 days in Office.
What do you think about Cebu City Mayor Labella's promise of providing around 2 million jobs to the residents of Cebu City? Should this be his priority? Can this be the start of the evermore flourishing of Cebu to become one of the most advanced and wealthiest cities in the country?
Source: Sun Star Philippines