While most of the Philippine government agencies are already pledging what they can provide the countrymen, it's somehow still not enough. As a matter of fact, different private entities are doing their fair share of helping their workers and their employees.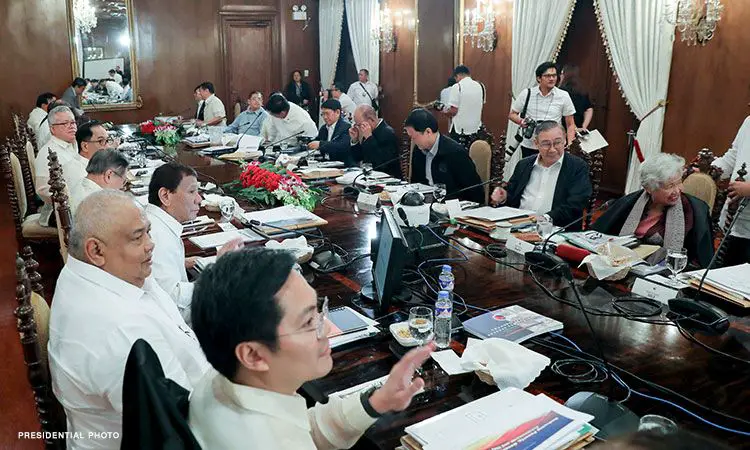 Read: Free 2019 Coronavirus Disease (COVID-19) Testing; Will be Shouldered by the PhilHealth
The fight against the infamous 2019 Coronavirus Disease (COVID-19) is getting a lot more challenging and difficult. We all are aware of the enhanced community quarantine (ECQ) the entire island of Luzon is in; so technically, we're aware that millions of people are not able to work.
Efforts of the Government
The government of the Philippines are currently working hand-in-hand to support every area of the society they can. It started when the Department of Labor and Employment (DOLE) announced that they'll provide a P5K salary subsidy to private sector workers.
Read: How to Receive Your P5K Salary Subsidy From the Department of Labor and Employment (DOLE)
In addition to that, they also mentioned that they'll pursue efforts in providing jobs and professions to workers in the informal sectors. These people included tricycle drivers, metro aides, street vendors, and the like.
Apart from the assistance given by DOLE, the Department of Social and Welfare Development (DSWD) has an in in this, too. In fact, they said that they'll provide 18 millions households a subsidy of P5K to P8K.
They, as a matter of fact, already provided some amelioration forms to some families already in the central part of Luzon. These forms are the signal that a family will be given the subsidy from DSWD.
Read: Cash Assistance From the Department of Social and Welfare Development (DSWD) Worth P5K to P8K
Cabinet Members' Salaries
To add to the efforts of the government to fight the COVID-19, several Cabinet members promised to give 75 percent of their salaries in the government's efforts to stop the spread of the virus.
Karlo Nograles, Cabinet Secretary, said that some members of the Cabinet will be donating. As per him, this is to help combat the disease outbreak in the Philippines; they said that they'll be donating within the Bayanihan to Heal as One Act of 2020.
Nais din nating ipagbigay alam na karamihan, majority, ng mga miyembro ng gabinete ni Pangulong Duterte ay boluntaryong ibibigay ang malaking bahagi, 75 percent ng kanilang buwanang sahod, upang ilaan sa mga programa ng gobyerno upang sugpuin ang COVID-19 sa loob ng panahong pinapatupad ang Bayanihan Law."
Read: The Best and the Most Effective Smartphone Apps You Can Use During a Lockdown
In Translation: We like to inform you that the majority of the members of President Duterte's Cabinet will voluntarily donate a large portion of their salaries. In fact, a decision of donating 75 percent of the salaries has been made to the fight against COVID-19 while under the Bayanihan Law's implementation.
Who would donate 75 percent of their salaries?
Nograles was thrown the same question. However, Nograles said that he's a part of it but, he's leaving the decision to the other Cabinet members on disclosing their participation in the government initiative.
Ilan sa ating kasamahan ay boluntaryong babawasan ang kanilang mga sahod hanggang Disyembre pa ngayong taon para sa mga programang ito.Yung mga ibang opisyales, sila na lang po sigurong magsabi kung sinu-sino sila."
In Translation: Some of our members have voluntarily reduced their salaries until December of this year to benefit the programs. The other officials, they can reveal who they are.
Read: The Catholic Church Will Go Online For The Holy Week
How much their salaries are
After the announcement that they'll be donating 75 percent of their salaries, wouldn't you be intrigued to know how much they earn? Back in January of 2020, the Salary Standardization Law of 2019 was signed by Duterte.
This granted an increase to gov't employees' base salaries!  Isn't it in such a nick of time? The first tranche of the wage law increased the salaries of gov't workers where most of them are between P262, 965 and P301, 095 on a monthly basis.
With the COVID-19 infecting about 3,094 people, having over 140 fatalities, it's really something we should consider fixing any time soon. The fight against the infamous virus is not a war that we can win alone; everyone needs to participate.
Read: Here's How You Can Avail a Pag-IBIG Calamity Loan P20K Up Depending on Your Contributions
From the Philippine government, private sectors, and even those who are well-off in life can definitely donate and give to those who are in need of it. Nevertheless, the Cabinet members who would be donating 75% of their salaries for the fight against the virus is something we shall cherish forever.
What do you think about their decision? Can this have a positive impact on what's happening? Would this be able to help a multitude of people who have been affected by the virus?
Source/s: CNN Philippines | The Philippine Star