On Monday in his televised speech addressing the nation, President Rodrigo Duterte said that there's not enough gov't funds; funds to be able to battle and fight against the threat of the infamous 2019 Coronavirus Disease (COVID-19).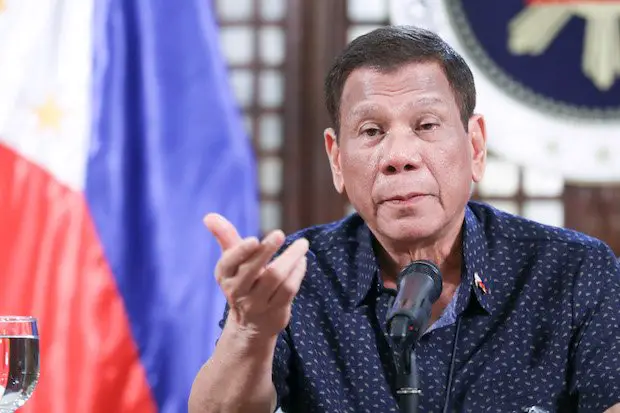 He said that because of the lockdown, the government is not getting any payment from any of us. No tax or any other form of payment to the Philippine government is being made. He said that if this continues on for months, then it's going to be our dark days.
Your money, money ko, money ng mga sino ang may deposito sa bangko, 'pag ginastos ko 'yan, mauubos talaga 'yan. Wala namang kita eh, puro bigay na lang."



Read: Lockdown Extension For 2 More Weeks, Most Likely Says Panelo
In Translation: Your money, my money, money of people who have bank deposits; if I spend that, it's really going to be wiped out. We don't have any means of earning now, just giving.
Fund shortage
He iterated the fact that the P100 billion a month provision to poor families in the country would certainly be not enough. This is what will trigger the fact that we wouldn't have enough gov't funds to support everyone in the country.
I would like to be honest. The P100 billion per month, P300 bilion 'yun…Ang P100 billion budget or P270 billion for two months as their estimate, hindi talaga tatagal 'yan."
Read: P100 Billion Cash to Help Poor Families, Released by th Department of Budget and Management (DBM)
In Translation: I would like to be honest. The P100 billion per month, it's going to be P300 billion… The P100 billion budget or P270 billion for two (2) months as their estimate, it really would not last long.
Why people are asking for the government's help
The reason why the President called out that there is not enough gov't funds already is because of the social amelioration program offered by the Department of Social Welfare and Development (DSWD). This was due to the enhanced community quarantine (ECQ) to stop and to contain the spread of the Coronavirus infection.
Read: The Best and the Most Effective Lockdown Tips to be Productive
This halted and stopped businesses, organizations, and employers in and around the island of Luzon their operations. That basically meant that all workers in the region wouldn't have any sources or means of living.
With that, several government agencies extended their support in the situation. The Department of Labor and Employment (DOLE) announced that they will help regular workers with a P5K salary subsidy.
In addition to that, they've said that they will be giving assistance to the workers of the informal sector by providing jobs to them.
Read: Cash Assistance From the DSWD Worth P5K to P8K
Meanwhile, the state housing Pag-IBIG HDMF said that there will be a 3-month moratorium for all their loans. Moreover, they've made the Pag-IBIG Calamity Loan available online.
With the efforts of the government, it's clear that they're doing what they can to help. They're not letting go and they're not letting us on our own. They are strictly doing what they can to help the people – to help everyone, the poor and the middle class.
Read: Subdivision Residents Don't Need Help From the Government? The Department of the Interior and Local Government (DILG) Says So
Generate "more"
Since there's not enough gov't funds to be seen, President Duterte asked for help from the Secretary of the Department of Finance (DOF) to produce and generate more to be given to the countrymen – especially those who are in dire need of it.
I'm calling on Secretary of Finance to generate [more]. Magnakaw ka, maghiram ka. Wala akong pakialam. Produce mo 'yung pera."
In Translation: I'm calling on the Secretary of Finance to generate more. Steal some, borrow some, I don't care as long as you produce the funds I'm asking for.
Read: President Rodrigo Duterte Urged Business Owners and Employers to Give 13th Month Pay in Advance
Helping the less-fortunate
On the flipside, our dearest President Duterte called on for help to those who are doing well in life. He explains that there is not enough gov't funds to support everyone in the island of Luzon so if there are people who are doing quite well, it's going to be good to share it.
To my brothers and sisters, especially those who have more in life baka makatulong kayo sa pag-extend ng financial assistance. Kung hindi mo masyado kailangan at alam mo na may nagugutom, ibigay mo na lang para hanggang maubos ang, may border 'yan eh. Tulong mo hanggang diyan. Ang gobyerno ganyan eh."
In Translation: To my brothers and sisters, especially those who have more in life. You might have any means of helping by extending any type of assistance to your countrymen. If you are not in need of the money right now, just give it to the people; just have a limit on how you would do so; the government works like that.
Read: Here's a List of People Who Can Go Out During the Luzon Quarantine
Duterte on giving his one-month salary
After the announcement of several Cabinet members that they'll be donating a portion of their salaries, President Duterte said that he'll be donating his one-month salary to the Philippines to assist them in their battle against the COVID-19.
In a statement, his Spokesperson Salvador Panelo said that the Office of the President is welcoming this initiative by the other government branches and agencies. They're happy that the President has thought of this selfless act; now, some of their people will be joining, too.
The Office of the President is pleased to know that the two other branches of the government have their own program of helping the battle against COVID-19 even as we acknowledge the support given by various heads of offices and agencies in their personal capacities to thwart the COVID-19 pandemic."
Read: Mental Health Tips Offered by Psych Groups
President Duterte's salary is equivalent to about P400,000 per month at the end of 2019. In addition to that, Panelo said that he'll join this as well as secretaries of the Offices of the Chief Presidential Legal Counsel; they will be donating at least 10 percent of their salaries.
Their salaries would be directed to the Office of Civil Defense.
Now that we know President Duterte's thoughts about the Philippines having not enough gov't funds to support the poor, as well as some of the initiatives of the Philippine Officials, what position should we take this?
COVID-19 status
As of writing, there are a total of 3,660 confirmed positive cases of the COVID-19 infection with 163 fatalities. This is not a good sign; as time passes, more and more people are being infected and are being monitored and investigated.
Read: Manila City Families Will Receive P1K of Cash Aid
If we wish for this to end soon, the solution is simple – to follow the orders and the rules of the government. Stay at home, do what you can to produce money for your families.
How would people be able to survive especially those who are not earning and without salaries? What will we make of ourselves during the enhanced community quarantine and the lockdown?
Source/s: ABS-CBN News | The Philippine Daily Inquirer