A few weeks back, the House of Representatives gave its approval for the franchise of the newest telecommunications company in the country. The DITO Telecommunity, formerly known as Mislatel, has been given its 25-year legislative franchise. Many people thought that it's not something we should be proud of – however, it must be!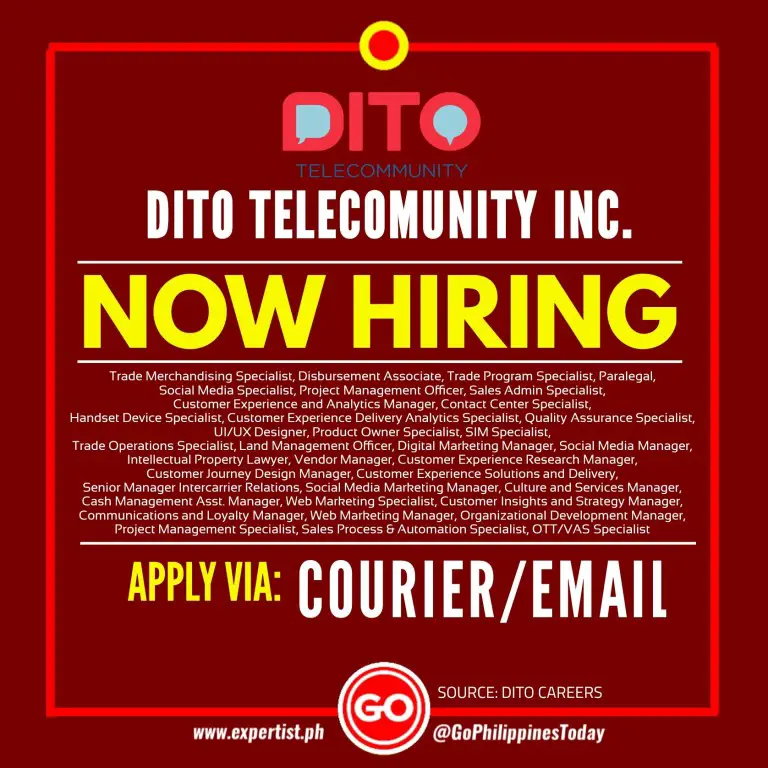 Why? Because this newest telecom company will provide thousands of jobs to Filipino people and they'll be hiring people until March of 2021.
In case you're not aware DITO Telecommunity is the renewal of the franchise that has been granted to the Mindanao Islamic Telephone Company or Mislatel. They are the subsidiary company of the China Telecommunications Corporation, Chelsea Logistics; as well as a part of the consortium of the Udenna Corporation, owned by Dennis Uy, a businessman in Davao.
Read: Caloocan Delivery Service to Offer Livelihood to Caloocan Residents
DITO Telecommunity Approval
Having a total of 240 positive votes, the Lower House gave the House Bill 7332 a no; this signifies DITO Telecommunity's application for a legislative franchise; with their aim to "construct, establish, install maintain and operate wire and/or wireless telecommunications systems in the country."
Now, they're looking for the fittest and the most eligible group of workers to help them win their goal. In case you're wondering what positions the DITO Telecommunity is hiring for, here's a list of what they are in need of.
Trade Merchandising Specialist

Disbursement Associate

Trade Program Specialist

Paralegal

Social Media Specialist

Project Management Officer

Sales Admin Specialist

Customer Experience and Analytics

Manager

Contact Center Specialist

Handset Device Specialist

Customer Experience Delivery

Analytics Specialist

Quality Assurance Specialist

UI/UX Designer

Trade Operations Specialist

Product Owner Specialist

SIM Specialist

Trade Operations Specialist

Land Management Officer

Digital Marketing Manager

Social Media Manager, Intellectual

Property Lawyer

Vendor Manager

Customer Experience Research Manager

Customer Journey Design Manager

Customer Experience Solutions and Delivery

Senior Manager Intercarrier Relations

Social Media Marketing Manager

Culture and Services Manager

Cash Management Asst. Manager

Web Marketing Specialist

Customer Insights and Strategy Manager

Communications and Loyalty Manager

Web Marketing Manager

Organizational Development Manager

Project Management Specialist

Sales Process & Automation Specialist

OTT/VAS Specialist
Read: Metro Manila Subway Project to Provide About 60K Jobs to Filipinos
All of these postings have their own qualifications and requirements that interested applicants need to be wary of. Should an applicant look for the requirements needed, they can refer to this full PDF file posted by Expertist Philippines.
Is it Full Time or Part Time?
The hiring of the DITO Telecommunity is all for full-time posts and positions. As of the moment, no mention of part-time workers have been released by the DITO Telecommunity company. All are for full-time employment.
Procedure of Application
To all interested applicants, you can send in your application via courier or via email to [email protected]. The website never mentioned any other alternative of how interested applicants can apply; all the announcement read was to apply via email to the respective email address.
Read: 3 New GSIS Loan Programs to be Released to Members
Feel free to read the fact about DITO Telecommunity's job hiring. Click on the PDF file to learn more about the qualifications, eligibilities, and the full requirements on how you can apply!
See DITO Telecommunity Job post on Jobstreet.
Source: Expertist PH