With the never-ending plea of Filipino citizens to have face masks, the Department of Health (DOH) finally announced that not all people are "required" to wear a face mask. Unlike the ashfall that happened after the eruption of the Taal volcano, the face mask is not something that can save you from it.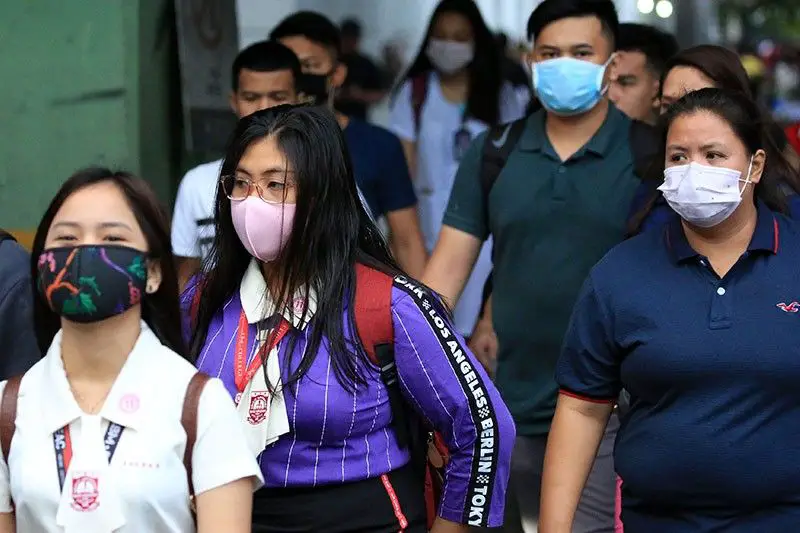 Department of Health Secretary Francsico Duque III said that not everyone is required to wear a face mask.
Yung mask only for people na merong ubo, sipon, may lagnat, kayo ang mag mask para hindi kayo magkakalat ng inyong mikrobyo."



Read: Best Ways to Protect Yourself From Coronavirus, Experts
In Translation: The face mask is only for people who have the colds and those who have fevers. You should wear masks so that you don't spread your germs.
Do I need a face mask?
Many people especially those who go to school; those who attend work; and those who are out in public places more frequently want to secure a mask for themselves and for their families. Some people explained that the mask is not "for them to be protected, but for added protection."
A citizen said that wearing a face mask is just for their own sake, but for the sake of other people they interact with; at home and in other places they visit.
For protection po para di lang samin para sa mga nakakasama namin sa bahay at mga ibang tao na nakaksalamuha namin."
Read: Ready For nCoV, Private Hospitals Association of the Philippines Inc.
In Translation: [The face mask] is for protection, not ust for us; but also the people we mingle with at home and for other people we interact with on a daily basis.
Jonjon Manaay, Principal of Pinyahan Elementary School in Quezon City said that the parents of the children in their school started to be prepared. They said that they had their children bring masks and other resources to keep themselves free from catching the virus.
'bale yung mga magulang nagsimula silang mag handa; yung mga bata pinagdala nila ng mask, tapos siguro mayroon silang mga kit na dala, mga alcohol sa bag kasi kailangan talaga nila e."
In Translation: So the parents of the children prepared their children by letting them bring masks at school. Then maybe they bring kits with them at school like hand sanitizers, soaps, and alcohol because they really need it.
Read: Better and Affordable Organ Transplants in the Philippines, Soon
Shortage of face masks in most establishments
Most establishments in Quezon City, as well as other cities and provinces in the country announced that they are indeed having a shortage of face masks and N95 masks. It has been widespread that most people purchase masks and then they just dispose it.
In fact, some of these drug stores and hospitals admitted that it had been days where they did not have face mask supplies.
Some establishments in the country, however, have their own techniques in preventing the spread of the virus. SM Supermalls as well as other malls under their wing have alcohols when you enter so you can sanitize and cleanse your hands before you enter the establishment.
It's also evident that most malls have cleaners on the hand rails of escalators who regularly clean it using alcohol too.
Read: The DOH Orders the Freezing of Drug Prices in Areas Severely Affected by the Taal Eruption
The House of Representatives, to add to that, has their temperature checker to assess and check a person entering to see if he or she has high temperatures. This is to prevent an outbreak because when they detect that someone has a slight fever, that person will be referred to the nearest hospital to be checked.
What experts recommend
We really can't stop the spreading of the disease – it's a virus and it's continually spreading. What we can do in our part is to help ourselves become healthier by keeping all of what we have on point.
What health experts recommend is not just to refrain from using face masks, but to:
Eat healthily
Make washing of hands a habit every time you interact with someone; especially in public places
Avoid crowded places at this time
Have plenty of rest and sleep
Read: Two (2) New Cases of Meningococcemia, Confirmed by San Lazaro Hospital
What do you think about the statement of the Health Department about not wearing face masks? Do you think that it's a healthy recommendation? It's a no-brainer to think that we really need to focus on our health, not just in wearing face masks.
Apparently, even if you wear face masks outside, there's still a risk of you catching the disease if you have a weak and a vulnerable immune system. Keep everything checked and as much as possible, keep your immune systems at bay.
Source: ABS-CBN News