The Department of Labor and Employment (DOLE) may potentially propose the deferment of 13th month pay. The arising possibility of this is due to the unforeseen impact of the pandemic upon businesses.
Instead of the complete disposal of the financial benefit, DOLE offers the postponing of 13th month pay as a better option.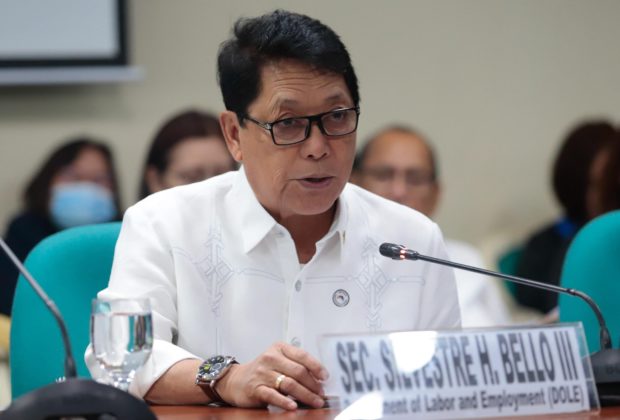 Labor Secretary Silvestre Bello III on Thursday reported that the Department is looking into various options beneficial to both the workers and companies. Bello makes the claim that the deferment of 13th month pay is a significantly better option than to completely disregard the financial benefit for this year.
The deferment of 13th month pay essentially means that companies would still pay workers for their 13th month but on a later date. Similarly, the implementation of quarantine and strict health protocols have certainly hurt business operations nationwide. This is why several solutions are being considered for a distressed company or business such as being exempted from payment, he clarified.
Read: The National ID is Mandatory, Not Voluntary, Ace Barbers
If the business establishment is characterized as distressed — that's why we have to come up with a meaning of what is a distressed company or distressed business establishment. So that they could be exempted from payment."
However, he added that the balance between workers and companies must be looked into in formulating a solution — such as the deferment of 13th month pay. Moreover, he also said that he believes that workers would be able to accept this proposition.
But as I have said, instead of going through that, why don't we consult both labor and management, have them talk about it, that times are hard, the company may not be having much profit… maybe it's possible to defer. To me that might be the more acceptable formula to address the issue."
Reaction to ECOP
Bello responded against a statement released by the Employers Confederation of the Philippines (ECOP) that an approximate of two million workers may not be able to receive their 13th month pay this December.
Read: National ID System to Start on the 12th of October
Sergio Ortiz-Luis, the President of the ECOP, made citation that the massive losses suffered by businesses as the pandemic suspended their operations and pushed economies worldwide into a deep recession.
Law and Pandemic
Companies must grant workers the financial benefit of 13th-month pay, which is basically a twelfth of a person's annual earnings as required by the Presidential Decree No. 851. This bonus is given before the end of each year, separate from other year-end bonuses.
But with the new coronavirus pandemic, most business operations were either suspended or stopped due to the limited number of customers. Especially with the imposed health regulations such as lockdowns and travel restrictions that require the general public to stay indoors.
Read: President Rodrigo Duterte Urged Business Owners and Employers to Give 13th Month Pay in Advance
The industries that have taken most of the impact are tourism, transportation, leisure activities, and some food and beverage outlets among others.
Other Options
Aside from the deferment of 13th month pay, Bello assured that DOLE is considering other options such as totally exempting Micro, Small and Medium Enterprises from granting the 13th-month pay, or excluding companies with a capital of more than P1 million from delaying or passing up on the payout of 13th-month bonus to workers.
I suggested that maybe when it comes to the 13th-month pay, we can exempt MSMEs, the micro, small, and medium.  And then those with a capitalization of P1 million above, maybe we can require them to pay."
Read: 24/7 Food Delivery in Some Parts of Metro Manila, OK-ed
However, the department secretary added that they are still studying other options, but changes are pertinent in accordance to the welfare of both workers and businesses. Similarly, companies that would not be able to afford to give the mandated benefit to their employees would need to seek approval from the department.
We are still studying this and it would be a subject of thorough discussion by both management and employees."
Rehiring of Employees
The DOLE chief likewise said in the same forum that an advisory extending the period within which companies may rehire temporarily displaced employees will be issued on Friday, October 9, 2020.
Companies are required to rehire employees who were temporarily displaced by the pandemic as per the law. Bello claimed that employers have called for the extension of the rehirement, saying that they have not bounced back and their losses are yet to be recovered.
Read: Virtual Job Fair Program launched by Department of Tourism Open to Over 10K Displaced Tourism Employees
Bello said he will allow the extension in a bid to protect and preserve jobs.
How do you feel about the possible deferment of 13th month pay? Do you agree with such an arrangement for the workers in the country?