With the extension of the Luzon-wide enhanced community quarantine (ECQ), people are still controlled and left to be prohibited from traveling long distances. This issue sparked up hearsay about having a stricter quarantine; or more likely a lockdown.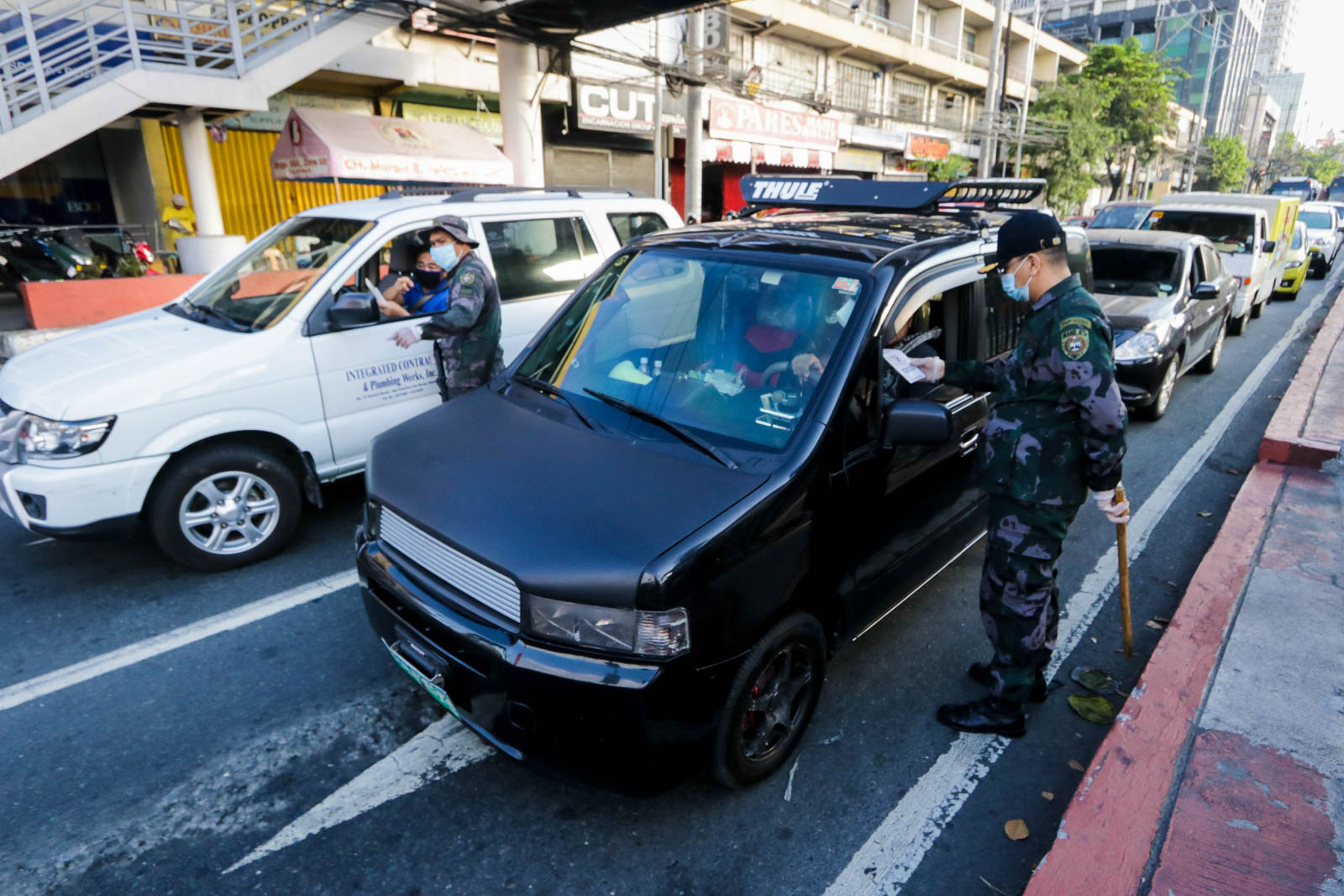 Time and time again, there are ECQ violators and this is particularly the reason why the rules keep on getting stricter and stricter.
Read: Pasig City Subsidy to Families Not on the List of DSWD
Why an ECQ is in place
For all of you who are not in the know, the ECQ is the way for our country to heal back from the COVID-19 outbreak. This way, when people are not mingling with each other, the chances of the virus being passed on will greatly decrease. Hence, the virus would stop spreading and it would be contained.
With this coming into play, there are a lot of subjects that are being considered. For one, Celine Pialagio, Metropolitan Manila Development Authority (MMDA) spokesperson said that motorists who are ECQ violators can face fines for not following rules.
An example of this would be when social-distancing rules are not followed when inside a vehicle; this can spark up fines of up to P5,000. There actually is a limit on how much passengers certain cars can take up.
Read: Luzon Quarantine Lifting if COVID-19 Antibody Becomes Available
Pialago even cited rules from the Department of Transportation (DOTr) saying that a specific car has a limit of ferrying passengers.
Based sa guidelines ng DOTr dapat sa isang sedan, four lang ang sakay. Kapag lima, [Metropolitan Manila Development Authority (MMDA)] ang maniniket sa inyo ng violation of physical distancing which is P5,000."
In Translation: Based on the DOTr guidelines, in one sedan, for example, only four (4) people are allowed to be in. If it goes up to five (5), the MMDA would be the one to give you the ticket of violation of physical distancing; and this is P5,000.
The PNP's intervention
In addition to motorists that are violating the ECQ, the Philippine National Police (PNP) said that when they catch ECQ violators, there could possibly be an arrest that would go down. There are certain people and certain scenarios in which people can go out; and if you are caught red-handed, you might be in serious trouble.
Read: Fast Lockdown Lifting Could Lead to Worst Fatalities, Says WHO
Gen. Guillermo Eleazar, Joint Task Force (JTF) COVID Shield Commander said that the PNP-Highway Patrol Group (HPG) would be the ones in charge of checkpoints. He also said that if people are caught violating, it could lead to arrest.
We would like to emphasize that this is a clear violation of the home quarantine and social distancing rules. Again, we are reminding our countrymen that we will arrest you because this is prohibited under ECQ guidelines."
This is what Pialagio also said in her statement; if ECQ violators are caught, it's not going to be the MMDA's responsibility any longer.
Pero kapag lalabag sa ECQ, [Philippine National Police Highway Patrol Group (PNP-HPG)] ang mag-i-issue ng ticket gamit ang TOP (Temporary Operators' Permit ng LTO), icoconfiscate ang license at pwedeng pagmultahin ng HPG ng P1,000 (disobedience)."
Read: The Philippine Overseas Employment Agency (POEA) Postponed Health Workers' Deployment Overseas Due to the COVID-19 Situation the Country is in
In Translation: But if they would be violating the ECQ, the PNP would be the ones to issue the ticket using the Temporary Operators' Permit (TOP) of the LTO. Their licenses could be confiscated and they could be fined by the HPG of up to P1,000 for disobedience.
Increase in vehicles
Karlo Nograles, Cabinet Secretay, said that this move came after they noticed that there were an increased number of vehicles traversing the streets even when the ECQ is still in effect. This way, they tried to mend the situation by giving a warning to ECQ violators about this.
To address this, and the reported increase in number of vehicles traveling along EDSA and major thoroughfares in Metro Manila, and upon the directive of the President, the PNP will strictly impose the policy on Apor."
Read: Making Your Own Hand Sanitizer? Here's Why You Shouldn't Do It
With the number of COVID-infected patients increasing, it's quite fearful to be outside. So if you are thinking to be part of the demographic who are ECQ violators, think twice before doing so. Not only would you be fined, you can also be led to arrest.
Authorized Persons Outside of Residence (APOR)
There were guidelines on who were the people allowed to be outside of their residence even during the ECQ. As per the guidelines that have been set, people that were included are:
Members of the State Security Forces (SSF)
Health Workers
Emergency Responders
Media
Delivery Personnel
Employees of Establishments providing essential services like:

Grocery stores
Restaurants
Pharmacies
Utilities
Banks
Public Markets
In addition to that, it was specified that people are allowed but only one (1) person per household. Moreover, the only activity they can take is to avail services of establishments that are opened.
Activities like buying food and groceries, medicines, and the usual necessary activities done outside our homes.
Read more about that here: Here's a List of People Who Can Go Out During the Luzon Quarantine
No city-hopping
One thing that the Philippine government has noticed about these ECQ violators is that they hop to different cities. It's more like for them, there's no ECQ happening. Bong Nebrija, MMDA traffic chief, said that city-hopping is what they can use as grounds for catching ECQ violators who are on roads.
Furthermore, he said that most of the necessities are just a short distance away from them; there's no need for them to travel to different cities for it.
What is the need for that…? Most of the essential things are only a short distance away from residential areas. This reckless behavior would lead people to a misappreciation that they need a car to get around. That is not true."
Read: This is How the Department of Labor and Employment (DOLE) Will Help Informal Workers, Tricycle Drivers, Sidewalk Vendors
The enhanced community quarantine is set to expire on the last day of the month. If everything goes well, we can expect it to come to a full stop. This will end well if people would be more cautious and more obedient about current rules and regulations.
Large number of ECQ violators
During this period, specifically from the 17th of March until the 14th of April, the JTF successfully apprehended a total of 114,972 people in the country; most of which are ECQ violators. Out of that figure, there were 27,391 arrested and charged for it.
What do you think about the fact that ECQ violators will  be fined and even get arrested for their wrongdoing? Is this just right to ease and to improve the situation? Would this lower the number of people that can be seen in public places for the betterment and the improvement of the COVID situation in the country?
Our situation is not getting any better – with now more than 5,800 confirmed cases, we're far from what we think the end is. However, we should not give up; the Philippine government is doing what it can to mend and to treat the situation so we should do our part, too.
Source/s: Spot PH | The Philippine Daily Inquirer