Here in the Philippines, there are a ton of motorcycle owners and pretty much from time to time, they tend to replace their tires. Well, tires are one of the things that we need to take note of whatever vehicle we have. Why? Because of the fact that it's what makes our mediums run. So, either the tires become punctured or they become unusable because of the normal wear and tear process, overtime.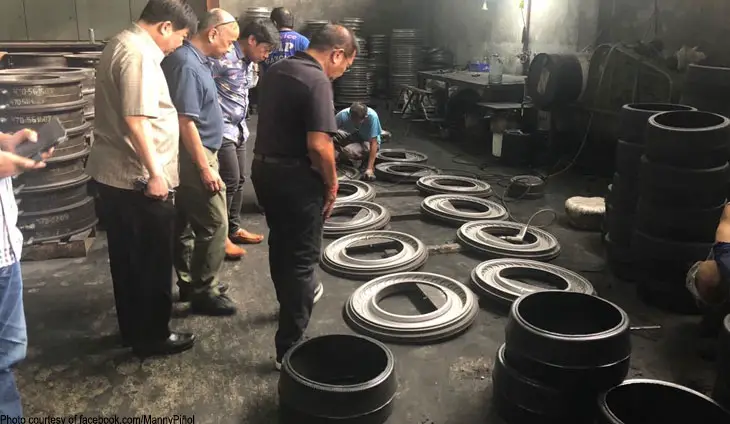 Well if you are one of our fellow Filipinos out there who owns a motorcycle and if you are planning to have your tires changed, why not take a look at an upcoming brand, Pilipinas Agila Tires?
Read: Traffic Violations That Every Motorist Should Know
What is the Pilipinas Agila Tires?
Just announced recently by the government, the first ever Filipino farmer-owned motorcycle tire brand known as Pilipinas Agila Tires will soon launch this upcoming 26th of April the year 2019. The launch will be led by the Department of Agiculture (DA) and the Department of Trade and Industry (DTI) at the Crowne Plaza Hotel in Mandaluyong City.
According to the post of Agriculture department Secretary Emmanuel Pinol on his Facebook page, the launching of the said brand will mark the "start of a nation-wide marketing program" which will "offer the 300 x 17 motorcycle tires" for utility motorcycle at competitive prices.
Help to our local farmers
One good thing about the launching of the new brand is that all tires that they will sell will be made from 100% local rubber purchased straight from our noble farmers here in the Philippines. This would definitely be a big in terms of helping our farming industry out, boosting harvest and sales.
Meaning, our farmers will have an extra strand of income by selling and marketing the rubber they have to Pilipinas Agila Tires for their perusal.
Read: How Can You Verify a Plate Number Through the LTO?
Assorted motorcycle tire dealers from all over the archipelago are also invited to participate and to attend the launch. They will be asked to help out promote the new brand to support our country's farmers; and of course to market and spread the word about the new tire brand.
Aside from the launch of the Pilipinas Agila Tires, outstanding farmers and fishermen as well as their cooperatives and associations will also be awarded at the same time for they have made 91% repayment of the loans they have gotten from the Agriculture Credit Policy Council (ACPC).
Who organized the Pilipinas Agila Tires?
Apparently, the Pilipina Agila Tires brand was organized by the Department of Agriculture (DA), dating two years ago. They made it as part of their program to elevate and help the sales that farmers get on a day-to-day basis. In addition to that, the Pilipinas Agila Tires is a product of the Philippine Rubber Farmers Cooperative (PRFC) which does guarantee that no importation of products would happen. They've given their promise that all products and equipment that will be used for the production of these tires will come direct from the stems of the Philippines.
The funding of the Pilipinas Agila Tires
Now as regards to the funding, they received a loan amounting to 10 million pesos from ACPC to be used as a starting capital in which they will repay for a maximum of eight (8) years at a two percent (2%) interest rate per annum.
The process of making Pilipina Agila Tires products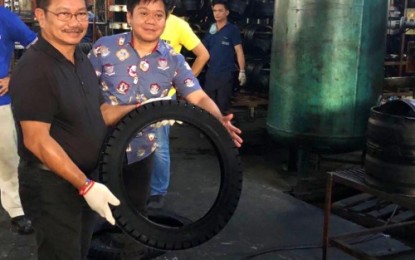 They said that the 10 million capital would be used to buy the first rubber cup lumps produced by its members and other rubber farmers which then will be processed and formed to rubber cubes called SPR-20.
After they get the SPR-20, they will then deliver this to Leo Tire Manufacturing in Valenzuela, Bulacan where they will process and finish them into full motorcycle tires.
Read: I Won't Allow 2 Plates on Motorcycles, Duterte
Once the product is finished, they will then be distributing these tires to different dealers all over the Philippines, mostly to those areas that are populated with a handful of tricycles and habal-habal motorcycles.
What other tires does Pilipina Agila Tires offer?
Initially, their plan was to only provide motorcycle tires. However, their plan expanded, making it more. However, as of today, the only tires they produce are for motorcycles that they will be manufacturing. Nevertheless, later on, they will start the plan to create and sell tires as well for small tractors and multi-cabs (tricycles).
The habal-habal
If you aren't aware of what a "habal-habal" is, it's an ordinary motorcycle but they are given the permission to take on a passenger since a motorcycle has a capacity of a maximum of two (2) people.
Read: Free TESDA Courses for 2019
Normally the riders of the habal-habal are found in the busiest parts of the metro as well as busy provinces and rural locations, too. In the metro, the habal-habal is famous for the reason that the roads are always jammed all the time. So, taking a motorcycle to take you to where you need to go not only saves you a lot of time, you can actually save money as well if you are considering taking a cab or a GrabCar.
If you take a habal-habal, it would save you the hassle of waiting for a public utility vehicle and save you lots of your precious time.
Now, though, a similar idea was formulated and is widely being used by a lot of people who travel during the roughest hours of the day. The Angkas application is similar to a habal-habal, it's just that they're regulated and monitored through the application.
As per the Department of Agriculture (DA) , the tire manufacturing project is expected to stabilize and would definitely raise the buying price of raw rubber here in our country produced by our very own farmers.
Read: Child Safety in Motor Vehicles Law, Signed by President Duterte
If you were to ask me, this is a really great opportunity for everyone. It helps showcase what we Filipinos can do and it helps our farmers to continue with their businesses.
I do hope that as fellow countrymen, we would patronize and support our own product. Our country is full of resources and we always had this ever since. We just need a push in helping convert this resources into a product we can sell in the market to help grow our economic status. We can start by patronizing the first ever Filipino-owned motorcycle tire brand which is from our noble farmers.