If we are to base it on the 20% rise in available jobs in the Philippines during the last quarter of 2020, the country is slowly picking up the pieces in employment.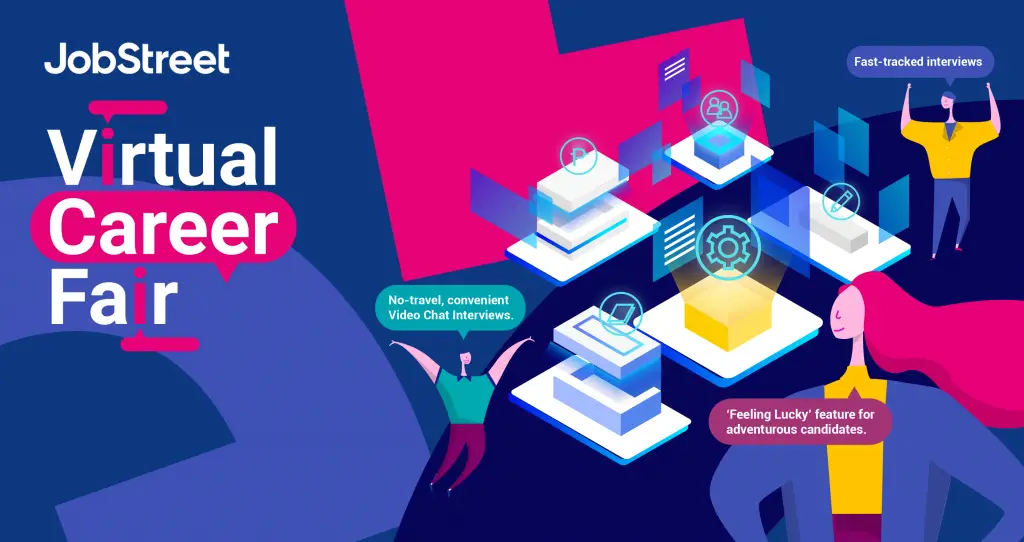 The 55k jobs at the virtual career fair are spread and versatile. There are companies looking for sales executives, digital marketers, IT software specialists, and many more!
Read: The Top and the Quickest Growing Jobs in Southeast Asia
Philip Gioca, the country manager of Jobstreet Philippines, said that he is optimistic that the numbers will continue to grow within the next two (2) quarters.
In addition to that, he said that we will hit our pre-pandemic pace by the end of June this year.
Gioca credits the rise in work recruitment to the optimism of employers who expect that by March stronger quarantine policies will be enforced, a positive indication that our labor force is increasingly adjusting to the new standard.
In reality, the upcoming virtual career fair that is taking place from February 17th 'til February 21st will have more than than 55K jobs; it'll be spread out to approximately 120 recruiters.
List of Jobs Available
HR Managers
HR Staff
IT Developers
Engineers
Accountants
Teachers
ESL Teachers
Financial Consultants
Customer service Representatives
System Analyst
Sales Executives
Digital Marketers
IT Software Specialists
For other positions, such as office managers, dispatchers, quality assurance employees, warehouse workers, merchandisers, and more, qualified and interested candidates may also apply.
Also Read: Mindanao Has Over 18,000 Job Opportunities Up For Grabs!
Companies That Will Join The Virtual Career Fair
If you've been an employee for years, hearing these companies will make you excited.
Among the companies that would be hiring include:
Nestle;
TaskUs;
Accenture;
51 Talk;
Converge;
Aboitiz Construction;
Universal Robina Corporation;
Yamaha Philippines;
LBC Express;
Mercedez Benz Group;
BDO; and
Many more
Multi-Functional Virtual Career Fair
Ryan Tordesillas, Senior Sales Manager of the Job portal talked about the practical characteristics of the virtual job fair, a chatbot that allows potential applicants to be pre-screened; and a live chat control network that allows recruiters to have direct conversations with multiple candidates.
Read Related: Work from Home: The Best and Most Profitable WFH Jobs for Moms
On-the-spot screening and interviews with members of the HR from participating employers will also take place.
JobStreet Facebook live events may also be viewed by candidates where related labor issues will be discussed.They can access it via this link here.
So, if you ever show interest, the virtual career fair is now open for pre-registration.
Jobs In-Demand
As predicted, those that provide an opportunity to work from home, such as sales and marketing, BPOs, are the most wanted jobs at the moment, says Gioca.
He also mentions the various opportunities for part-timers, freelancers, and project-based jobs.
Read: The Metro Manila Subway Project to Provide About 60K Jobs to Filipinos
The jobs are so varied, very different from the jobs that we saw before, which gives applicants more options."
Owing to the current quarantine measure, the hotel, tourism, food & beverage industries have struggled to remain afloat over the last 10 months.
However, the Jobstreet Chief says businesses are already planning for the summer season, and are already beginning to hire/rehire potential employees.
It is not full capacity still, but businesses are starting to move in those industries."
According to Gioca, there is the continuous availability of employment in both the digital and maritime industries.
Much of the pay levels for entry-level roles have remained the same. On the other hand, for top-tier jobs, some work offers have reduced their wage bands.
This is how sustainability is worked out by companies.
Gioca says, noting the changes in terms of work scope and organizational structure to better adapt to the new normal.
Are Virtual Career Fairs Worth Your Time?
Particularly during the pandemic, virtual career fairs have become a convenient and simple way for recruiters and job seekers to connect.
Read Related: 19K Jobs Offered in the IT-BPM Industry; OFWs Prioritized
But are they as good as a standard career fair? Would you really be able to network, interview, and possibly land a new career path, all behind the screen? The answer is absolutely yes!
How Does a Virtual Career Fair Work?
Virtual career fairs, much as you would with an online job board, are hosted on a website that will allow you to develop a profile and upload your resume/curriculum vitae.
You will be paired with companies that may be a good fit for your abilities based on your resume and profile.
Recruiters who see your resume and want to know more about you can reach you through an instant email or message. Furthermore, recruiters can even talk to you through online video conference tools and apps.
Read Related: How to Apply for Online Jobs
In your favor, you can even browse employers' "booths."
These booths are actually just webpages in a virtual job fair. You can think of them as a literal booth at a job fair.
Each page contains a description of the mission of the organization, a list of employee benefits, contact details, image galleries, videos, company info, and many more.
To sum things up, we can say that the upcoming 55K jobs at a virtual career fair will certainly help many Filipino citizens. Despite the pandemic, there is still hope for our unemployed Filipinos.