The entire year has never been easy for all of us – especially for motorists who are used to roam the streets. From taking on different shades of quarantine – to other types of protocols such as social distancing, it was one hell of a ride.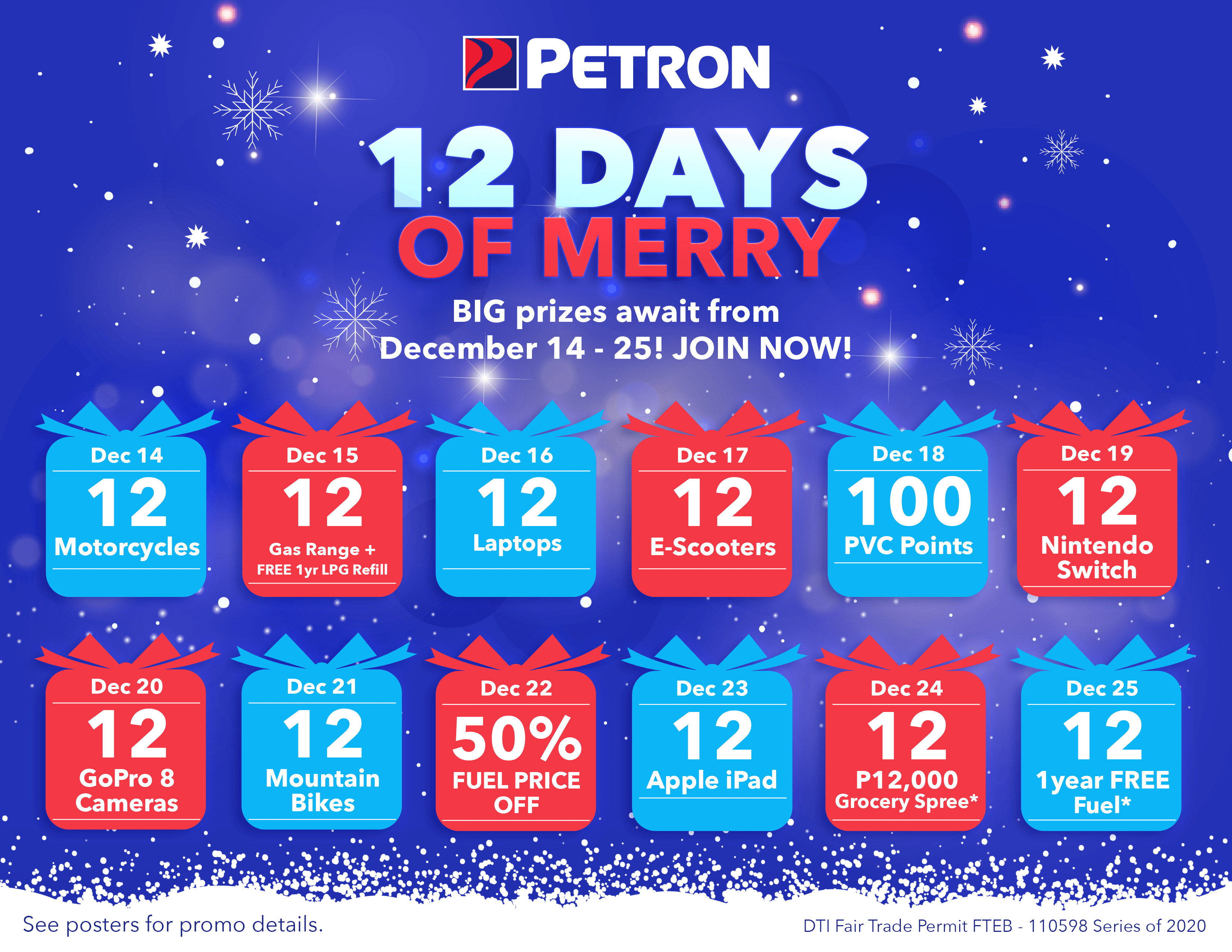 That is the reason why Petron Corporation is to give 50% off on their fuels on December 22, 2020.
Also Read: Pac Pay to be Launched in 2021
Petron to Give 50% Off on Over 1,000 Outlets
Where would the discount be available? As per the corporation, it'll be applicable and eligible in more than 1,000+ participating Petron gas stations in the whole country.
As per their announcement, they said that it's their way of giving back to their loyal clients. Dubbed as the 12 Days of Merry Promo, you can get it if you're a Petron Value cardholder!
The 12 Days of Merry promo is Petron's way of rewarding its Petron Value Cardholders. On Day 9, however, our President and CEO Ramon S. Ang is extending this special promo even to non-PVC cardholders*: customers enjoy 50% off on all Petron fuels when they gas up on December 22, 2020, between 11AM to 1PM, at over 1,100 participating Petron stations nationwide!"
But wait – there's more!
Read: Pasig City Increases the Pay of Their Casual Employees
Read on to know about what other promotions Petron Corp. will be offering this year!
Schedule of the Petron 50% Discount
Does the 50% discount have a timeline on when it's available? Yes, if you were able to read their announcement clearly, you'd see that it's only available in the following times:
11:00 A.M. until 1:00 P.M.
Should you be unfortunate to take advantage of the 50% off or discount, we can hope for another discount next year!
What You Need to do
Are you itching to be a part of the few lucky winners when Petron gives the 50% discount? If you answered yes to that question, then you need to ensure the following:
Read: Free Training From Aboitiz Construction, Inc.
Arrive early – it is expected that people will be lining up. 50% off for fuel is not a joke, especially in these desperate times.
Make sure that you're prepared to wait. You may arrive early, but always think that there are more people that can be earlier than you!
Check Petron Corp's page on which outlets and stations are participating with the said event
NOTE: We know that Petron is to give 50% off on fuel. However, this discount strictly does not apply to fleet accounts, bulk, and purchase orders (POs).
We'll always be happy to make your lives easier and better! You can just click here to see the entire list of participating Petron Gas Stations!
Other Promos and Giveaways
Apart from the fact that Petron will be offering a 50% discount for their fuels, they're also giving away a lot of great stuff!
It includes:
P12,000 worth of gift certificates
One (1) year's worth of free fuel (max of P88,000)
Apple iPads
And many more exciting prizes!
You can check here to find out more about what other promos are available until Christmas!
GUIDE: Easy Ways to Check Autosweep and Easytrip RFID Balance Online and Via SMS!
Promo Mechanics
Here are some of the promo mechanics you need to know about:
The Raffle promo is applicable to all registered Petron Loyalty Value Cardholders, Petron Loyalty Cards, and Super Driver Cardholders (SDCs)
All winners can only win once for the entire promo duration
Limits of the raffle entry include:

PMiles, PVC, Pag-IBIG – 2 entries per day
SDC – Taxi Drivers – 2 entries per day
SDC – PUJ Drivers – 5 entries per day
SDC – UV Express Drivers – 2 entries per day
SDC – Multicab Drivers – 5 entries per day
SDC – Tricycle Drivers – 3 entries per day

All qualified customers will receive an SMS notification confirming the raffle reference number as a form of proof of their promo entry via the registered number on the Petron Loyalty Card
Daily winners will be announced and drawn starting on the 28th of December. It'll be accomplished with a DTI representative; which will be notified via the registered email
Prizes of Winners
So you got lucky and you were able to secure a prize from the contest. When do you get or receive it?
BREAKING: Newlyweds in Japan Can Receive Up To 600,000 Yen
As per the promotion, all prizes will be delivered to winners in the form of a prize certificate between the 1st of January until the 31st.
Furthermore, all winners need to claim their prize at their local dealer within 90 days from the prize certificate receipt.
The 20% tax for prizes that would exceed P10,000; it will be handled by Petron Corp.
Prize redemptions would and will be valid within ninety (90) days from the prize certificate receipt.
Know more about it via Petron Corp's official Facebook page or via their website!
What do you think about the fact that Petron Corp is to give a 50% off on fuels? Is this fair for everyone?
Source/s: Petron | Top Gear PH