To aid Filipinos amidst the infamous pandemic, Aboitiz Construction, Inc., in partnership with Asiapro Multipurpose Cooperative, as well as YouthWorks PH, will provide free training to about 3,000 Filipinos until the year 2023.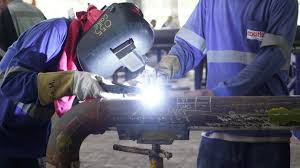 Yes, you read it right. You can get free training from Aboitiz Construction, Inc!
Also Read: The DOLE Offers Over 30K Jobs to Filipinos via the Mynimo Platform
YouthWorks PH is a United States Agency for International Development (USAID) whose main goal is to assist and aid the youth in their professional career and journey.
How Would the Free Training From Aboitiz Go?
To start off, all out-of-school youth will be trained initially by Asiapro. They're a social enterprise that helps out in providing full employment benefits to construction workers with low incomes.
Jenna Diallo, USAID Philippines Acting Deputy Mission Director, said that this partnership will provide free training from Aboitiz and from them; that they'll be able to help about 3,000 youth in receiving it.
Related: Dyson is Currently Hiring 400 Software Engineers For Their New Hub In The Philippines
Through this partnership, 3,000 youth will be receiving free life skills training, mentoring, skills training in various construction trades, and on-the-job training until 2023. We're also providing our private sector partners with skilled, quality human resources who can power their businesses and improve productivity."
In a press release, the PBEd or the Philippine Business for Education said that this partnership will absolutely be effective to be scattered all across the country.
Moreover, they said that the youth can have the chance to get on-the-job training at a few construction companies.
The partnerships will allow youth across the Philippines to get on-the-job training at the two construction companies, and receive additional benefits such as free mentoring, allowance, and possible employment."
Also Read: Valenzuela City Releases Their Online Portal For Jobs
Acceleration of the Hiring Process for Skilled Workers
Nina Ylagan-Pedro, Vice President for Corporate Affairs and Services of Aboitiz Construction Inc., said that this is to help in the boosting of the hiring process for skilled workers.
In addition to that, Pedro said that they're going to offer a lot of learning opportunities, work-related.
Aboitiz Construction will be offering work-related learning opportunities for our youth beneficiaries and will include periods of hands-on training."
To give you a brief refresher, Aboitiz Construction, back in September said that they are to hire about 1,200 skilled workers in the following sites:
Read: Here's How to Enroll in TESDA's Free Contact Tracing Training
Davao
Cebu
Surigao
Sarangani
Subic
Therefore, the free training from Aboitiz clearly is for this lot.
Diallo, in her statement, said that they're confident that these programs will be for the betterment of the lives of the youth.
We are confident that these training programs will make a positive impact on the lives of young people in the Philippines and empower them to become self-reliant and productive citizens of the country."
Crucial Role of the Private Sector
Love Basillote, PBEd Executive Director and YouthWorks PH Chief said that the free training from Aboitiz Construction, as well as the DMCI are concrete proofs that the private sector has a crucial role in the development of the workforce of the country.
Read: President Duterte Signs the Law of Allowing PNP Control Police Training
As per Basillote, being in collaboration with these private sector companies is great. Not only would they educate the youth; they'll also be able to prepare them for the professional careers that lie ahead.
Collaborating with the private sector is crucial in ensuring that there is an alignment between the skills we teach our youth and the jobs we open up for them in the future. We thank Aboitiz Construction and DMCI for working with us in this endeavor, and we hope more companies open their doors to our young people who are looking for opportunities to lead productive lives."
With the free training from Aboitiz, you can expect to learn about a lot of skills in various construction trades. This will open a door for better and newer opportunities for you and for your professional career.
Also Related: Work from Home: The Best and Most Profitable WFH Jobs for Moms
Note that you'll be eligible for it; all you have to do is to take a look at what you need to submit in order for you to qualify.
The training program will run until 2023 and there will never be a shortage of skills and real-live instances of what you are about to do in the future if you take this path.
What do you think of the free training program from Aboitiz Construction, Inc.? Would this really be helpful in improving the lives of out-of-school youth and those that are unemployed?
Can this truly be a training program that private sector companies will be able to look back to?
Source/s: Business World Online | Manila Times