With the pandemic being a burden to everyone, Pasig City Mayor Vico Sotto announced that they will increase the salary of casual city employees.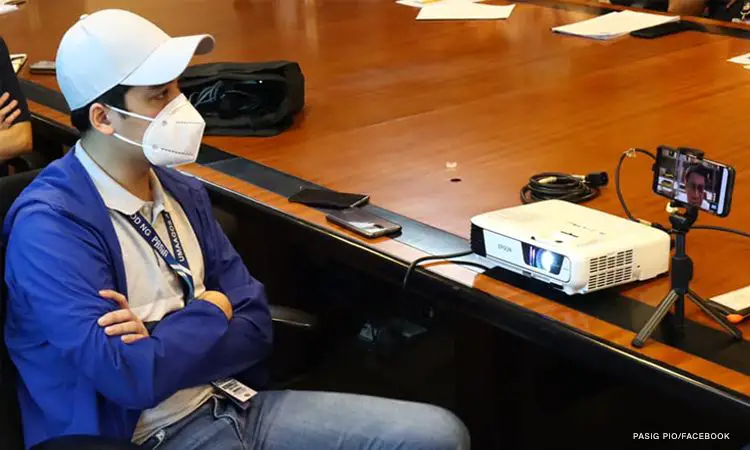 According to him, these city employees hold "dignity" as well as "accountability." This is the reason why Pasig City increases the pay of its employees.
Also Read: Dyson is Hiring About 400 Software Engineers For Their New Hub In The Philippines
In his Facebook post back on Friday, he said that he'll upgrade the salaries of his casual employees from Salary Grade II to Salary Grade III. This means that they'll be getting a monthly salary of P13, 572.00 instead of just P11, 551.
When Will the Salary Increase Take Place?
As per the Pasig City Mayor, this will be effective starting January of the year 2021.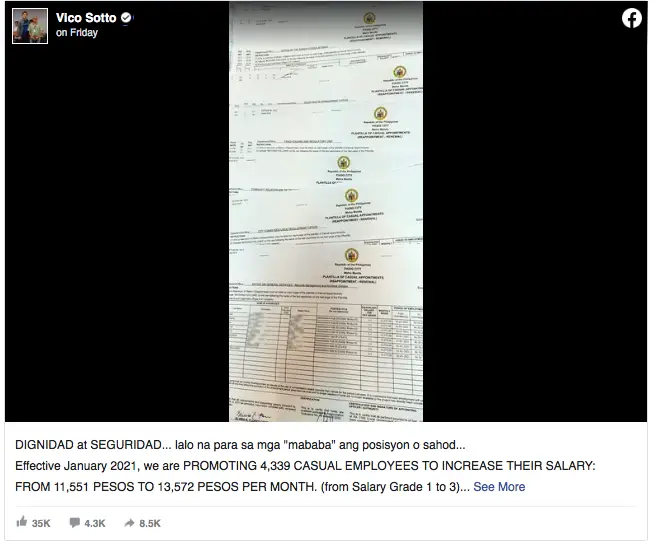 Dignidad at seguridad . . . Lalo na para sa mga 'mababa' ang posisyon o sahod… Mahaba at madugo ang proseso ng pagpapataas ng antas ng serbisyo ng lokal na pamahalaan. Giving our workers dignity and security is an important part of this."
In Translation: Dignity and security, most especially for our Pasig City employees with low salaries. This process of improving the local government will be long, tiring, and difficult. Giving our workers dignity and security is an important part of this.
Read: 100 Employees Regularized on Vico Sotto's 31st Birthday
Other Changes Aside From the Wage Increase
In addition to what Mayor Vico Sotto wants, he said that part of his goal during his term would be to remove the status of Salary Grade I.
What he wants is to have a standard of Salary Grade III for Pasig City employees.
Furthermore, Vico Sotto also said that he is looking to allow a full-time employment status to over 600 contractual employees in Pasig City for the past decade and a half.
Kung pwede lang sanang sabay-sabay na lahat, pero kailangan strategic at responsable ang paggawa natin nito."
Related: Pasig City's Resolution to Give Cash to Top Students in Elementary and High School
In Translation: If only we can do and finish this all at once, we will. However, we need to do this responsibly and strategically for everything to fall into place.
It's clear that Mayor Vico Sotto's goal is for the betterment of the city, not himself.
Long-Term Goals of Pasig City, as Narrated by Mayor Vico Sotto
Pasig City increases pay, that's just the tip of the iceberg.
Apart from that, Mayor Vico Sotto also laid-out the complete long-term goals he has for his city.
According to his excerpt, these include:
Read: The DOLE Offers Over 30K Jobs to Filipinos via the Mynimo Platform
Decent wages for all. No more SG-1. Utility worker natin at least SG-3 dapat (yung mga permanent subukan natin by 1st quarter next year);
Regularization of employees (yung next batch natin nasa 617 empleyado na 15 yrs pataas nang kontraktwal.. kung pwede lang sanang sabay-sabay na lahat, pero kailangan strategic at responsable ang pag gawa natin nito);
Capacity development (to improve service, and also so that more will be qualified for higher positions);
Fully merit-based (unti-unti nating layuan ang kultura ng palakasan); and
Nakangiti at walang nakasimangot na kawani ng gobyerno. Hehe
In Translation:
Also Read: 13th Month of Pensioners, OK-ed by the Social Security System (SSS)
Decent wages for everyone. No more SG-1 Utility worker; everyone will be at least SG-3 (all permanent employees, we'll try it out starting the first (1st) quarter next year)
The regularization of employees (our next batch would be around 617 employees with more than 15-year experiences of being contractual workers)
Capacity development (to improve service, and also so that more will be eligible for better and higher positions)
Fully-merit based (we'll slowly stray from the culture of corruption); and
All employees must be wearing a smile all the time
Is Pasig City Lucky?
With all of those plans laid-out, all Pasig City employees feel nothing but sadness and regret for being a part of the city's government.
The comments revolved around the fact that Pasig City employees are lucky to have a Mayor like Vico Sotto; the top comment read:
Pasig City, bakit ang swerte swerte niyo? (Pasig, why are you guys so lucky?)
Read: World-Renowned IKEA Will Hire About 500 Workers in Their First Philippine Store
Some even commended the Mayor not for the increase, but for increasing the chances of other people to be a part of the public sector. And also, for streamlining government procedures and processes that has been a burden to everyone for decades.
What are your thoughts about the fact that Pasig City increases the pay of its casual public sector workers and employees? Do you think that there will be more after this? Can this really help improve the governance in the city?
Source: ABS-CBN News | Facebook Page of Mayor Vico Sotto