Within the past few weeks, new cases of polio has been announced by the Department of Health (DOH). With this, many Filipinos were shocked and alarmed. For 19 years, our country has been polio-free and now, it has started its reign again.
You can read more about this here: Polio Reappears in the Philippines After 19 Years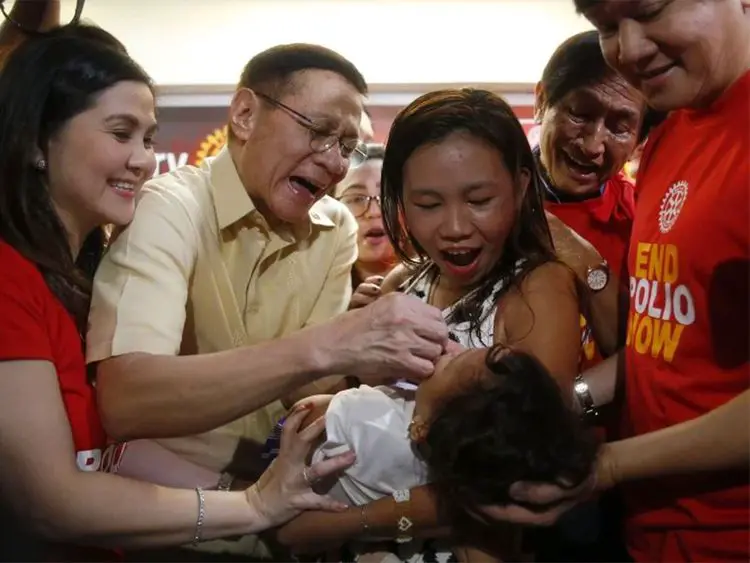 Because of this, a total of nine (9) countries are requiring all travelers coming from the Philippines to have a polio vaccination certificate. By the way, it's not just the Philippines, though, these countries request a clearance from all countries affected by the polio virus. 
Extra precaution taken by countries
Although the protocol was to require people of a polio vaccination certificate in highly-contagious areas, quite a few countries have taken extra precaution since the start o this year. According to the World Health Organization, these territories are just "making sure" that the people entering their countries are polio-free.
Read: Johnson's Baby Powder Bottles, Recalled Because of Asbestos Found by the FDA in Samples
It was 2014 when the WHO declared a wild spread of the polio virus. In this declaration, "the international spread of wild polio virus to be a public health emergency of international concern. As it can result in irreversible paralysis."
How would the process of the polio vaccination certificate be?
According to resources, Filipinos would be required to have these certificates before they're granted visas. Moreover, entry permits would not be given if no certificate is shown.
The following are the countries that would require a polio vaccination certificate from a person coming from the Philippines:
Read: PhilHealth Premium Rates to Increase Beginning of Next Year
Brunei
If you're an overseas Filipino worker (OFW) in Brunei and you're coming back, you need a certificate. A legitimate polio vaccination certificate would be required for travelers who would be coming from countries affected by polio.
Georgia
Similar to Brunei, if you were to go to Georgia, you would be needing a polio vaccination certificate. Even if you're not in a country affected by polio, you need a clearance if you will be coming from a territory that has a "risk of polio transmission."
Read: 2 Cases of Meningococcemia, Confirmed by San Lazaro Hospital
Travelers, however, who wouldn't have a certificate, can get an oral polio vaccine which is stationed in Georgia.
Indonesia
The Philippine Embassy in Indonesia reported that the Indonesian Port Health Offices are implementing precautionary measures against the massive worldwide outbreak of the polio virus.
This is why Filipinos who would be traveling to Indonesia, and would be staying for at least four (4) weeks, are required to have polio immunization before entering Indonesia.
Read: The Food and Drug Administration (FDA) Gives Order to All Stores to Hide Alcoholic Beverages
Lebanon
As per the sources, Lebanon is requiring a polio vaccination certificate from people traveling to or from affected countries.
Maldives
Maldives is also requiring polio vaccination certificate traveling to and from countries affected by polio. In addition to that, people traveling to both the Umrah and Hajj pilgrims are required of it, too.
Morocco
Morocco is not just requiring a polio vaccine certificate, they need an international certificate of immunization. This certificate shall attest to the taking of a dose of the polio vaccine over a 12-month and 4-week period before departure.
Read: No Vaccination, No Enrollment Policy – Suggested by DOH
This certificate would be required in countries affected by the said virus.
Oman
Oman, however, only requires a polio vaccination certificate if the person is coming from an affected country.
Pakistan
Pakistan requires all outgoing international travelers to have a mandatory oral polio vaccine (OPV) as well as incoming visitors of all ages. Moreover, they're requiring an international certificate of vaccination as some sort of proof of vaccination.
Qatar
An international certificate of polio vaccination would be required from all travelers who would be arriving from countries affected by polio.
Seychelles
Only countries with polio outbreaks, Seychelles is requiring a certificate of polio vaccine.
Dr. Wilson Lim, an official of the Bureau of Quarantine (BOQ) suggests that all travelers who are leaving should take the polio vaccine. Furthermore, they shall secure a polio vaccination certificate as proof that they're polio-free.
Read: Magna Carta of the Poor, Signed by President Duterte
We recommend that before you depart, at least you get vaccinated before your scheduled travel to avoid inconveniences in your travel."
The World Health Organization (WHO) advised the Philippines to require everyone entering the country to present a certificate too. This is why the DOH advised everyone traveling to the Philippines to get a vaccine before their trip.
International certificate of polio vaccination is required for travelers arriving from or going to high-risk countries."
The polio outbreak is not a joke. In fact, many governments all over the globe are worried about it. If you are a Filipino traveling abroad, be sure to secure a polio vaccination certificate to avoid problems with your travel.
Source/s: The Philippine Daily Inquirer | ABS-CBN News