In times of calamity, Filipinos are known for their "bayanihan" mentality or the spirit of communal and community work to help the needy. The usual suspects or categories of calamity would be by flooding, tropical storms, and earthquakes. This time, however, it is a totally different and dangerous occasion; especially for the people in the vicinity of Batangas and within its area.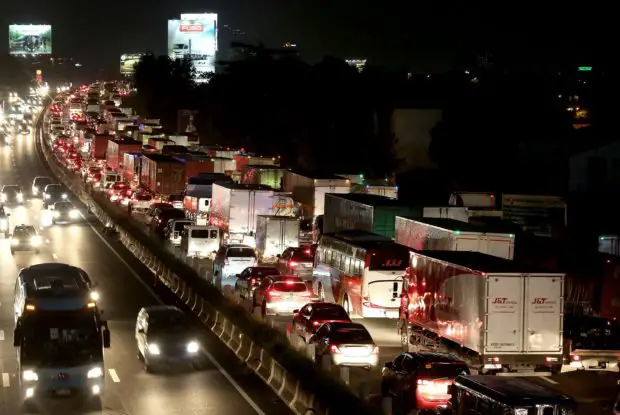 Read: Mandatory Evacuation of 8 Tagaytay Barangays, DILG
The Taal Volcano eruption has been taking its toll, causing a lot of the victims to evacuate slower and less efficiently. Because of previous massive ashfall that seems to be never-ending, they're not able to continue their lives without worries; especially because it is still in alert level 4.
Anytime, there might be dangers lurking that could explode stronger than before. Unfortunately, according to reports, this can continue to happen for weeks, and even months – on end, depending on the volcano's condition.
The toll fee exemption
Last Sunday, the tollway operator in charge of three (3) major expressways, namely:
South Luzon Expressway (SLEX)
The Metro Manila Skyway (Skway); and
Southern Tagalog Arterial Road (STAR)
Read: P176 Million Allotted to Expand and Improve Pasig's Ferry System
Has been requested to have a toll fee exemption for both private and public groups and individuals who are willing to help in the transportation and giving of relief goods; and also those who are conducting relief operations for the Taal volcano eruption victims, whether or not prior coordination was made.
The San Miguel Corporation (SMC) tollways was initially called out by the Labor group Defend Job Philippines because of their responses. It is about necessitating that the request for the toll exemption must be sent first to the SMC tollways and be approved by its President, Manuel Bonoan, reiterating that it is pointless and time-consuming work especially in the midst of exigency of the situation in the areas affected by the Taal eruption.
A letter that is taking too long
Christian Lloyd Magsoy, Defend Job Spokesperson said that even if they're saying that "it's just a letter, it could cause a lot of delays.
Read: Safety Tips to Follow When You're Stuck on the Road During an Ashfall
They might say it's just a letter, but it could deter simple efforts, especially those not coming from big companies. We are just asking SMC to be humane."
Several Transport Network Vehicle Services (TNVS) groups and Members of Defend Job, were on the South Luzon Expressway (SLEX) on Sunday, expecting to deliver proper assistance to evacuees. Their camper of about 40 vehicles filled with relief goods, nonetheless, was recommended to pay toll, Magsoy said.
Inspections, not letters
In addition to that, Magsoy said that in order for their request of the tolls fees be waived to be hastier, they suggested to the administration of the SLEX to draft and come up with different methods to check whether or not the vehicles entering would be for the purpose of sending help to those who are in need.
We suggest that the SLEX administration craft procedures or mechanisms to check whether vehicles are indeed carrying relief goods, like quick inspection at the toll gate."
In the statement, the group emphasized that this would be painless and rather more efficient than the current need request letters for prior coordination.
In response, the SMC Tollways stated that they will waive the toll for private persons, group and organizations carrying relief goods and assist relief operations for the Taal volcano eruption evacuees provided that they first send an email to Manuel Bonoan at [email protected] or [email protected].
Toll Fee Exemption, Now a Reality
In addition to that request, Marlene Ochoa, the head of SMC's company communications, said that donors should specify in their request the following content for them to be granted the pass:
Items that would be be donated (food, medicine, clothes, etc.);
Their destination;
The date and estimated time of travel;
Vehicle information such as the model of the car, the plate number; and
The contact person
Read: The DOH Orders the Freezing of Drug Prices in Areas Severely Affected by the Taal Eruption
Follow ups of the requests can be forwarded to their hotline at 5318-8655
The date specified in the letter or the e-mail request for exemption would only applicable only to southbound cars on Skyway, SLEX and STAR tollways. Moreover, the said toll fee exemption will be effective only for a definite time while the relief operations for the taal eruption victims are ongoing, SMC Tollways stated.
When this first started, only the marked government vehicles are subject to the toll fee exemption for both the entrance and exit on the three (3) expressways managed by the SMC Tollways company, now, the SMC has approved it.
Toll Fee Exemption Approved!
To hasten the process, the SMC advised motorists who are carrying relief goods to stop by the following inspection sites:
SLEX Southbound

Petron Silangan/KM 44
Mayapa Entry
Batino Entry
Calamba/Real Entry

STAR Southbound Location
STAR Northbound Entry Locations

Batangas
Ibaan
Lipa
Toribia
Malvar
Tanauan
Read: Strange Disease From China Causes DOH to Order Stricter, Tighter Screening of Travelers
How the process works
To help those who are wiling to help, the process is actually simple:
Drive up to the inspection locations where a toll supervisor will check and inspect your vehicle
You'll be issued a Free Single Exit Pass
The pass should be surrendered at the cash lanes where the vehicles are exiting
A total of 10,000 individuals were severely affected by the eruption. Luckily, in the municipality of San Luis,  they were already assisted by the TNVS Caravan that included the following groups: TNVS, Metro Manila Hatchback Community, Lawyers for Commuters' Safety and Protection, Querzon City Anti- Corruption Commission and Owto in focused profits.
In a separate statement, Defend Jobs said that the SMC might be thinking more about the profits than in helping the people who were affected.
Instead of encouraging the spirit of bayanihan among Filipinos in this time of disaster, the SLEX seems to be more focused on how to maximize the bulk and rush of private efforts utilizing their private roads to generate huge profits for their company."
Read: Samsung's Android Alternative is a Security Disaster, Says Researcher
That statement tapped to "moderate its greed for profit amid the massive relief operations being performed by private individuals and groups for victims of the Taal Volacano eruption."
Magsoy emphasized that SMC should keep the fees that they are collecting for those humanitarian aid eliminated until the residents of Batangas and nearby cities affected by the Taal Volacano eruption victims has "totally recovered."
In a separate statement, SMC President Ramon S. Ang said that this toll fee exemption is part of their efforts in the San Miguel Group to help their fellow countrymen by giving a load-off to people who are willing to help.
Read: Active Philippine Fault Lines: How do You Know if Your Area is Near a Fault Line?
What do you think about the SMC's decision to have a toll fee exemption? Could this be an important move in the delivery of relief goods in severely affected areas? Initially, people never thought this could be a reality but with the efforts of the SMC, it is now.
Source/s: The Philippine Daily Inquirer