The Philippine-American Educational Foundation is the oldest, continuing Fulbright Commission in the world that administers the flagship foreign exchange scholarship program of the United States of America in the Philippines, aimed at increasing binational research collaboration, cultural understanding, and the exchange of ideas between the two countries.
The Fulbright Foreign Student Program is a scholarship opportunity for Filipinos to study at the graduate level (master's or doctoral studies) or pursue non-degree doctoral dissertation research in the United States.
Who can apply for the scholarship?
Those who wish to apply must meet the following qualifications:
Philippine citizenship
English proficiency
College degree with major in field of specialization; excellent undergraduate record
Applicants must have at least two years of professional work experience (after college) in their field of specialization. Assistantships during college do not count.
Applicants must be in good health to pursue graduate work in the U.S.
Applicants must return to the Philippines immediately upon completion of study.
Non-degree applicants must meet the added requirements:
Applicants for doctoral dissertation must show proof that materials required to pursue research are not available in the Philippines but are available in the United States.
Note: Individuals holding dual citizenship, are permanent residents and/or are presently studying in the U.S. are not eligible.
Scholarship Duration:
Grants under the Fulbright Foreign Student Program for Filipinos are for a maximum of one academic year for non-degree, one to two years for master's, and two years for doctoral degree studies.
What are the benefits under the scholarship?
If accepted, the scholars will received the following benefits:
Round-trip international travel
Monthly maintenance allowance
Tuition and fees
Book/supplies allowance, and
Health and accident insurance
How to file your application?
Visit https://www.fulbright.org.ph/index.php/fulbright-foreign-student-program or scan the QR code to apply and learn more about the grant. The online application portal will be accepting applications until April 30, 2023.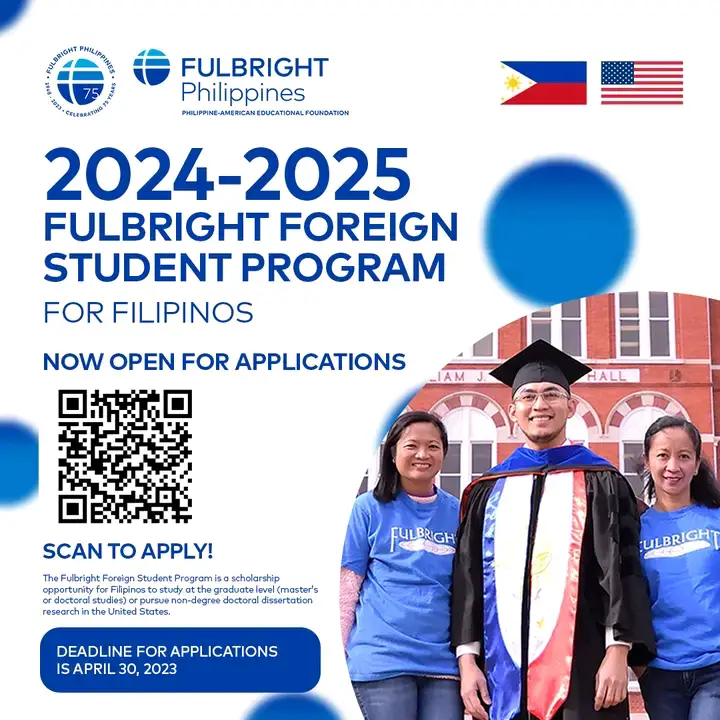 This image was taken from Fullbright Philippine's website.
For inquiries, please contact Fullbright Philippines via email address: [email protected] and tel. no./s theough: (632) 8812-0919), 632) 8812-0945
Fulbright Philippines is located at 20th Floor Greenfield Tower Williams corner Mayflower Streets Greenfield District, Mandaluyong City 1550 Philippines
Source: Fulbright Philippines
Other Scholarships: