The Pag-IBIG Home Development Mutual Fund (HDMF) recently made a couple of announcements as regards their assistance to workers amid the threat of the infamous 2019 Coronavirus Disease (COVID-19).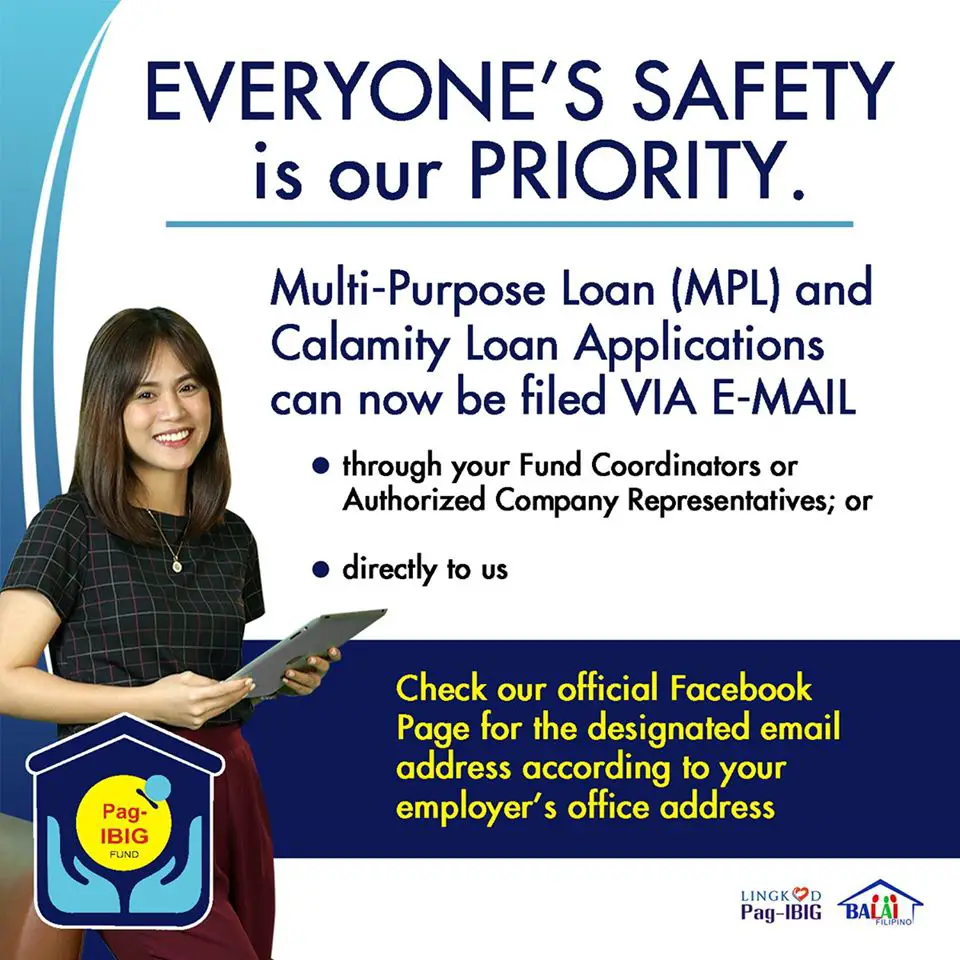 One of which was their decision to provide a three-month moratorium for all loans. In addition to that, they also said that they are open to members applying for the Pag-IBIG Calamity Loan by filling out forms and submitting it to their dropboxes in any of their offices.
Read: P1.3 Billion Budget as Financial Assistance From the Department of Labor and Employment (DOLE)
Now, they're proudly announcing that they are opening their digital world so that members are able to apply for the Pag-IBIG Calamity Loan online.
Why people want to apply for the Pag-IBIG Calamity Loan Online?
After our dearest President Rodrigo Duterte announced that our country is under a state of calamity because of the fast-paced spread of the COVID-19. This was the Presidential Proclamation No. 929 which was duly signed and signified by President Duterte.
Read: President Rodrigo Duterte Urged Business Owners and Employers to Give 13th Month Pay in Advance
It states that the entire island of Luzon will be placed under strict quarantine procedures. Moreover, it is expected that the entire Luzon island will be under a state of calamity for six (6) months unless, of course, it's going to be lifted or extended.
Thousands of jobs and business operations have been put on hold. Because of this, a lot of companies and government agencies partook in the granting of financial assistance. For instance, several banks agreed to waive transfer fees on their online banking facilities.
Read more about that here: Three-Month Moratorium to All Loans, Pag-IBIG Fund
Our country's state home development agency, Pag-IBIG, discussed that they are looking to allow members to apply for the Pag-IBIG Calamity Loan online. As per them, this is for the members to be given immediate financial assistance and aid, especially to areas that have been severely affected.
The Pag-IBIG Calamity Loan program seeks to provide immediate financial aid to affected members in calamity-stricken areas."
Is Pag-IBIG only offering the Calamity Loan online?
In their official Facebook page, the Pag-IBIG made the announcement that they are opening their doors to their members by allowing the Calamity Loan and the Multi-Purpose Loan Program (MPL) application to be one online.
So basically, all Pag-IBIG members can take advantage of this situation and apply for the Pag-IBIG Calamity Loan or the Pag-IBIG MPLfor financial aid and assistance.
Read: The Bank of the Philippine Islands (BPI) is Giving a 90-day Grace Period on Loan Payments to Frontline COVID-19 Workers
How can members apply online?
For members who do not have printers, Pag-IBIG adjusted and made the loan forms fillable online. Here's what members have to do:
Fill-out the fillable form
Once the form has been completed, members can save it as a PDF file.
After, members can send the PDF file via email to their company's Human Resources (HR) team; a company authorized representative; or the company's fund coordinator.
NOTE: The reason why members have to send it to their employers is because their employers need to sign the application agreement in the form.
Requirements to apply for the Pag-IBIG Calamity Loan online
People who are eligible to apply would be people who are living in or residing in an area that has been affected by the declaration of our President to be under a state of calamity. In addition to that, here are some documentary requirements:
Read: The Department of Education (DepEd) is Working to Release Employees' Salaries Early
Duly accomplished Pag-IBIG Calamity Loan or MPL form;
One (1) valid I.D. (front and back images)
Loyalty Card Plus (front and back images)
LandBank or DBP Cashcard
At least twenty-four (24) monthly membership savings or contributions
Sufficient proof of income
NOTE: Members who have an existing Pag-IBIG Fund Housing Loan, Calamity Loan, or MPL, payments should be updated in order for their applications to qualify. The amount remaining will be deducted to how much they'll be receiving.
How can members know if they are approved?
In determining the results of their online application, members will receive  a text message that will confirm their approval. Furthermore, they'll also be informed whether it's credited in their Loyalty Card Plus or their Landbank or DBP Cashcard.
Read: You Can Avail a Pag-IBIG Calamity Loan P20K Up Depending on Your Contribution
What if I don't have a Loyalty Card Plus, Landbank, or DBP Cashcard?
First-time borrowers are advised that they'll be contacted by representatives for them to know how they'll be able to receive their loan proceeds.
How much can members borrow?
Based on Pag-IBIG Fund's website, applicants who will be qualified can receive an amount of up to 80% of their total Pag-IBIG Regular Savings.  The Pag-IBIG MS usually consists of:
Employee's monthly contributions
Employer's contributions
Accumulated dividends earned
Applicants can apply for the Pag-IBIG Calamity Loan online within a period of 90  days from the date of the declaration of the state of calamity. Meaning, people in the National Capital Region (NCR) can apply 90 days from March 17th, 2020.
Read: Fact or Fiction: Can Bananas Save You From the 2019 Coronavirus Disease (COVID-19)?
As per Kalin, the Pag-IBIG Vice President, they would gladly accept the applications from members who are:
in the NCR Region
Part of the Luzon island
Part of areas that have been declared to be under an Enhanced Community Quarantine (ECQ) whose livelihood have been disrupted
Processing time
The usual processing time of the applications after submission is less than two (2) days. However, with this pandemic, they do not have a specific timeline of when the application will be processed, says Kalin Franco-Garcia, Vice President of the Pag-IBIG Fund.
This early, we apologize to our members as our usual processing time takes less than two days. However, in this pandemic that we are currently facing, we would like to assure our members that Pag-IBIG Fund is doing everything it can to release loans as fast as possible."
Read: The Catholic Church Will Go Online For The Holy Week
Loan repayment terms
The loan repayment terms remain as usual; it's still payable within twenty-four (24) months. In addition to that, the initial payment for the loan they're getting will be payable on the third (3rd) month after the loan has been released.
Where can I email my MPL or Pag-IBIG Calamity Loan Application?
People from all over the Philippines, specifically the island of Luzon, everyone is directed to send their application forms to the following email addresses based on their location.
Members from Luzon and NCR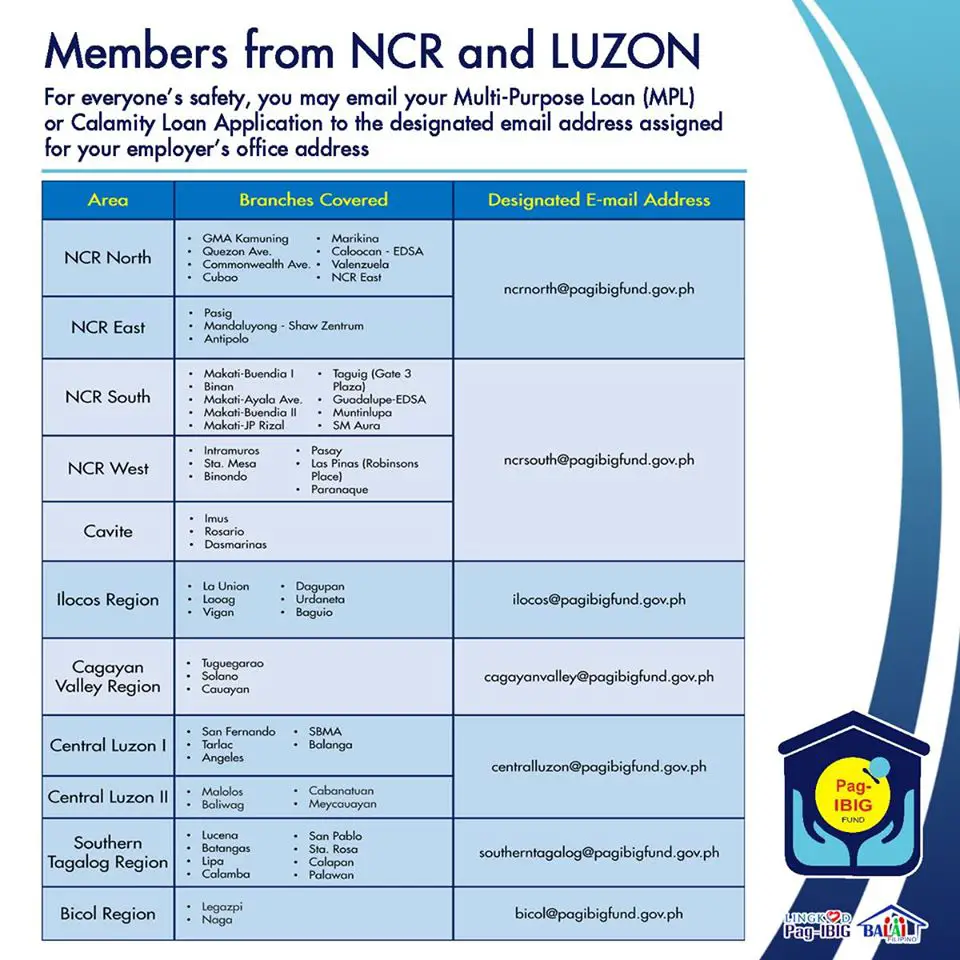 Read: The World Health Organization (WHO) Advises Everyone to Avoid Taking Ibuprofen When You Have COVID-19 Symptoms
For members in the Visayas/Mindanao Region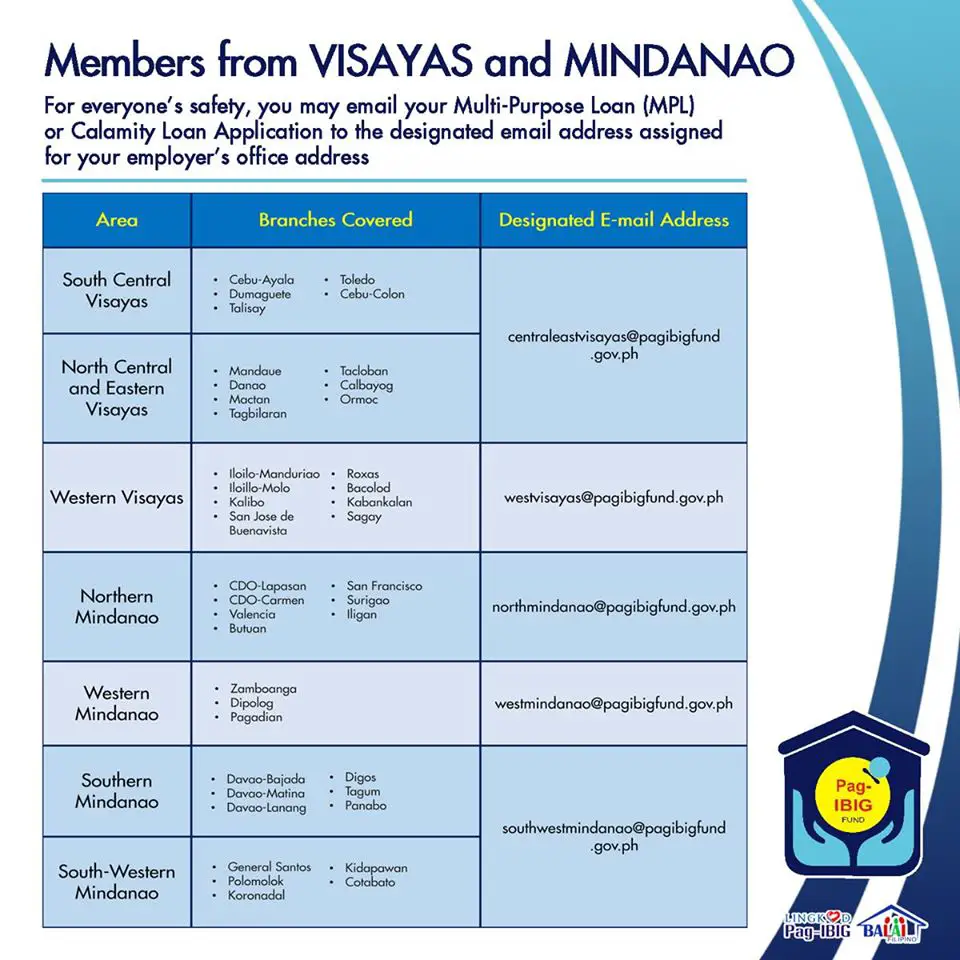 With the Pag-IBIG opening its doors to its members, we can expect financial aid and assistance from them. What do you think about their decision to allow members to apply for the Pag-IBIG Calamity Loan online? Can this aid the public who have lost their jobs due to the outbreak of the virus?
Source: Pag-IBIG Fund Official Facebook Page