Scholarships are really important especially for those really in need and wants to finish their studies but lack the capability financially to do so. Well don't fret, if you aspire to finish your degree and if you are in the science and technology field, well good news, the Department of Science and Technology – Science Education Institute is still accepting applications for their 2019 Junior Level Science Scholarship (JLSS) until April 26, 2019. Interested? Well here are the qualifications.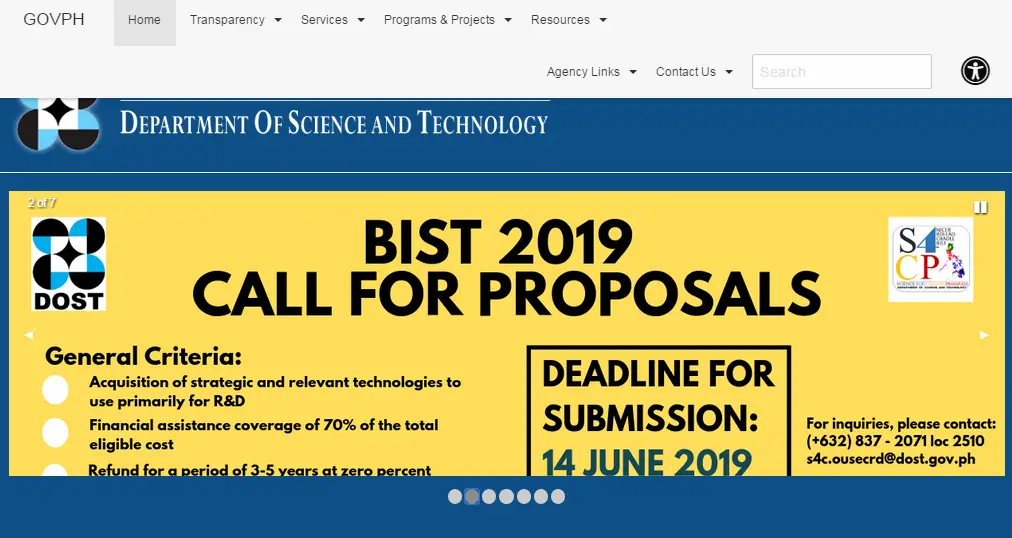 First, the said scholarship is open to talented and deserving Regular 2nd Year College Student from Higher Education Institutions (HEI) in the S&T Field. I know what you're thinking, how can I know if my school or university is classified as an HEI? You can go to the Commission on Higher Education's Website and check it out or you can click this link which will take you directly to the list.
Read: Everything You Need to Know About the ASEAN Scholarships for the Philippines
Moreover, here are the list of other specific qualifications you must meet to proceed with the application:
You must be a natural–born Filipino citizen
Has a General Weighted Average (GWA) of at least 83% or its equivalent in his/her first year and first semester of the second year in college
No failing grades in the 1st and 2nd year
Agrees to teach in the secondary level basic education in public and private high school as return of service (ROS)
Agrees to any of the approved ROS conditions and,
Agrees to pay the amounts disbursed with applicable interest, in case of failure to comply with the terms of the ROS, before filling the said scholarship.
Now what about the scholarship privileges that you'll be getting in case you were successful with your application? Well here they are:
Tuition and other School Fees: P40,000 per Academic Year
Book Allowance: P10,000 per year
Monthly Living Allowance: P7,000 per month
MS/PE Uniform: Given on the 1st semester of the first year (P1,000)
Premium Group Insurance
Transportation Allowance: 1 economy-class round trip airfare for those studying outside of their home province)
Summer Allowance (Only applicable if it is required by the curriculum)

Tuition and other fees: P1,500
Book Allowance: P500 (OR needs to be submitted)
Monthly Allowance still applies:  P7,000 per month for 2 months during summer

Post-Graduation clothing allowance: P1,000
Moving over to the requirements, there are several but it really depends on the type of scholarship. There are three types, two of them are under a Republic Act and one which is a merit. Here are the details on the types of scholarships first.
Read: PhilFrance Scholarship 2019 Requirements, Benefits, and Eligibility Requirements
RA 10612 –Republic Act. No. 10612
This has the goal to strengthen the country's science and technology education by fast-tracking graduates in the field of science, math and engineering and allowing them to tech in secondary schools throughout the country once they have graduated. This is one of the ROS given above as a part of helping the country as well.
RA 7687 – Republic Act No. 7687 which is also known as the "Science and Technology Scholarship Act of 1994"
This, on the other hand, aims to give scholarships to those in real need. It aims to help talented and deserving students whose families' socio-economic status does not exceed certain numbers of certain indicators. Those who qualifies needs to pursue priority fields of study in basic science, engineering, other applied sciences and science and mathematics teaching.
Merit
This was DOST-SEI's original scholarship program, it was formerly known as NSDB or NSTA scholarship under the Republic Act    2067, and is awarded  to  students who have high aptitude or grades in science and mathematics and are planning or dedicated to pursue  careers  in the fields of science and technology.
Now for the requirements, please look at the table below to see what you'll be needing. Please take note as well that you'll first need an application form. You can get one from the nearest DOST-SEI branch or if you'd like to, you can download the form and print it as well from this link by clicking here.
Read: The Highest-Paying Jobs for Fresh Grads in the Philippines This Year
Forms indicated below are available in the Application Form. Just present the form and have it filled up.
Also take note that the table below is information gotten directly from DOST's website.
| | | | |
| --- | --- | --- | --- |
| | RA 10612 | RA 7687 | Merit |
| 1.       Personal Info (Form A) |  ✓ |  ✓ |  ✓ |
| 2.       Household Info  Questionnaire (Form B) | ✗ |  ✓ | ✗ |
| 3.       Good Moral Character Certificate (Form C) |  ✓ |  ✓ |  ✓ |
| 4.       Certification of Program of Study and  Year Level (Form D) |  ✓ |  ✓ |  ✓ |
| 5.       Residency Certification or Cedula (Form E for RA 7687 only) | ✗ |  ✓ | ✗ |
| 6.       Commitment to Return of Service | | | |
| F1 Form | ✗ |  ✓ |  ✓ |
| F2 Form |  ✓ | ✗ | ✗ |
| 7.       Two copies of your recent 1"x1" picture |  ✓ |  ✓ |  ✓ |
| 8.       Transcript of Records (TOR) released by school or if unavailable , True Copy of Grades (TCG) of the first and second year would do. |  ✓ |  ✓ |  ✓ |
| 9.       A Photocopy or Xerox of your Birth Certificate(Preferably PSA) | ✓ |  ✓ |  ✓ |
| 10.   Copies of your household electric bill for 3 continuous month. If unavailable or if electricity is being shared within the household, a Brgy. Certificate of Electric Sharing would do. | ✗ | ✓ | ✗ |
| 11.   2017 Income Tax Return of your Parent/s*If your parents  are OFW – present a copy of their employment contract*Certificate of Indigency is also required for RA 7687 | ✗ | ✓ | ✗ |
| 12.   Non Refundable test fee of 200 | ✗ | ✗ | ✓ |
Where do you need to go to submit the requirement?
Once you have completed everything in the list. Just go ahead and check this link.
It contains all the nearest DOST Regional Offices and Provincial S&T Centers where you can submit all the said documents. Also take note that the deadline is APRIL 26, 2019. So make sure to submit before or exactly that day.
Exam Coverage and Date of Examination
As the same with other scholarship grants, all applicants are expected to undergo an examination where it will measure their academic knowledge in science, engineering, mathematics and technology.
The date of the examination is scheduled to happen on June 2, 2019. So be prepared and take the time to review everything that you have learned.
Read: Different Job Opportunities from Different Philippine Government Departments
Contact/s
In case of any more inquiries and questions, you can contact +639171208213 or (062) 991-1024 and you can look for Ms. Josephine Nohay.
Alternatively, you can send an email and direct it to [email protected]. You won't run out of options because you can also visit their official Facebook page at www.facebook.com/DOSTRegion9
Read: Technical-Vocational Education, Free for the Unemployed
So if you got what it takes, pursue this opportunity and try your best to get the scholarship grant. You might not know that this is the answer you're looking for to give you some sort of hand in terms of financing your education.
Follow the steps and apply now! Deadline is until the 26th of April 2019, you have ample time!