Scholarships are given to the people who want to pursue their education but would need financial assistance. These types of programs are made in order for families to be helped and for students to be guided accordingly. One of the under-known scholarships is the ASEAN scholarship.
In this article, we will be telling you everything you need to know about the ASEAN scholarship. From what it is, what benefits it can give, what the requirements are, and how learners can apply for it.
What is the ASEAN scholarship?
The ASEAN scholarship is a type of scholarship that is tenable for four (4) years. This ultimately leads to the award of the Singapore-Cambridge General Certificate of Education Advanced Level (GCE A-Level) or any other certificate equivalent.
Read: The Highest-Paying Jobs for Fresh Grads in the Philippines This Year
This certain scholarship is available to be taken at selected schools in Singapore from the Secondary 3 to the Pre-University 2 levels. It has a renewal annually and is subject to the performance of the scholar in the satisfactory level.
If you or if you know someone who would be willing to enter schools in Singapore in the 3rd Secondary Level in the year 2020, then you can happily apply for the ASEAN scholarship.
Is there a certain period for the application?
Yes, so if you have the interest in studying or you know someone who has, then you better tell them that there is a time period for it. The following are the activities that can be done with a deadline of their specific dates:
| | |
| --- | --- |
| The Activity (what needs to be done) | The Deadline (Date) |
| Application Period | March 15th 2019 to May 12th 2019 |
| Test Selection with Interview | End of June 2019 to Early July of 2019 |
| Awarding of Scholarship | September 2019 |
| Arrival of grantees in Singapore | Early December of 2019 |
NOTE: Learners who will pass will be notified and alerted at least one (1) week in advance if they're short-listed for the selection test and interview. So, if you don't receive any type of notification, that means that you're not short-listed. Only learners who are short-listed are going to be notified.
Are there qualifications of people who want to try?
Like any other program, there are qualifications that learners need to attain in order for them to be able to try the ASEAN scholarship program. Potential applicants need to meet the following criteria:
Read: Megaworld Scholarship: What You Need to Know
Must be a national citizen of the Philippines
Must have completed at least high school year two (2) or Grade 8 in the Philippines. The preference will be provided to students who were able to complete High School Year three (3) or Grade 9.
Should have consistency in the school examinations, assessments, and tests.
Birth date should be between years 2003 to 2005.
Should be proficient in English and should have a good record of participation in co-curricular activities.
If you want to apply, then try and see if you meet the following criteria. If not, then you need to achieve these first in order for you to become eligible for the ASEAN scholarship.
Test and interview venue
The location in which potential applicants would be interviewed would be in Manila, Philippines. These are the students who are short-listed.
What benefits could the ASEAN scholarship bring?
Financial assistance is not the only thing that students will get if they become blessed with the ASEAN scholarship. Other benefits and advantages that learners who will pass will get are:
Allowance for settling in
Coverage of school and other fees
Allowance with hostel accommodation (annual)
Subsidized medical benefits
Accident insurance covers for the student
Return economy class air passage
Coverage of GCE O-Level and A-Level examination fees (if only applicable)
 How can I apply for the ASEAN scholarship program?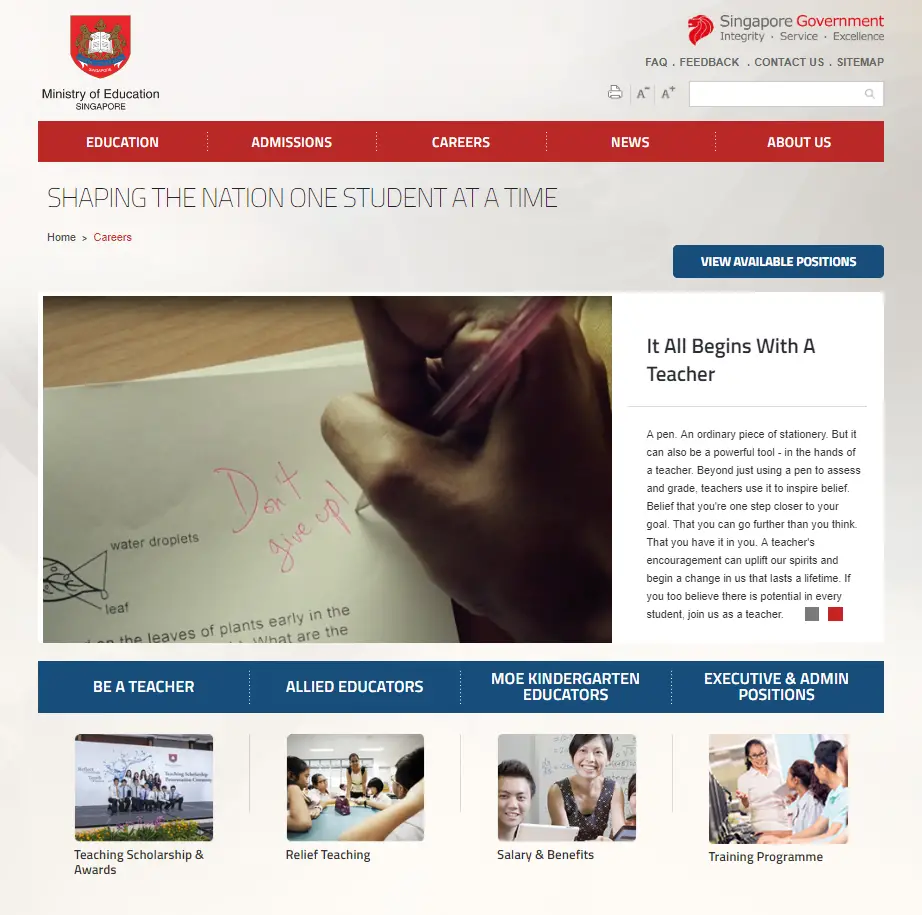 As given in the above table, the deadline for the application is on the 12th of May 2019. Applicants should submit their applications online before the given date.
Read: Want to Study for Free in South Korea? Take the KOICA Scholarship Program
In the event that you have further inquiries as regards the process of application, you can find the answers and/or the resolutions to the queries through the Frequently Asked Questions (FAQs) we will be providing below.
Note that applications need to be submitted to the Singapore Ministry of Education before the 12th of May 2019.
Frequently Asked Questions (FAQs) as regards the ASEAN scholarship
The questions that will be listed here are from the Ministry of Education of Singapore. They're divided into two (2) particular categories: General and Scholarship Application Matters.
The GENERAL part would contain questions, answers, and information generally about the ASEAN scholarship. This section or category won't include scholarship specifics like passing the assessment, failing, dropping; literally information that would require specifics in the scholarship will not be included.
On the other hand, the SCHOLARSHIP APPLICATION MATTERS category will list the things you have to know about the application in specifics. It will contain information that is interconnected to the portal when you get accepted, about emails, about creating user accounts in the Ministry of Education, and so on.
Read: Guide on How to Apply for the CHED Scholarship
What other countries does this ASEAN scholarship cover?
The Philippines is not the only country that the ASEAN scholarship cover. Well, mainly because the Philippines is not the only country in the ASEAN. Other countries who are given the education assistance are:
ASEAN scholarships for Brunei
ASEAN scholarships for Cambodia
ASEAN scholarships for Indonesia
ASEAN scholarships for Lao P.D.R
ASEAN scholarships for Malaysia
ASEAN scholarships for Myanmar
ASEAN scholarships for Thailand
ASEAN scholarships for Vietnam
ASEAN scholarships for the Philippines
How can people or aspiring scholars know if there's an opening?
In the Singapore Ministry of Education website, there's a page there dedicated to alerts and notifications whether an opening is available or not. You can click this link to be redirected to this specific page.
Contact
You can contact the customer service hotline of the Singapore Ministry of Education at +65 6872 2220. Alternatively, you can shoot them an email by sending a request/query to [email protected] and by sending feedback through their online feedback form.
Address
Customer Service Centre (Podium Block of MOE Building)
Ministry of Education, Singapore 
1 North Buona Vista Drive
Singapore 138675
Read: A Guide in Getting the DOH Medical Scholarship
Operating hours: Mondays to Fridays 8:30 A.M. to 5:30 P.M.; Saturdays, Sundays, and Public Holidays, they're closed.
Are you looking for a scholarship that's worth it? Do you need financial assistance for your education? Or do you know someone who is interested in studying abroad for a better future? Don't miss out on the opportunity now and be have a shot at their scholarship program!