To all aspiring Fire Officers, the Fire Officer Examination 2021, as per the Civil Service Commission (CSC), is set to take place on the October 10, 2021.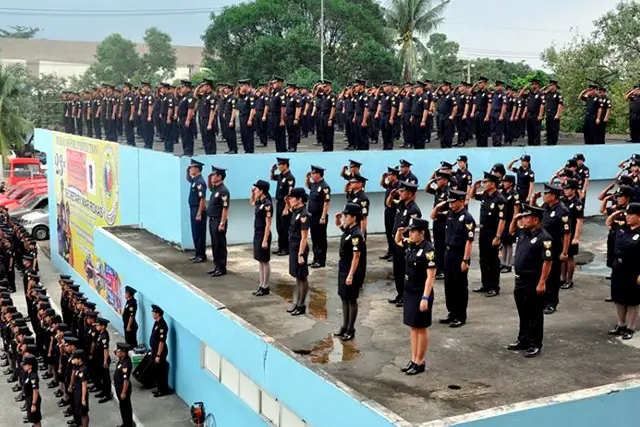 This image was taken from the Philippine Star | Philstar.comThe examination would be the Civil Service Examination Pen and Paper Test (CSE-PPT) and will take place on October 10, 2021 Moreover, the application period will be from July 20, 2021 until August 19, 2021.
Read: 10,000 Police Officers Needed Nationwide – NAPOLCOM
Qualifications for the Fire Officer Examination
Just like any other examination, there are certain qualifications needed in order for the commission to strategically place applicants to certain categories. The following are the qualification requirements set by the CSC for the Fire Officer Examination:
NOTE: All of the information we will be sharing is based on last year's FOE. However, we will be updating all information when the CSC releases its official application procedure.
Must be a Filipino citizen
Must be both physically and mentally fit
Should be considered to be of good moral character
Must not have been dishonorably discharged from any civilian posts in the government; or from military service
Must not have been convicted by final judgment for an offense/crime which involves examination irregularity, dishonesty, moral turpitude of immoral or disgraceful conduct, addiction to drugs/alcohol, and/or drunkenness
Should have a baccalaureate degree from any recognized institution of learning.

Height requirement:
Age requirement: Must be at least 21 years old at the time of application filing. Must not be older than 35 years old.
Read: The Bureau of Customs (BOC) is Hiring 200 Permanent Positions Nationwide
Age requirement waiver
In the Fire Officer Examination (FOE), the age requirement shall be waived for existing employees of the Bureau of Fire Protection (BFP). In addition, it shall also be waived for previous employees of the Bureau provided that their applications are endorsed by the BFP. Furthermore, if they were able to meet the minimum service requirement in compliance with existing laws.
Documentary requirements
The following are the documents needed in applying for the Fire Officer Examination:
Original and a photocopy of a valid government ID. It can be any of the following:

SSS I.D.
GSIS I.D.
Unified Multi-Purpose I.D. (UMID)
NBI Clearance
Driver's License
BIR I.D. (ATM type)
PhilHealth I.D. (must have the name, signature, PhilHealth number, and clear photo)
Company I.D.
School I.D.
Barangay I.D.
Police Clearance I.D. or Police Clearance Certificate

Four (4) pieces of I.D. pictures. Must meet the following specifications:

Taken within three (3) months upon application
Bare ace (no eyeglasses, colored contact lens, accessories, etc.)
Passport size which is (4.5 cm x 3.5 cm or 1.8″ x 1.4″)
Must be printed on high-quality paper
With handwritten name tag which shows the signature over the printed full name. FIRST NAME, MIDDLE INITIAL, LAST NAME, EXTENSION (IF ANY). 

Exam fee = P700.00
Read: BuCOR Hiring: They're Looking for Corrections Officer I and Corrections Technical Officer I
Extra requirements:
If you have all the documentary requirements listed above, then you're good. However, it would be better if you'll have these additional requirements, too for the Fire Officer Examination:
Original and photocopy of PSA-certified birth certificate (if the date of birth is not in I.D. cards)
Certificate of Employment (CoE) duly authorized and issued by the agency (for existing employees of the Bureau of Corrections, Bureau of Fire Protection, Bureau of Jail Management and Penology, as well as other provincial and sub-provincial jails that are looking for age/height requirements)
Certificate of membership to a cultural community duly issued and authorized by the NCIP o rthe NCMF (for applicants who need to avail a height waiver)
Application procedure
Are you interested in taking the Fire Officer Examination 2020? If so, then are you good with the qualifications and requirements? Have you already considered taking the examination next year? Well, you've come to the right page.
Read: The Philippine National Railways is Hiring Operations Officer and Maintenance Workers
Here's what you need to do to apply for the Fire Officer Examination 2020.
Prepare all required documentation and compile them in an envelope.
Duly accomplish the application form. You can get it from any CSC Regional/Field Office. Alternatively, you can download it from the CSC website.
Once set, bring all required documents and file it to the CSC Regional Office (CSC RO). Furthermore, you can also file it at any CSC Regional Office Field Offices where they intend for applicants to take the examinations.
Make sure that you have all the required and necessary requirements before proceeding to any CSC Office. Incomplete requirements will not be entertained and of course, won't be accepted. 
On the filing of the application, proper attire is expected to be worn by applicants. This also goes, of course, on the examination day. The following will not be allowed:

Sleeveless shirt
Blouse
Shorts
Short pants
Slippers
If you're not familiar with any of the CSC Regional and CSC RO Field Offices nationwide, you can check out their directory. Their directory offers a complete list of both CSC Regional and Field Offices nationwide.
Read: The Philippine Air Force is Hiring Nurses With a Starting Monthly Salary of P51,679
When will examinees know their examination venue?
Usually, the venue will be announced two (2) weeks before the examination date. Note that you're applying for the Fire Officer Examination 2020, which is quite a long way from now.
So, be advised that after you submit your application to any CSC Regional or Field Office, you will be given away on how you'll be contacted; via email, phone call; or they can announce it through their website, through the Online Notice of School Assignment (ONSA).
IMPORTANT NOTE:
Examinees are strictly advised to visit their testing center first; to have some kind of an ocular inspection at least one (1) or two (2) days before the examination date. This is for examinees to familiarize themselves with the location of the school.
Read: The Department of the Interior and Local Government (DILG) Central Office is Looking For an Action Officer and a Project Development Officer II
Reminders for examinees
In taking the Fire Officer Examination 2020, here are a few pointers all examinees need to know for them to avoid running into problems during examination day:
NO I.D., NO EXAMINATION. Make sure to bring a valid ID with you to present and to be able to enter the venue
Bringing mobile phones and other gadgets are not allowed. If brought, these items need to be surrendered to the Room Examiners. Bringing firearms is also not allowed during exam day.
The gates of testing venues will be closed at exactly 7:30 A.M. Examinees that would arrive later than 7:30 A.M. will not be given consideration. So, make sure that you arrive at least an hour before.
Failure to take the examination on your scheduled date means forfeiture of the examination fee and slot. Rescheduling of the date is NOT ALLOWED. 
The List of Passers will be posted on the CSC website 41 days after the date of the examination. The official list can only be seen on the CSC website and the commission does not recognize; and they're not liable for any other postings on different websites.
Read: How Can I Apply for a South Korean Visa?
Scope and Coverage of Examination
The scope and coverage of the Fire Officer Examination 2020 would be 25 percent General Ability (Verbal, Numerical, Analytical) and 75 percent Specialized Area.
Administrative (10 percent)
Republic Act (R.A.) 6975 and its implementing rules and regulations (IRR)
Republic Act (R.A.) 9623 and its implementing rules and regulations (IRR)
CSC Rules and Regulations
CSC Qualification Standards
Republic Act (R.A.) 9592 and its implementing rules and regulations (IRR)
BFP Memo Circulars and SOPs on Administrative Matters
Fire Investigation (15 percent)
Law on Arson in the Philippines (RPC)

Rules of Court
Prima Facie Evidence of Arson
Constitutional Rights of the Accused

Procedure and Techniques

Identification, Handling, and Preservation of Evidence
Other related procedure and techniques

SOPs on the Fire and Arson Investigation
Fire and Safety Prevention (20 percent)
Fire Safety related codes
NFPA Laws and other BFP Issuance (Electrical Code, Building Code, etc.)
BFP Citizens Charter
SOP and/or Memorandum Circulars on Fire Safety Inspection
Fire Code of the Philippines
Fire Suppression (30 percent)
Tools, Equipment, and Apparatus
Pre-Fire Planning
Firefighting Techniques and Procedures
Read: Philippine Bar Exams to Have a "Pass or Fail" System
What is the passing grade for the Fire Officer Examination?
To pass the test, an examinee should at least achieve a general rating of 80.00. Examinees who would be getting a score lower than 80 will not be considered.
Those are the relevant information all interested applicants need in taking the Fire Officer Examination 2020. Although the CSC still has not released information such as the venue and the designated schools/testing centers, we will be updating this post.
Alternatively, you can also check it on the website of the CSC at https://www.csc.gov.ph. They'll be releasing the list of testing centers and venues a few months before the said date.
Contact details of the BFP
If you have questions and concerns, you can contact the BFP at: (02) 426-0219 loc. 203. Alternatively, you can send them an email at [email protected].
Read: Who Are Exempted in Taking the Civil Service Exam?
You can also personally visit them at:
Recruitment Selection Section (RSS)
Human Resource Management Division (HRMD)
Directorate for Human Resource Development (DHRD)
2nd Floor, Bureau of Fire Protection-National Headquarters (BFP-NHQ)
Agham Road, Brgy. Bagong Pag-asa,
Quezon City
You can check out the 2020 calendar of examinations by the CSC here.
So, are you looking forward to being a part of the Bureau of Fire Protection? Have you been wishing to work for the government and help save the lives of people? If so, then what's stopping you from taking the Fire Officer Examination 2020? We'll be helping you with the testing centers and the venue soon.
Source: Bureau of Fire Protection Website